Up and Down: Gearing up for a grandoise release

The preview of the Malayalam movie "Up and Down Mukalil Oralundu" is given here. This movie features Indrajith Sukumaran in lead role as Thampuran. Read synopsis, cast, crew and location report of "Up and Down Mukalil Oralundu" from here.



Job oriented Digital Marketing Courses in Kerala.
Call +91 8138875600 for details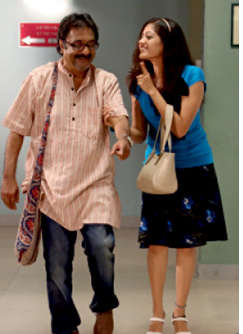 After the movie "Thalsamayam Oru Penkuti", T.K. Rajeev Kumar is out to do another suspense thriller named "Up and Down Mukalil Oralundu" (up and down somebody is their above). The name of the movie itself creates curiosity in everyone's mind. It is another thriller genre movie from director Rajeev Kumar after the thriller "Chanakyan". This movie is progressing by creating a fun mood in each scenes which will be an enjoyable treat for family viewers.

The movie "Up and Down Mukalil Oralundu" focuses on a character by the name Thampuran, who looks at life in a funny manner even when his life, is shrinking in a four wall room as in jail. Youth star Indrajith Sukumaran has done the role of Thampuran, a lift operator. This will be one of the challenging role for Indrajith in his filmy career, to show his mettle in acting. According to Indrajith, acting in this movie is bit tough, since it requires much effort and full concentration while delivering each dialogues and acting each scenes as even the minute observation and looks creates an impact on his character.

Ramya Nambeeshan and Megna Raj have been casted in heroine roles. Versatile actor Prathap Pothan has also done a prominent character in this movie. He has casted in the role of a foreign back grounded Malayalam writer. Megna Raj has got a powerful character, like Manju Variyar got in the movie "Kannezhuthi Pottum Thottu". Ramya Nambeeshan is also casting in an equivalent role. After becoming the minister, K.B. Ganesh Kumar have done a full time character in this movie along with his son Master Devaraman. Ganesh Kumar is acting as a police commissioner and it is the first film entry for the child artist Master Devaraman. Let's hope he can make a good start in this movie to get a prominent place in the movie industry. Rajith Menon, Biju, Nandhu, Vijayakumar, Jayakrishnan, Kochu Preman, Shruthi Menon etc are the other artists in the movie "Up and Down Mukalil Oralundu".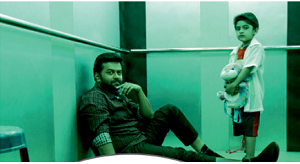 V. Balachandran, R. Karunamoorthy, Latha Kuriyan and Rajeev are the producers of the movie "Up and Down Mukalil Oralundu" under the banner of Blue mermaid picture company. Sunny Joseph and Manuel have penned the script of this suspense thriller while G.R. Indhugopan has penned the screen play. Jomon Thomas has handled the camera while editing is done by B. Ajith Kumar. Rafeek Ahammad has penned the lyrics while M. Jayachandran tunes the music. Combination of them surely gives nice melodies to audience. Art direction is done by Mohan Das and costumes is handled by Sameera Saneesh. Pratheep had done the make up for the movie "Up and Down Mukalil Oralundu".