Celebrity Cricket League (CCL) 2013 inauguration live on Asianet

Watch Celebrity Cricket League(CCL) 2013 inauguration live streaming online on Asianet. The inauguration of Celebrity Cricket League (CCL) 2013 will be held at Jawaharlal Nehru International Stadium on 9th February 2013. Invited celebrities representing various film industries will join the colourful ceremony which will be held after the first match.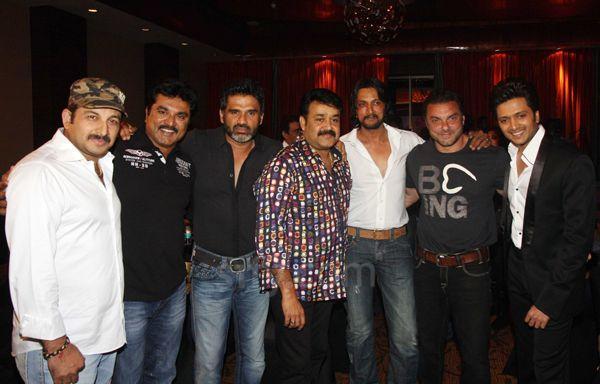 Celebrity Cricket League (CCL) is back in action with 8 teams joining the fray which would bring the top actors representing various film industries. Popular actors from bollywood and South Indian movie industries would come together for an extravagant mega event to be flovoured with dance and music. This would also be a unique opportunity for all of them to meet and reinforce their relationship. With more than 40 actors clubbing together, a promo video featuring the captains, brand ambassadors and players of Celebrity Cricket League coupled for one of the biggest shooting featuring the best in movie industry.

Directed by Directed by Shrikumar, the video is blessed with the presence Suniel Shetty, captain of Mumbai Heroes, brand ambassador Kangana Ranaut, Salman Khan, Ram Charan, Venkatesh, Genelia, Mohanlal, Charmee, Bobby Deol, Ritesh Deshmukh, Sudeep, Jeet, Manoj Tewari and few others. It was a huge challenge for the organizers to co-ordinate all the actors for the video having a time length of 1 minute.

Around 2 months were taken to sort out the dates of the 40 leading stars. The video was compiled after few weeks of shooting with six cities in background. The basic theme of the video centered upon the star wars on the pitch. Prior to the 2013 edition of CCL, a curtain raiser event was held at Mumbai with Salman Khan,Prabu Deva, Katrina Kaif, Bipasha Basu, Kangana Ranaut, Genelia Dsouza and many faces representing the film industry made their presence.

In the inauguration match defending champions Chennai Rhinos will take on Bhojpuri Dabangs to be played on 9th February from 3.00 PM to 7.00 PM. After the inaugural match, the official ceremony with inauguration will be held. Later Kerala Strikers will take on Mumbai Heroes in the second match to be played at Jawaharlal Nehru International Stadium, Kochi. The main attraction of the day would be the presence of bollywood hunk Salman Khan. The Celebrity Cricket League (CCL) season 3 matches will be broadcasted live on 7 channels in 7 languages which fall under the Star Network. Here is the list.




Hindi - Star Gold


Malayalam –Asianet


Kannada – Suvarna


Telugu - Z Telugu


Tamil – Vijay


Bengali - Star Movies


Marathi - Star Pravah


Bhojpuri – Anjan


The Celebrity Cricket League Season 3 will have eight teams which include Mumbai Heroes, Chennai Rhinos, Bengal Tigers, Veer Marathi, Kerala Strikers, Telugu Warriors, Karnataka Bulldozers and Bhojpuri Dabbangs competing for the majestic cup. Much popular actresses Bipasha Basu and Kajal Agarwal have been appointed as brand ambassadors for Celebrity Cricket League (CCL) season 3. With the Chennai Rhinos winning the previous editions back to back, the celebrities of Tamil film industry is getting near for a hat- trick.