Mahadevan Thampi gets a ticket to Bollywood

Mahadevan Thampi, popular photographer might be in cloud nine making the road clear to Bollywood. The young photographer who had rose to fame being a part of Kamal Hasan's Vishwaroopam. With an experience of working with 30 movies, Mahadevan Thampi is stepping up the ladder of success getting busy with a handful of projects.




How is bollywood movie industry connected to Kerala? It is much interesting to know the personalities from Kerala who had made name in bollywood. There are a handful of talented malayalies who had enthralled the audience with their unique skill. Written their name in golden words, these gifted artists as asset for Kerala being born here.

Priyadarshan, Santhosh Sivan, Sabu Cyril, Rasool Pookutty, Suresh Nair are just among the few who are well known in bollywood. Even standing behind the camera, all of them mentioned above have proved their guts through their involvement in various movies. Mollywood hunk Prithviraj had already made his bollywood debut with Aiyaa and also has signed for 2 more projects. Another fact is about the entry of actor Indrajith, Jayaram and Indrajith are about to make their debut in bollywood.

Adding one more to line, a young photographer who had captured hearts with his unique style of zooming camera making it live and fresh is gearing up to enter the dome of bollywood. Mahadevan Thampi known among the malayalam movie lovers as a man of destiny has already had made his presence in the Kamal Hasan's gargantuan Vishwaroopam.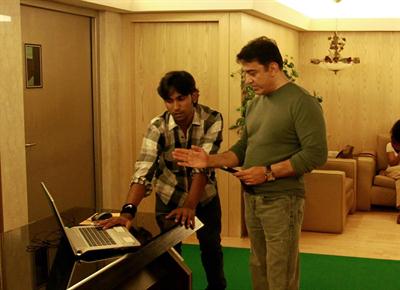 At the age of 19, Mahadevan Thampi started career as an independent still photographer now reaches 31 movies within 8 years of his dedicated work. Starting with Ivar Vivahitharaayal this young chap has done Ivar Vivaahitharayaal, Pokkiri Raja, Happy Husbands, Gulumal, Janakan , Happy Husbands, Pokkiri Raja, Four Friends, Tournament, Payyans, Three Kings, Nallavan, Janapriyan, Ulakam Chuttum Valibhan, Vairam, Nadodi Mannan, Black Butterfly and Red Wine.

It was the locations of Four Friends, which had turned the fortune of young Mahadevan Thampi. Kamal Hasan who appeared in a guest role in the movie happened to meet Mahadevan and did watch his dedication to the profession. A year and a half later, Kamal offered his the role to click the shots for his grandiose movie Vishwaroopam.

With no hesitation Mahadevan along with his friend Sijo Abraham joined the team to zoom his camera to capture the making of the movie. It was a great experience for Mahadevan to work with a project equipped with the best technology regarding sound, camera and special effects.

As Vishwaroopam is running successfully all over Indian, Mahadevan is thrilled to step forward with his bollywood debut with works starting in the near future.