Bharya Athra Pora: Gopika back on silver screen

Bharya Athra Pora Malayalam movie will have Gopika back to the silver screen. It will be a real happy news to her fans as she was a talented actress who had lot of fans. After her marriage she took a break in between but the young beautiful actress is now joining with the 'Veruthe Oru Bharya' team to produce a new family entertainer.


Gopika, a well known actress in South India is known to all of us. She has acted in a lot of Malayalam films. In the year 2008, one of her best movie "Veruthe Oru Bharya" was released, Jayaram played the male lead role. After this film she got married and took a small break but in between she had acted in a movie "Swa. Le" with Dileep. Then she settled in Ireland, where her husband works. Now there is a great news for her fans, Gopika is coming back to the silver screen with another movie "Bharya Athra Pora".

'Veruthe Oru Bharya' was a family entertainer which was a comeback film of Jayaram after some years. This movie ran 150 days and had collection about 20 crores. In this movie Jayaram acts as a electricity officer "Sugunan" and his wife "Bindu's" role was made beautiful by Gopika. Sugunan is a typical husband who always thinks that the wife is only to do the household work, that is only to clean the house, cook food, wash and iron the clothes and to do all other works related to house.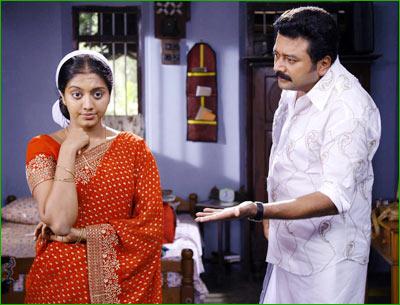 'Bindu' does all these works but 'Sugunan' never express any gratitude towards her as he thinks all these jobs are very easy to be done. These problems gave way for them to quarrel between each other but still Bindu tolerated it all for her family. Thus the story is progressing. In this society many husbands have this type of thinking and they don't realize that the wife is also a human being and is not only meant to be locked up in a house and to do the household works. This film points that wife/mother is the most important person in every house. Her loss, for some time or for some days is not at all good for the other members in the house as they will find it difficult to meet the two ends together. Wife does all the works of her family and in return she just needs the appreciation and love from her family. It is very sad if she is rejected that too. In the movie 'Veruthe Oru Bharya' we can see a middle class family and the problems that if the wife go out from her house. This film gives a strong message to all male dominating husbands in the society.

The name of the new film of Gopika is "Bharya Athra Pora". This movie is a contribution from the same team behind "Veruthe Oru Bharya" which consists of Akku Akbar as the director, K. Gireesh as the script writer, Jayaram as the hero and Gopika as the heroine. In this film Jayaram's characteris 'Sathyanathan', a school teacher. Gopika acts as his wife 'Priya', a bank employee. 'Sathyanathan' has many friends and he is very lazy but he does find time for his family. They are leading a happy life but during this time Sathyanathan was assigned with an important task at his office/school. This created lot of problems within him and he becomes upset. His wife 'Priya' will try her best to solve his problems and thus the story is progressing.

The shooting of this movie will start on February 11th 2013 at Thrissur. The camera is handled by Jibu Jacob. The songs in this movie will be given life under the music composition of Shyam Dharman. This movie is completely a family oriented movie. Sai Kumar, Kalabhavan Salim, Balachandran Chullikkad, Jayaraj Varyar, Anju Vargeese, Reena Basheer etc are the other artists in this film.