Ladies and Gentleman vs Emmanuel: Who will adorn the box office crown?

Ladies and Gentleman vs Immanuel(Emmanuel) - What is the result of these malayalam movies in box office? Lal Jose's Mammootty starrer Immanuel which reached theatres on 5th April 2013 is doing good business after receiving rave reviews. On the other side, Siddique – Mohanlal duo movie Ladies and Gentleman releasing on 12th April is carrying high expectations. So what would be the final fate of both the movies at the box office? Let us find it.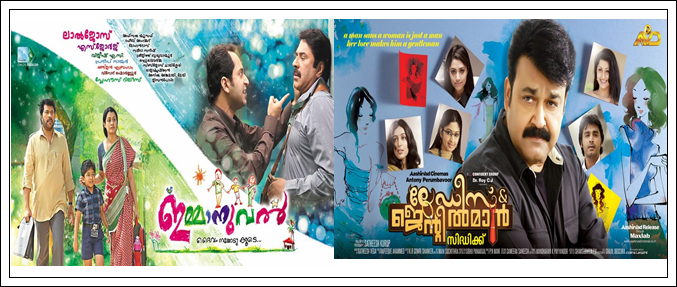 Festive seasons do pump up energy into the veins as they are meant for celebrations. As most of them like to spend their time with their parents, they take a trip, go for shopping or watch a movie. Considering the fact, movie makers reserve their best projects for the festive seasons which could bring family audience to the theatres.

Taking advantage of the time 3malayalam movies are ready to enthrall the viewers. Lal Jose's Mammootty starrer Immanuel and Vyshakh's Sound Thoma with Dileep in lead reached theatres on 5th April 2013. On the other side, Siddique – Mohanlal duo movie Ladies and Gentleman is set for release on 12th April.

Directed by Lal Jose, 'Immanuel' stars Mammootty donning the title role while Reenu Mathew and Fahadh Faasil have been seen in prominent roles. Immanuel which was releases in 62 theatres gave positive reports from all releasing theatres. Lal Jose could satisfy the family audience who were looking forward for a good entertainer.

Dileep's Sound Thoma which was released on the same day along with Immanuel is doing average business with few shows going houseful in the initial days. But it seems that the general spectators have accepted 'Immanuel' and now shouldering it to the next phase, a super hit. It is much curious to know how much would be the business of 'Immanuel' affected with Siddique – Mohanlal combined project 'Ladies and Gentleman' reach theatres.

As the previous ventures couldn't do good business at the box office, it would be a testing time for Mohanlal to prove his mettle through 'Ladies and Gentleman', one of the most anticipated malayalam movie in 2013. With Siddique and Mohanlal joining together after a gap of 22 year, the expectations are on the peak with much expected from the dream team which has delivered 'Vietnam Colony' which tasted the fruit of success in theatres.

Producers CJ Roy and Antony Perumbavoor had invested Rs 10 Crores, making it the most expensive movie made in 2013. Even moving Rs 2.7 Crore as remuneration for the lead actor and the director, the producers have already gathered Rs 11.5 Crores in satellite, remake and overseas rights. So the fact is that Ladies and Gentleman has already made a profit of Rs 1.5 Crore even it made its big screen debut.

Siddique's popularity and track record as a successful director is the key factor which has fetched a huge amount in remake rights sold in all major languages. The audio rights of the movie was attained by Eastcoast Audios for a price of 1.6 crore while the satellite rights were acquired for Rs 3.5 Crores. (Kamath and Kamath's satellite right was sold to Mazhavil Manorama for 4.94 Crores).

With Ladies and Gentleman releasing on 12th April at major centres across Kerala, the movie will certainly make gross collection in the initial days. Rest of the earning would depend upon its performance in the theatres.