Gajapokkiri malayalam movie review

Gajapokkiri malayalam movie review is given here. After a gap of 1 year stylish super star Allu Arjun is back in action with the most awaited film 'Gajapokkiri'. Gajapokkiri is the Malayalam dubbing of Telugu film 'Julai' which was written and directed by Trivikram Srinivas. Allu Arjun, Ileana D'Cruz comes in main cast of the film. Let's look at the review of this film.


Gajapokkiri is the Malayalam dubbed version of Telugu film 'Julai' which was written and directed by Trivikram Srinivas with Allu Arjun, Ileana D'Cruz and Rajendra prasad in leading roles.


Story of Gajapokkiri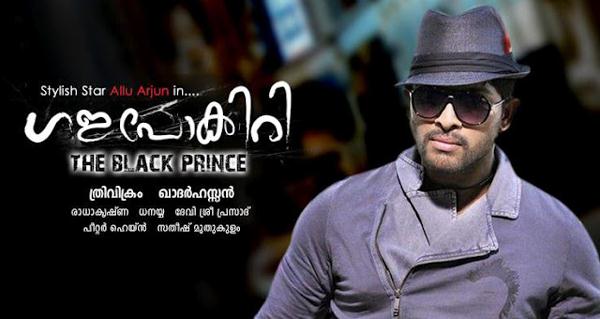 Gajapokkiri begins with a scene in which Bittu (Sonu Sood) planning to rob Rs 1500 Crores from a bank. Ravindra Narayan (Allu Arjun) called as Ravi believes in earning quick money rather than hardworking like his father Narayan. He gets in to a dispute with his father and sets out from his home. On the way he met Bittu. Later Ravi came to know that Bittu is going to rob the bank. Bittu successfully robs the bank and gave the money to his brother Laala to hide in a city dumping yard. But police follow Laala and in a fight Laala was killed b Ravi and Bittu was arrested by police for robbery. When Bittu cames out of jail, he want to take revenge on Ravi for killing Laala.

Ravi was send to Hyderabad from his place under witness protection program and makes him to stay with a coward police officer 'Sitaram'(Rajendra prasad). One day Ravi meets Madhu(Ileana), a middle class girl working with a travel agent 'Travel' Murthy, who is an associate of Bittu. Ravi and Madhu falls in love with each other. Bittu takes revenge on Ravi by targeting his family.During this time Ravi's father got shot and Bittu kidnap Ravi's sister. Ravi finds out where the money is and returns to the bank. Later Bittu is confronted by Ravi and Sitaram and a fight arises between Bittu and Ravi. Sitaram shots bittu when Bittu tries to shot Ravi. Ravi finds his sister and returns to his place. The film ends with Sitaram transforming into a tough police and Ravi becomes a hardworking man.


Review of Gajapokkiri

The film has an excellent start to startle the audience and hold their attention for the rest the film. As a IPL betting man, Allu was very energetic as usual, surprised everyone with his dance moves. His comedy timing needs special mention and his screen presence will make his fans glued to the screen. Allu Arjun was highly entertaining throughout the film . His dances were excellent and graceful and fights were spectacular. The combination of Allu Arjun and Rajendra prasad makes humour in the film excellent. Ileana was the perfect pair for Allu.She was fabulous in dances and also in romantic scenes. Mucic is done by Devi Sri Prasad which was outstanding in this film. Trivikram has done an excellent job in this film. Trivikram presented movie at his best. His dialogues were superb. All the actors supported him very well but Allu Arjun surprised every one with best performance in his career. If you want to get the full meaning of the movie you have to watch it again. Overall the film was a good family entertainment.

Verdict and Rating

Very good and family entertainment
Rating: 8/10