How to become a successful content writer in SPiderKerala
Dear Members,

We specially congratulate you all for your active participation in SPiderKerala. We are glad to say that SPiderKerala is one of the active web portal which is running successfully with around 7-8 lakhs page views each month. We are trying our best to reach the words of SPK to more regions with a bunch of excellent articles related to Kerala. From the feedbacks that we are getting from our readers make us to move forward keeping our head erect. As you all know we are running the site for mutual benefit, there are quite few members who are making out the best from their articles in SPK through adsense revenue. We are on the move to reach our articles to more readers who are much active in social networking sites.

Meanwhile let us give some fruitful suggestions to our members who want to get the maximum benefit of being in SPiderKerala. To become a successful content writer, members have to follow some tips which can attract more visitors to your article.
• Article should be rich in content
• Learning Search Engine Optimization Tricks
• Using social networking sites

According to the google panda updates, articles with less content will be omitted from the search options. As you know around 99% of the searches are directed through search engines, the content should be lengthy enough to engage the readers. Even after several alerts few of our members are posting articles with less content which really brings a bad remark to the site. So the length of the article should be rich in content which enable the readers to visit the site again and again.

The selection of topics is much important as the member should keep in mind of the long run of the future of the article. (If you are in need of topics we can provide it).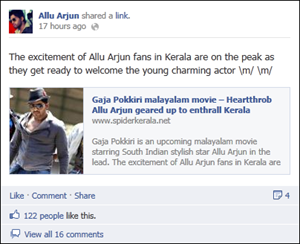 Social media networking sites play a vital role in bringing traffic to articles. Here is an example. An article in SpiderKerala which was posted on 10th May 2012 at 2 PM went viral over facebook bringing more traffic to the post. The article was taken over by the official fans page of Allu Arjun and was shared before the fans who were much curious to read the article. Attractive title, rich content and an article which cannot keep them away from reading was the main reason for its success. Till now the article has got around 267 likes and still keep on fetching more readers.

So the best thing to be a successful content writer, we have to keep on adding more content to the article taking time to do research on the topic. We have learned from one of our member that, the time to make research on a topic is double the time taken for writing an article.

We had to face hardship while reviewing each post due to the lack of proper language from the part of few members. Few articles are like in the mode of forum posts adding salutations to 'our dear super star', 'our favourite hero', such and such.

Just remember to act as a mature writer who can give the best to the readers.

Your feedback and suggestions are needed.