Janani Iyer's 'extraordinary' flight to malayalam

Janani Iyer, a budding actress in south India is playing the lead heroine in Sugeeth's next malayalam movie 3 Dots. Being much popular among television viewers, Janani had been a part of more than 10 television advertisements before making a safe landing in Avan Ivan opposite to Vishal. It would be challenging time for Janani to create a space in malayalam which is truly dominated by Kerala born actresses. Read more to know about Janani Iyer.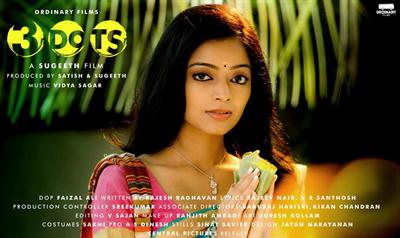 Ordinary was such a wonderful movie which had a roaring success at Kerala box office. Made with a budget of 2.5 crores, the movie was able to collect more than 15 crores running successfully for 250 days before packing it up from the theatres. Being declared as the first block buster in 2012, Ordinary is still on the tip of the tongue as being remade into tamil titled as 'Janal Oram'.

The earth shattering opening of the movie had given had given a perfect pair Kunchako Boban and Biju Menon who will be seen again teamed in a couple of movies. It was truly a turning point in the career of Shritha Sivadas who debuted with 'Ordinary', grabbed few other projects for her active performance even being a newcomer.

Running high shouldering the success of 'Ordinary' Sugeeth is back in business with his new project titled as 'Three Dots' with Kunchako Boban, Biju Menon, Prathap Pothen and Narain in lead. The theme of the movie is centred on three convicts who came close while in jail and later the changes that happened in their life makes the rest of the story.

Janani Iyer who had appeared in a couple of tamil movies including van Ivan and Paagan makes her dream debut with 3 Dots. Donning a strong character will surely be a path breaking achievement for Janani who aims high in making her presence in film industry.

The majestic success of Paagan have made Janani to strengthen herself and get prepared for the upcoming project which 'Three Dots' which is gearing to start shooting soon. Being a born Tamilian, Janani finds hard to digest malayalam. The actress had found a quick solution getting in touch with handful of malayalam movie DVD's to get herself cope up with the language. Even though Janani is getting offers from malayalam, she was too impressed with the script and screenplay of '3 Dots' which eventually made node her head keeping back other assignments. Janani who also had made a round of walking through Sugeeth's debut 'Ordinary' was highly impressed by its brilliant making.

Janani who had lent voice for her movies had given positive remarks for her fluency of the language. Even though she wish to dub her sound for '3 Dots', Janani is not too comfortable with the language as she could understand it but cannot speak. An active lover of traveling, Janani had made a visit to Munnar who was fascinated with the greenery of the place. Aishwayra Devan and Sreedhanya are the co-actresses of Janani who are also essaying prominent roles.

In '3 Dots', Kunchako Boban plays the role of Vishnu while Biju Menon, Prathap Pothen and Narein depicts the characters of Louie, Pappan and Dr. Issac respectively.