Asianet Ningalkkum Akam Kodeeswaran(NAK) season 2 coming soon

Do you want to know Asianet Ningalkkum Akam Kodeeswaran(NAK) season 2 questions? Meanwhile do you know how to participate in Asianet Ningalkkum Akam Kodeeshwaran Season 2? Get ready to answer question No.1, question No.2,question No.3,question No.4,question No.5,question No.6,question No.7,question No.8 with the first question asked on 7th December 2012. After few months of break, Asianet Ningalkkum Akam Kodeeshwaran is back with anchor Suresh Gopi.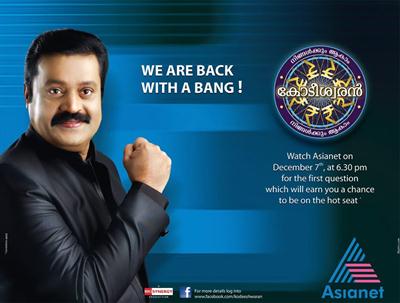 How many malayalies can forget the attractive wording 'De Poyi Da Vannu' uttered by Suresh Gopi in Ningalkkum Akam Kodeeswaran(NAK) telecast in Asianet? Do you wish to hear it again from the super star? If so get ready to welcome Ningalkkum Akam Kodeeswaran(NAK) season 2 and the host Suresh Gopi who had taken it to the next extend making it a popular program among malayali audience.

Following the path of Who Wants to Be a Millionaire, the program started its first appearance on 9th April and ended its first season on 23rd August 2012. This general quiz show was aired on Asianet from Monday – Thursday at 8 PM which kept millions of viewers intact keeping them biting their nails. Headed by Siddhartha Basu and produced by Reliance Big Synergy, the program had Confident Group, Nissan and Vodafone as key sponsors. NAK really hit the eye balls of viewers with its overall appearance and presentation skill by Suresh Gopi.

Questions asked in Ningalkkum Akam Kodeeswaran is being arranged in hierarchical order giving time for the contestants to answer to given questions. The season one had seen a number of participants hitting the bonanza, other than the 1 crore prize money. Among them would be Shyla CK from Idukki who was too lucky enough to win 50 Lakhs which become the highest amount won a person in NAK season 1 while Shobana of Kadaykkavoor and Aneesh from Mavelikkara won 25 lakhs each.

Each week NAK was blessed with the presence of Malayalam film and television celebrities who kept the episodes active. The celebrities who featured in various episodes were Suraj Venjaramoodu, Kavya Madhavan, Samvrutha Sunil, K. S. Chithra, Jayaram & Parvathy, Ranjini Haridas with Guinness Pakru, and Vijay Yesudas with Swetha Mohan. Jayaram & Parvathy won 6 lakhs 40 thousand Rupees while other was able to accumulate 3 lakh 20 thousand each.

So now the wait for the Asianet Ningalkkum Akam Kodeeswaran(NAK) season 2 has ended as the program is getting the final touch as the first question will be asked on 7th December 2012 giving opportunity for interested people to try their luck being a participant in season 2. After getting adequate participants, Asianet Ningalkkum Akam Kodeeswaran(NAK) season 2 will start airing from January 2013. So be prepared to watch the NAK- a game using brain.