Cinema Tsunami: 4 malayalam movies gearing up for box office clash

Read about Christmas release malayalam movies in 2012. Karmayodha, Bhavuttiyude Namathil, Da Thadiya, I Love Me are the four malayalam movies which are gearing up for release set for the date 21st December 2012. For the first time in the history of malayalam film industry, 4 movies headed by top directors are releasing on a single day waiting for the verdict of the viewers.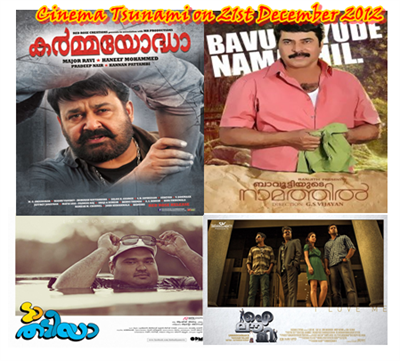 When people around the world talk about Mayan calendar and planet 'Nibru', it seems that malayalam film makers are too confident than the Mayans who predicted that the world would end on 21st December 2012. This Christmas would bring more happiness than ever for malayalam movie lovers who like to keep them entertained for a couple of hours. After the majestic Onam releases, theatres in Kerala are gearing up to welcome a huge line of movies which are under preparation for grand release.

2012 would be a year which had changed the face of malayalam film industry with a handful of youngsters lending their heart for both in front and behind the camera. With around 120 releases so far and the number still counting, the Christmas season would generate more enthusiasm as the releasing date gets near.

Even though movies made with limited budget get rave responses from the viewers, theatres would have to reduce the screens as fresh movies are standing on line to get released. With less than 10 days remaining for grand releases, the theatres have already made arrangements to give grand receptions for movies which are slated to hit theatres in 21st December. Karmayodha, Bhavuttiyude Namathil, Da Thadiya, I Love Me are the four malayalam movies which are releasing on a single day.


Karmayodha

Karmyodha will be one the most anticipated malayalam movie which will have Mohanlal in lead. This investigative thriller directed by Major Ravi tells the tale of a real face of human trafficking. With a budget of 15 crores, the movie was shot in grandiose locations set at Mumbai, Cochin, Munnar and Nagercoil. Unlike his previous flick Keerthi Chakra, Kurukshetra and Kandahar shot at the military backdrop, Karmayodha brings Mohanal as a encounter specialist who fights against those engaged in human trafficking.

Rajeev Pillai, Biju Menon, Mukesh, Aishwarya Devan, Sona Heiden will be seen in supporting roles while Murali Sharma would keep this face strong playing a character with negative shades. For the lyrics of Dr.Madhu Vasudevan the music is set by M G Sreekumar. The highlight of the movie will be the background score by Jeffrey Jonathan. The Satellite rights of the movie was acquired by Surya TV for a whooping price of 4.9 crore. Karmayodha will have a premiere show at Dubai followed by grand release worldwide in more than 450 theatres.


Bhavuttiyude Namathil

The next in the pipeline to get released on 21st December would be Bavuttiyude Namathil directed by G.S Vijayan. Mammootty would play the title role 'Bhavutti' which boosts of having a strong screenplay penned by Ranjith. This movie too brings much anticipation for the viewers due to the presence of Ranjith who stood as the backbone as director for the recent blockbuster 'Spirit'. Shankar Ramakrishnan, Anoop Menon, Vineeth, Kavya Madhavan, Rima Kallingal, Kaniha and Remya Nabeeshan will be seen in supporting roles. Bavuttiyude Namathil portrays the life of people living in Malabar area. After Kayyop, Palerimanikyam and Pranchiyettan and the Saint, the movie lovers are expecting yet another magic from Mammootty – Ranjith duo.


Job oriented Digital Marketing Courses in Kerala.
Call +91 8138875600 for details
Da Thadiya

Da Thadiya directed by Aashiq Abu is another movie kept under nails will get a grand release on 21st December. The movie starring Shekhar Menon and Sreenath Bhasi in the lead roles will tell the tale of lifestyle of fat and obese people. Nivin Pauly, Ann Augustine and Arundathi Nag will be seen in supporting roles. Produced by Anto Joseph in association with OPM cinema, Da Thadiya had already caught the eyes of film enthusiasts through its funny posters and the song 'Enthaanu Bhai'. Aashiq Abu who had delivered super hit movies like 'Salt N Pepper' and '22 Female Kottayam' is expecting to deliver another splendid visual treat for malayali audience. The music for the movie 'Da Thadiya is set by Bijibal.


I Love Me

'I Love Me' directed by B Unni Krishnan will have a young generation team united for a fun filled movie with Unni Mukundan, Anoop Menon and Asif Ali and Isha Talwar in the lead. The movie which shoulders on story of Sethu tells the tale of four youngsters who live in a short surroundings giving preference to self concern with no worries about the society. 'I Love Me' will also see Vanitha Krishnachandran, Biju Pappan, Vijayakumar in supporting cast. The movie which was shot at gorgeous locations at Bangkok, Vietnam and Malaysia will truly a visual experience on silver screen.

Director Unni Krishnan after the grand success of Grandmaster will join hand with Mohanlal for Mr.Fraud in 2013 which will be shot in Russia. A hindi version for Gandmaster is also on the cards while a movie scripted by Anjali Menon is also on the pipeline. The movie will be produced by Vaishaka Rajan under the banner Vaishaka Cynyma. Satheesh Kurup has cranked the camera while Deepak Dev has tuned the songs for the lyrics of Harinarayanan. Meanehile 'Nee Ko Njaa Cha' (Ninnem Kollum Njaanum Chaavum) directed by debutant Gireesh will make an entry on 20th December.

So get ready to welcome your heroes on silver screen and watch the excitement right in front of you. Meanwhile which will be your pick - Karmayodha, Bhavuttiyude Namathil, Da Thadiya or I Love Me.?