Mollywood hunk Prithviraj to be Shahrukh Khan's buddy

Prithviraj and Shahrukh Khan will be seen together in Happy New Year, an upcoming movie. Directed by Farah Khan, the movie also will have the presence of Abhishek Bachchan and Boman Irani. Farah Khan's dream project 'Happy New Year' revolves around a bunch of friends and their relationship. Meanwhile they participate in a dance competition and win it, even though none of them know how to dance! This fun fulfilled movie will start shooting from April 2013.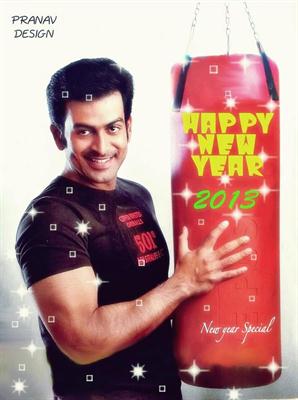 Mollywood hunk Prithviraj after his majestic romance with Rani Mukherjee in 'Aiyyaa' had become a hot favourite in bollywood. The actor has gathered a couple of projects to make his position comfortable in bollywood which is currently shouldered by Khans.

Being her dream project 'Happy New Year' revolves around a bunch of friends and their relationship. With the movie Aurangzeb is on cards, it would be Prithviraj's biggest project along with Shah Rukh Khan and Abhishek Bachchan. Prithviraj and Abhishek ever since worked together for Mani Ratnam's Raavan had been close friends.

After a gracious 2012 acting in 9 movies including Sachin Kundalkar's Aiyyaa, Prithviraj keeps an eye on the projects which is planned for 2013. With malayalam movie Celluloid scheduled for February 2013 release, the actor will be part of Aurangzeb, Mumbai Police, Arivaal Chuttika Nakshatram and Happy New Year.

Happy New Year having a projected budget of 48 crore budget will produced by Farah Khan and Gauri Khan. For the story of Farah Khan, Althea Kausal has done the screen play. Zoomed by Manush Nandan, the movie has the charming tunes set by Vishal- Shekher. Still the team has not announced the name of the movie heroine while of the names of Sonakshi Sinha and Parineeti Chopra is being circulated widely. The leading lady is a bar dancer who would be helping her 4 male friends to win a dance competition.

Levering to heights, Prithviraj had been a part of 73 movies in his 10 years of acting career. Comfortably keeping stability in his whole profession, Prithviraj had risen to the position of a leading actor in South India.

After busy schedule shuttling from Kerala to Mumbai, Prithviraj is currently touring France enjoying the vacation with his wife Supriya. After enjoying the New Year at France Prithviraj would be back to India after attending the launch function of his mother Mallika Sukumaran's restaurant set in Doha.

Prithviraj will join the set of 'Happy New Year in April 2013.