Crocodile Love Story: Anoop Ramesh's new innings

Crocodile Love Story malayalam movie, the directorial debut of Anoop Remesh will feature Praveen Prem and Avanthika as pair on screen. The movie penned by Sabari Sankar will be produced by Anurag motion pictures. Crocodile Love Story is set for June 2013 release.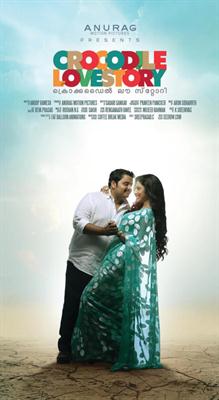 The year 2012 had been the golden period of malayalam movie industry which witnessed the flow of a number of young talents committed towards their career. The industry had provided ample opportunities for vibrant actors and movie makers to showcase their skill both behind and in front of camera.

With around 125 plus releases in 2012, major movies were captained by youngsters who keep a passion to grow further. The year 2013 too will mark the beginning of yet another batch weaving dreams and keeping head high.

Anoop Chandran, the son of the Thiruvananthapuram Corporation Mayor Chandrika, is all set to make his directorial debut with `Crocodile Love Story'. Spending great days working with Shyamaprasad and Murali Menon, Anoop is excited to share his experience on screen.

The movie will have Praveen Prem and Avanthika in lead. Crocodile Love Story tells the tale of a girl who falls in love with a fat man while their parents are totally against the affair. Later the couple escapes and reaches a forest where they had to face the terrible acts of wild animals. A crocodile found in the forest was not ready to leave the duo which eventually attacked them.

Crocodile Love Story will be the first malayalam movie to use Animatronic technology featuring an animatronic crocodile. The technology goes have several advantages while comparing with special effects. The virtual creature which has a physical presence on the set can be captured on a real-time camera. The pre-production works of this romantic comedy is going on full swing while a full-size crocodile will get filmed in water and land.

The pooja function of Crocodile Love Story was held at Thiruvanathapuram on 2nd January 2013 with the blissful presence of Mayor Chandrika. The shooting of the movie had also commenced on the day with Rameswaram and Malampuzha being the locations. Scripted by Sabari Sanker, Crocodile Love Story will be produced by Anurag Motion Pictures.

Praveen Prem known for his majestic performance in Tournament had made his active presence in Kadhathudarunnu, Snehaveedu, Mullasery Madhavankutty Nemom PO, Pulival Pattanam, Hero, and Naughty Professor and Idiots. Avanthika Mohan who debuted with Yakshi Faithfully Yours will also be seen in Mr.Bean as heroine. Crocodile Love Story will be one among the 150 plus movies slated to get released in 2013.