Native Bapa: Hip hop video clocks 1 lakhs views on YouTube

Native Baapa is hip hop video album featuring Mamu Koya in lead role. Less than a week of its inception on You Tube, the video has crossed the first 1 Lakh mark getting wide support from the viewers around the globe. Shouldering on "Mappila Lahala", a young hip-hop band which made its debut with Native Baap has really strike the chords from its prime appearance. Read more to know about Native Baap and the story behind the making of it.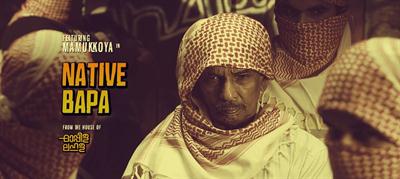 It would be a dream start for Kozhikode based hi-hop band 'Mappilla Lahala' getting enormous responses from around the world for their debutant video 'Native Bapa'. Released on 1st January on You Tube, the video featuring actor Mamu Koya really hit the chords was really a New year gift for Keralities.

Within a week the video was listed as one of the popular video of Youtube getting more than 1 Lakh visitors. The album questions the global phenomena of branding things related to Muslim named and connecting it to terrorism. The video also strongly condemn the involvement of media which lit the fire for those issues which could be buried under soil.

The theme of the video album came out of a discussion who had kept dreams of flying high in the world of music. Mappila Lahala through their musical video Native Bapa tries to pool into an incident happened in 2008 through the eyes of a father. The team consisting of students and professionals has tried to walk through the backdrops of Malabar combining English and Malayalam lyrics embedded with the local Kozhikodan slang which is closely associated with the Mappilas of Malabar.

Popular malayalam actor Mamu Koya known for using typical Kozhikodan slang shares his grief and anger for connecting Muslims with terror. His words truly pierce into the hearts as for being a Muslim father who had to hear his son get branded as a terrorist.

The team behind the album 'Native Bapa' tries to revive the cultural elements which are not having much prominence in the current society. The core group consists of freelance journalist Muhsin Parari, Harris and Samir Bincy. With the active support from the friend's community the team could gather Rs 2 Lakhs which was used for making the whole video. Muhsin himself had penned the lyrics which was blessed with the music of Roy George.

Jijo Abraham has cranked the camera which later smoothly reached the editing table of Jayasankar who had give a magical touch making it perfect free from any boo-boo. Getting noticed with less than a week of going online, "Mappila Lahala" plans to reconstruct Kozhipanku" a presentation of K. Satchidanandan's satire to a rock version.