Channel Life malayalam channel launch date set for May 2013

Channel Life, a new malayalam channel is all set to make an entry as its launch date is set for May 2013. This malayalam lifestyle channel with actor Siddique as its chairman will be the first channel in South India focusing on health and life style. The logo the channel has been launched by Chief Minister Oommen Chandy at a function held at Thiruvanathapuram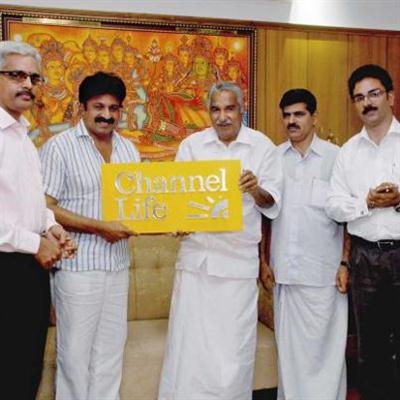 With more than 20 exclusive malayalam channels dominating the homes of malayalies, people are ready to welcome the entry of more channels. With Mathurbhoomi News opening their eyes for the public on 23rd January, more channels are on the line for February launch.

Mathurbhumi Kappa, an entertainment channel will make its debut on 1st February while Mediaone TV from Madyamam would make its official launch on 10th February 2013. Adding one more to it, Channel Life from Plus Media Limited which gives prime importance to health and lifestyle will start functioning from March.

With actor Siddique as the chairman, Channel Life will be the first of its kind in South India exclusively for health related programmes. The logo of the channel has been official unveiled by chief minister Oommen Chandy at a private function held at Thiruvanathapuram and was blessed with the presence of Channel Chairman Siddique, Managing Director N E Harikumar, J M D Khalid A Bekkar, M P Murlai, Thomas Varghese and General Manager K Krishnadas. More interestingly the channel will give prime importance to a variety of programmes including health, food habits, traveling, nature, culture, technology and fashion.

A main studio set with modern facilities has been set up at Kinfra in Kakkanad, Ernakulam. The channel will start testing from March and later in May would go official. The channel will have a number of eminent personalities which include health professionals, Media persons, and prominent business men.

Channel Life is expected to bring a new channel culture and adoptable lifestyle which can keep the people healthy and free from diseases. Innovative shows integrating youth and embedded with current trends would give valuable information to viewers which keep them following it for healthy days.