Breaking News Live : A real family entertainer

Breaking News Live is a Malayalam movie that brings out the impact of media in our present society into limelight. The movie will be the directorial debut of Sudheer Ambalapad which features Kavya Madhavan as the main character. The movie says the story of two girls – Nayana and Sneha. This movie is produced under "News Value Productions" banner.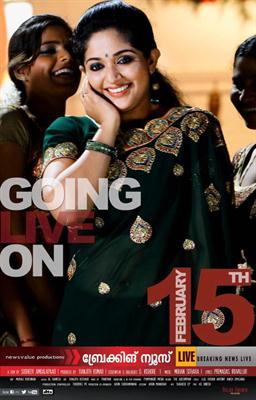 Kavya Madhavan is back with another family oriented movie "Breaking News Live", produced by Ranjith Kumar. As the name states, some breaking news that shocked the entire society forms the basis of this movie. We live in a world where we get to see immense amount of breaking news daily in different channels. It is a kind of trend now and each channel is competing with each other to attract more viewers. This movie talks about some of the known evils happening in our society and about the role our media plays in each case. We all are aware about many shocking incidence that we come to know through TV channels daily, but not all these stories are true, some may be cooked up. It is just a business technique done by the channels without knowing that this may in turn harm an innocent person.

This movie also gives us an idea about how the youth looks at this breaking news that they see daily in various channels. Does this create an impact on them or on their individual growth? This movie gives the answer to all these questions. Such kind of movies are very much required in our present situation, just to make the top level people aware that the common public are not fools. It is a humor filled movie which also includes sarcastic comments.

Shooting of this movie is progressing in Kozhikode, Hyderabad, Munnar and so on. Through this movie, we get to see Kavya Madhavan in an entirely different role when compared to her previous characters. Her character is "Nayana", a Hotel Management student. The hero in this movie is Vineeth. He is a teacher by the name "Deepak" in the same college where Nayana is. The story moves along with the different people Nayana meets in her life. During a journey, Nayana meets Sneha. The main twist in this movie starts from there.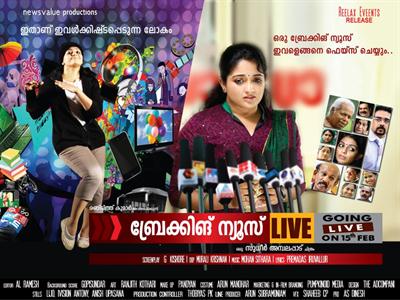 A tragedy which has happened to Sneha will turn the life of Nayana. Nayana becomes the victim only because of the involvement of medias and channels. Without knowing or finding the actual fact, channels will compete to give breaking news. This creates disaster in Nayana's life. Mythil is been casted as "Sneha". Sneha has a bother. Her parents have passed away before and is now taken care by her grandmother. Devan and Urmila Unni plays the character of Nayana's father and mother respectively.

Kavya Madhavan, Mythily, Vineeth, Devan, Lakshmi Sharma, Thilakan, Mamukkoya, Anoop Chandran, Sukumari, Subi Suresh, Lena Abhilash, Thesni Khan, Saranya Mohan are the other artists in this movie. A new face Rajeesh is casted as Sneha's brother. The story is penned by Sudheer Ambalapadu and the credit of screen play and dialogues goes to G. Kishore and Sudheer Ambalapadu. Costumes are been designed by Arun Manohar. The popular action director Mafia Shashi has directed action scenes in this movie as well.

This movie also has some beautiful songs in it with great picturaization. Lyrics courtesy goes to Premdas Thiruvalloor and the great music director Mohan Sitara gives life to the songs in this movie through his versatile style of music direction. Choreography by Rekha Master and the dancing skills of Vineeth has also added flavor to the musical scenes in this movies. A traditional Keralite song penned by director Sudheer Ambalapad is also included in this movie. All together it is a musical treat as well.