Important Pooram Festivals in Thrissur, kerala - Details

Thrissur is known as the land of Poorams. There are so many poorams celebrated in Thrissur district. It includes the world famous Thrissur Pooram, Aarattupuzha Pooram, Uthralikkavu Pooram etc. Kudamattam, Vedikkettu, Koota Ezhunnallippu, Kuthirakali etc are part of each pooram. The presence of elephants is the most highlighted feature of poorams in Thrissur. Thechikkotu Kaavu Ramachandran is one of the famous elephant in Kerala.


Thrissur Pooram and Other Poorams in Thirssur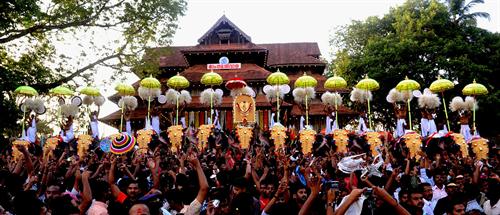 Thrissur is known as the land of Poorams. This is because of the fact that most of the famous Pooram festivals in Kerala are celebrated in the temples of Thrissur district. Especially starting from the month of December, various small and large pooram festivals are celebrating in various temples across the district. The Thrissur district is the best suitable place for watching and enjoying Poorams. About 25 major poorams are celebrated each year in this district. This includes, the world famous Thrissur Pooram, Aaratupuzha Pooram, Paarkkadi Pooram, Panthallor Pooram, Kaattakambal Pooram, Kizhoor Pooram, Aanamkulagara Pooram, Uthralikkavu Pooram, Chiravarambathu Kavu Pooram, Anthimahakalan Kaavu Pooram and many more. All these Pooram festivals are celebrated with great interest and enthusiasm. The pooram will be celebrated once in a year, which will be based on Malayalam months and Malayalam birth stars.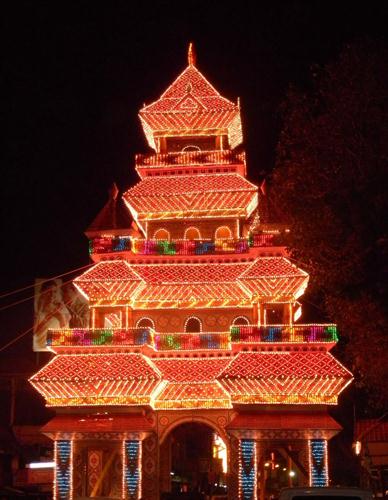 The main attraction of Poorams in Thrissur district is the presence of large number of famous elephants with beautiful decorations. There are so many pooram and elephant fans in Kerala. Another interesting fact about the pooram is that, each pooram will be celebrated by various Desham(Villages) near the temple. So it is a prestigious issue for each Deshams to bring the most beautiful and famous elephants for pooram festivals. Presently, the most highlighted elephants in Kerala are, Thechikottukaavu Ramachandran, Pambadi Rajan, Guruvayoor Devaswom Sree Pathmanabhan, Mangalamkunnu Karnan, Mangalamkunnu Ayyappan, Thayankkavu Manikandan, Oottoli Rajasekharan etc. The elephants will be taken for each festival by paying good amount to the owners. Each elephants will be decorated with various traditional costumes like, Nettippatam, Kolam, Venchamaram, Aalavattam, Muthukuda etc. There should be a Kootta Ezhunnallippu (combined stand of elephants with all decorations) in each Pooram with musical background of Pancha Vadhyam, Pandi Melam etc. The Pancha Vadhyam is an extra ordinary traditional art form of Kerala. It will be a real marvelous treat to our ears. The Pancha Vadhyam is a set of five musical instruments which includes Madhalam, Thimila, Combu, Chegila and Edakka.


Highlights of Pooram celebrations
Kootta Azhunnallippu

It is the most highlighted part of all poorams in Thrissur. Here all the elephants of all Deshams will be united in the nearby ground of the temple. The elephant which takes the kolam of Goddes will stand at the middle of the row. Various traditional musical instruments will be also played during this time. Pandi Melam is the most famous musical score in pooram, which will be a real magical experience for the audience. In Thrissur pooram, this koota ezhunnallippu will be conducted in front of Vadakkum Nathan Temple in swaraj round. There will be thousands of people to watch and feel this pooram experience in all poorams. The elephants are very important in each pooram, presently Thechikkottukavu Ramachandran is one of the most famous elephant in kerala, which is owned by Thechikkottukkavu temple in Permangalam.


Kudamattam

Kudamattam is one of the world famous events, which is mostly conducted in the evening of Thrissur pooram and some other poorams in Thrissur. In this event, the Muthukuda(decorated umbrellas) will be changed periodically for a time of about 2 hours. These umbrellas are made by well trained and experienced peoples of several villages. In Thrissur pooram, the kudamattam is conducted in a well organized manner. There will be two sections in Thrissur pooram, one will be Paramekkavu Devaswam and other will be Thiruvambadi Devaswam. The kudamattam will be conducted as a friendly competition between these two temples. The muthukudas will be made in the form of various gods and goddess. Most of them will be colorful and attractive to viewers.


Kuthirakali

It is another type of pooram celebration in Thrissur district. In this Kuthirakali, several villagers will make large models of horse in wood and grass. This will be taken into the temple ground on the day of pooram by village people. The size and design of the Kuthira(Horse) may vary according to each groups. Several traditional bands will be also come along with each group in order to increase the interests of people who are carrying the models of horse. Anthimahakalan temple at Chelakkara, Thrissur is one of the famous temple that conducts Kuthirakali on pooram day.


Vedikkettu(Fire Works)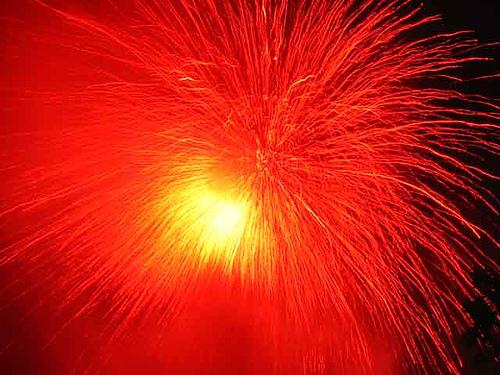 It is one of the most highlighted event for important poorams. The Kootta Ezhunnallipu or Kuthirakali will be followed by Vedikketu. This will take place during the evening of pooram day. The Thrissur Pooram, Uthralikkavu Pooram, Kuttiyankavu Pooram, etc are some of the important poorams in Thrissur district that are famous in Vedikkettu. Even though there will be lots of restrictions in conducting the fireworks, the people are very much interested in getting high decibel sounds. There will be one sample Vedikkettu for each pooram, which will be conducted 2 days before the pooram. The sample Vedikkettu is some times stronger than the original Vedikkettu. The Vedikkettu will be also colorful in some poorams , in this case the preference will be given to colorfulness and beauty of fireworks instead of sound. The Vedikkettu event may long as half an hour to one hour depends on the number of committees taking part in Vedikkettu. The fire for the Vedikkettu will be taken from the temple after evening pooja.


Some Important poorams and date
Thrissur Pooram – conducted on birth star Makam in Medam month (from 14th April to 15th May)

Uthralikkavu Pooram –conducted on birth star Pooram in Kumbham (from 14th February to 14th March)

Parkkadi Pooram – conducted on 3rd Sunday of January

Kuttiyankavu Pooram – conducted on February

Chenakkathur Pooram – conducted on February

Panthallur Pooram - conducted on February

Aarattupuzha Pooram - conducted on 25th of March

Manikandeswaram Pooram - conducted on first Friday of Meenam( 15th March to 15th April)

The above poorams are only few out of all major poorams in Thrissur. Thrissur Pooram and Aarattupuzha Pooram are world famous pooram events in Kerala. Kerala government and various Devaswom in Kerala are now promoting tourists arrival during this pooram season. There will be special stages for viewing poorams for the tourists. This can be booked before the pooram festival. In Thrissur, as part of pooram, an exhibition will be conducted for 2 weeks before the pooram day. It is better for the tourists from outside Kerala to visit God's own country during this pooram season (January to May ).