Thoomanjin Kulirilo, Kali Chollum Kattilo Song Review - 8:20 Malayalam Movie

Thoomanjin Kulirilo, Kali Chollum Kattilo song 'review' from the Malayalam movie "8:20", directed by Shyam Mohan is given below. You can also watch Thoomanjin Kulirilo, Kali Chollum Kattilo song video and get the lyrics too. It is a beautiful romantic track under the composition of Alex Kayyalaykakam. The popular Indian singer Sonu Nigam is on the vocals.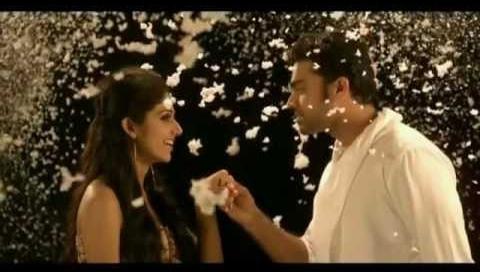 The song Thoomanjin Kulirilo, Kali Chollum Kattilo... from the movie "8:20", directed by Shayam Mohan is wholeheartedly accepted by the youth of Kerala. Like the name of the movie, the song too is unique. It is a romantic song which is well suited for the present generation lovebirds. The lyrics of the song in the voice of Sonu Nigam backed by superior musical instruments have made it a mesmerizing one.

Sonu Nigam is known to all of us as the great playback singer who has sung the award winning Hindi songs "Kal Ho Naa Ho", "Saathiya" and so on. Yes! he is truly a gifted singer. This song will definitely add another feather to his hat and we Malayalees can be proud of having such a wonderful romance filled song sung by this legendary singer. It will be definitely a treat for this valentine's day. The lyrics of this song was penned by Engandiyoor Chandrashekharan Nair and the credit of music composition goes to Alex Kayyalaykakkom.

Another interesting feature of this song is the picturaization. Each one of us watching this song scene would wish if ever we had a romance like this. The feel of the song is amazing and will take us into the world of love. Charming Arjun and gorgeous Avanthika Mohan are romancing during the song scene. Another peculiarity is that for the first time in South Indian movie industry Vice camera was used to shoot this romancing in one shot.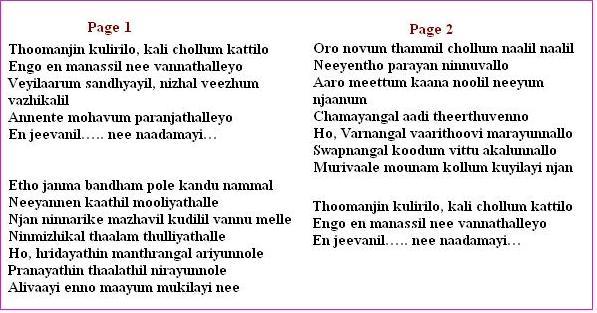 The costumes used by them, the effects used and the slow motions in between the song have also added to the punch of the song. The director and cameraman have given importance to even the smallest and sweetest movements. Through this song, the true love between the two is revealed and the comfy and cozy of being together is also shot very well.

The movie "8:20", is about something that has happened during that time of the day. It is a suspense thriller and the name itself tempts us to see the movie and to know about what has happened during that time. By listening to this song, our temptation to watch this movie will increase. This movie too have other good melodious and romantic songs. Engandiyoor Chandrashekharan Nair, Anil Panachooran and Saju Sreenivas has penned the lyrics for these songs and the music composition is done by Alex Kayyalaykakkom, Vidwan and DJ Jubin Sunny. Altogether this movie will be a visual treat and this song will allow us to fly in the romantic world. It is a suitable fresh song to dedicate to your valentine on this valentine's day.

SPK Rating : 8/10