Vaikom Vijayalakshmi Playback Singer and Gayatri Veena Artiste - Profile and Biography

Vaikom Vijayalakshmi playback singer and Gayatri veena artiste profile and biography is given here. She is well trained to use the one stringed instrument, Gayathri Veena. Her debut song was Katte Katte Nee Pookkamarathil... form the Malayalam movie "Celluloid". It has conquered the minds of millions by now. Read below to know more about her and about the Gayathri Veena.


Early Life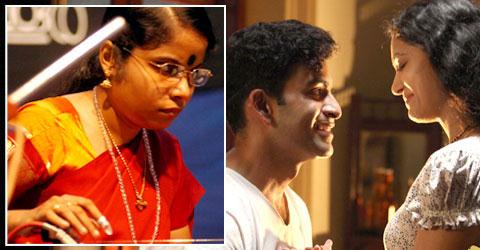 Vaikom Vijayalekshmi is a popular Gayathri Veena artist and is a playback singer. She was born on 7th October 1981, a Vijayadeshami day to V. Muraleedharan and Vimala. She is the only child to her parents. They live near the Udayanapuram temple in Vaikom. She is a religious girl who is captured by incurable blindness. In an interview she had said that both her parents and her grandmother (Father's mom) used to sing and it is her parents who take her for shows, concerts and stage programs. She added that without their support and encouragement she wouldn't have conquered these heights. As part of shows she has travelled to various parts in and out of India. This includes Mumbai, Bhopal, Delhi, Andhra Pradesh, Lucknow, Pune. Doha, Muscat, Bahrain Italy, Geneva, Switzerland and so on.

Vaikom Vijayalekshmi is a blessed artist. She was born to the Padoorkara village, Vaikom. Then they went to Madras, where her father works. At the age of two itself she started singing. After five years they came back to Vaikom. She studied classical music by listening to songs sung by legendry singers like K.J Yesudas, Ilayaraja etc. She sang in front of the audience for the first time(arangettam) at Chathankudy Devi Temple. Even though she did not get any formal training in music during the early stages, now she has got the opportunity to learn.


Gayathri Veena - The one stringed Veena

Once when her cousin came from Madras to stay with them, he made a toy Veena out of Plastic bottle and that had just one string in it. Using spoon Vijayalekshmi used to read that musical instrument. She used it to sing Keerthanams, film songs, devotional songs etc. In the year 1997, Vijayalekshmi won the first prize at State School Festival for classical music. Then a connoisseur, Sasikumaran, who was impressed by this gifted her a Gayathri Thampuru which had four strings. As Vijayalekshmi was trained to use the veena with one string, her father took out all the four strings from the Gayathri Thampuru and just tied one string to it, he has also electrified and modified it.

Now the instrument she is using is the one made by her father itself and that has only one string. Violinist Kunnakudi Vaidyanathan named this Veena as Gayathri Veena. From 1995 onwards Vijayalekshmi has been playing the Gayathri Veena at the Chembai Sangeetotsavam held at Guruvayoor. Her favourite ragams include Hindolam, Sivaranjini, Shubha Panthuvarali, and Madhyamavat.


"Celluloid" fame Vaikom Vijayalekshmi

Vijayalekshmi has recently sung for the Malayalam movie "Celluloid". The song Katte Katte Nee Pookkamarathil… is a hit and has an amazing feel. Her style of rendering is really appreciative. Even though the movie is not released yet, her song has become popular by now itself. Even in the first ten years, Viji has performed in more than 400 stages, now with the Celluloid fame she is getting much more opportunities. Even though Almighty has taken away the power of vision from her, he has instead blessed her with incomparable voice and memory power.