Reenu Mathew Malayalam Actress - Profile and Biography

Reenu Mathew profile and biography is given here. Reenu Mathew, the Malayalam actress who made her debut with mega star Mammooty in the film "Emmanuel" is now getting ready to pair with Dulquer Salman in the film "Anju Sundarikal". Read more about Reenu Mathew, from here.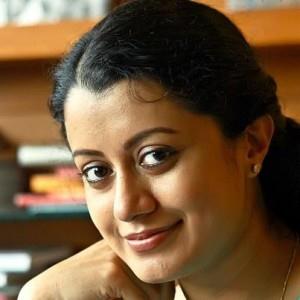 Acting in movies is the biggest desire of most of the modern ladies in this epoch. All of them are interested to join Malayalam movie industry to get a good fame. Most of them are stepping into modeling with the intention of getting an opening entry into film industry. Here comes another charming beauty Reenu Mathews, model turned actress. The year 2013 can be marked as the golden period for newbie's, since many of them are getting opportunities to show their mettle in big screen.

Reenu Mathews makes her debut with megastar Mammooty in Laljose's latest flick Emmanuel. She has been casting in the role of Mammooty's wife in the movie "Emmanuel". Lal Jose who has introduced many beautiful charming actresses includes Kavya Madhavan, Samvritha Sunil, Meera Nandan, Archana Kavi and Ann Augustine etc into Malayalam movie industry is now lending his hands for another beauty chap Reenu Mathew in his new film "Emmanuel".

Reenu Mathew was a cabin crew in an international airline by career, however she also took part in modeling too as that was her passion. The alluring beauty Reenu Mathews has already gained acting experience through two tele-films "December Mist" and "Kanapurangal". She was much excited about her debuting entry as it is was with the legendary actor Mammooty. It is the rarest opportunity for a newbie to get a lead heroine role with superstars like Mammooty, Mohanlal etc. Anyhow she has managed well in her first movie, and the movie is now getting ready for Vishu release.

Reenu Mathews is now getting ready to join Amal Neerad's anthology "Anju Sundarikal" pairing Dulquer Salman. It seems Reenu Mathews have lot of luck, getting entry into movie industry and romancing the father-son duo back to back. "Anju Sundarikal" is one of the most anticipated movies in 2013 which is the compilation of love stories by top 5 Malayalam directors. Reenu Mathews is ready to romance star son too after romancing his father Mammooty in "Emmanuel". She has casted in a traditional old world charm in "Emmanuel" with Mammooty while in "Anju Sundarikal" it seems to be an urban setting.

One of the most anticipated movies of 2013 "Anju Sundarikal" includes short movies by 5 top class directors. Anwar Rasheed and Ashique Abu movies are now in post production stage, while Shyju Khalid and Sameer Tahir whose works are ready. Now Amal Neerad is joining to this crew featuring Reenu Mathews and Dulquer in the lead roles.