Kerala Strikers beat Bengal Tigers by 147 runs

Kerala Strikers beat Bengal Tigers by 147 runs. Kerala Strikers had set a big target of 246 against Bengal Tigers on their 3rd match at CCL 3 and has won by 147 runs. Watch highlights of Kerala Strikers thrilling batting performance against Bengal Tigers at Celebrity Cricket League season 3. Rajeev Pillai was declared as the man of the match for his majestic 95 runs and he shares the price with Ragendhu who also scores 86 runs.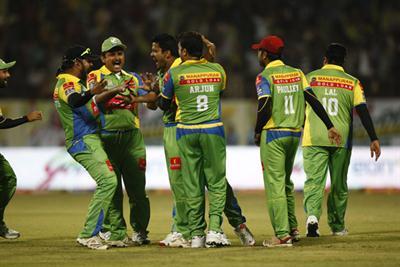 What can I say about the Kerala Strikers match against Bengal Tigers at Celebrity Cricket League held at Dubai international Stadium today evening? I have no words to express about the thrilling batting and bowling performances by Amma's Kerala Strikers players against Bengal Tigers on CCL3 T20 cricket match. It was the third match for Kerala Strikers. Mind blowing, fantastic, fabulous, sweet feast, whatever the word, it may not be equal to express the beauty of the match between Kerala Strikers and Bengal Tigers held on 23rd February 2013. Kerala Strikers beat Bengal Tigers by 147 runs to register the big margin win on CCL cricket tournament.

Kerala Strikers VS Bengal Tigers match in CCL3 T20 was as close as watching thriller in theaters. Kerala Strikers thrashed Bengal Tigers on CCL match by giving performances which closely resembles professional cricket matches. All the Kudos for Rajeev Pillai, Ragendu, Madan Mohan (Maddy), Bineesh Kodiyeri, Sumesh ( Chris Gyle Kuttappan). They have made this day for Kerala Strikers with the majestic win over Bengal Tigers by a big margin of 147 runs.

Kerala Strikers, was the one who won the toss and batted first. Newcomer Ragendhu opened the match of Kerala strikers and they played majestic innings by creating biggest partnership in this year CCL cricket in opening wicket. In the first part, Ragendhu has taken the attacking duty for Kerala Strikers while in the second part of the match Rajeev Pillai has taken the duty to lead the Kerala team to set a big target of 246 runs against Bengal Tigers. Ragnedhu came into CCL after becoming the hero in the Malayalam movie "Nagangal". He had put forward a majestic play for Kerala team in this do or die match. Kerala Strikers required a big marginal win to maintain their hope to reach semifinals. They have achieved their dream win by climbing on the shoulders of Rajeev Pillai and Ragendhu. Rajeev Pillai has missed his first century in Celebrity Cricket League with a shortage of 5 runs. Ragendhu has scored 86 runs for Kerala Strikers. Both of these players have played like professional cricket players. Both of them have smashed big sixes over the ground. Bengal Tigers bowlers did face much difficulty over these batsman, as they played attacking strokes against them. For Kerala Strikers team, Sumesh also have hit some smash hits in the last overs. In bowling Madhan Mohan and Bineesh Kodiyeri have lead the Kerala Strikers.

Kerala Strikers now have great chance of getting into semifinals with the extravaganza win over Bengal Tigers. Match was really entertaining and sweet feast for all the viewers. Rajeev Pillai was termed as the man of the match and he shared the award with Raghendhu who also played well in this match. Nivin Pauly has gained best catch award and Raghendhu has honored with the efficient player award for his magnificent innings against Bengal Tigers. Kerala Strikers captain Mohanlal has won a rarest award for the popular player award from the CCL officials.


Kerala Strikers vs Bengal Tigers Highlights

Toss: Kerala Strikers won the toss and decided to bat
Kerala Strikers : Rajeev Pillai – 95 runs, Raghendhu- 86 runs, Sumesh- 31 runs
Kerala Strikers Total: 245/2 in 20 overs
Bengal Tigers Total : 98-9 in 20 overs
Result: Kerala Strikers won by 147 runs.
Man of the match: Rajeev Pillai