Aaru sundarikalude Kadha Malayalam Movie - A Family Entertainer

Aaru Sundarikalude Kadha Malayalam movie preview is given here. Aru Sundarikalude Kadha features Sereena Vahab, Lakhsmi Rai, Umang Jain, Shamna Kasim, Lena, Nadiya Moidhu in lead roles. Debutant Rajesh K Abraham has directed the movie Aaru Sundarikalude Kadha under the banner MVM Productions.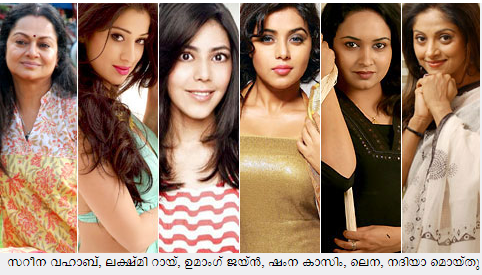 Malayalam movie field is now on the path of giving successful entertainers. Lots of movies were released in these days with successful family entertainer formula. Aaru Sundarikalude Kadha directed by debutant Rajesh K Abraham is also included under the family entertainer genre.

Normally, movie fields show reluctance to female centric concepts. However these days, a number of movies were released which had female centric concepts. Nayika, 22 Female Kottayam, Nalu Pennungal, etc are examples of such movies. Here comes another movie Aaru Sundharikalude Kadha which mainly focuses on the life of women.

Aaru Sundharikalude Kadha is directed by debutant Rajesh K Abraham under the banner MVM Productions. The director himself has penned the script of this family entertainer movie. Young musician Deepak Dev has composed the music for the upcoming movie Aaru Sundarikalude Kadha. Cinematography has been handled by Faisal Haque while Sevan Arts Mohan is the production controller of this upcoming venture.

Mumbai Model, Umang Jain is debuting in Malayalam movie industry through the upcoming movie Aaru Sundharikalude Kadha. Umang Jain came into limelight after her appearance as a model in Cadburys advertisements. The young charming beauty Umang Jain will do an important role in this movie with number of leading heroines in the Malayalam industry, including Sereena Vahab, Lakshmi Rai, Shamna Kasim, Lena and Nadiya Moidhu. As the name of the movie "Aaru Sundarikalude Kadha" suggests, the director has casted six beauty queens in this movie to enchant viewers.


Aaru Sundharikalude Kadha story

Aaru sundarikalude Kadha is depicting the story of ladies who is facing problems and crisis from the family as well as from the society in this epoch. The movie also portrays the importance of social networking sites in present life of ladies and how it is affecting their lives. Six ladies have met through social networking sites and they became friends. After sometime one of them was murdered. Aaru Sundarikalude Kadha movie is progressing with a murder of a lady who is one among the six friends in the group, who met and became friends through social networking sites. Debutant Umang Jain has casted in the role of tennis player while Nadiya Moidu is presented as her mother. Prathap Pothan comes in the role of Nadiya Moidhu's husband. He has done the role of a man who loves many ladies. Sereena Vahab comes in the role of a basket ball player in 70s while Lena comes as bike racing player. Lakshmi Rai does the role of a police officer in this upcoming movie Aru Sundarikalude Kadha. Naren is also casted in an important role as a software engineer in the movie Aaru Sundarikalude Kadha.