The Abad Nucleus Mall, Cochin, Kerala – Facilities and Contact Address

The Abad Nucleus Mall, located in Kochi is a convenient shopping mall which has lot of cheap and best branded things at reliable cost. Shopping will be an enjoyable job here. Scroll down to read more details about the Abad Nucleus Mall.


The Abad Nucleus Mall is located in Kochi, Kerala. This mall is constructed in about 13,000 square meters. This mall truly deserves the reward of, LEED certified gold rated green mall. The Abad Nucleus mall was opened on November 10th, 2010 with lots of expectations and the same is being satisfied still.


Admiring design of Abad Nucleus Mall in Kochi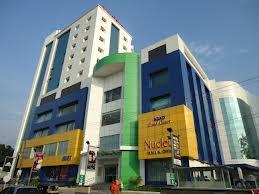 Both Interior and Exterior design of Abad Nucleus Mall in Kochi will attract the visitors at first sight itself. Also, the design includes both Retail space and Office space as well. Yes, the office space holds 4 floors with professional surroundings and the Retail space spreads around 6 floors with attractive stuffs at reliable price.


Available services at Abad Nucleus Mall

There are many services available at the Abad Nuclues Mall in Kochi. Few of those services are listed below:

Parking in Abad Nucleus Mall: The Parking lot in Abad Nucleus Mall comes up with a wide area. Yes, the parking area holds up a space to occupy approximately 350 cars and more than 400 two wheelers at a time.

Lifts, Elevator and Escalators: There are two modern car lifts available in this Mall in order to make the senior citizen enjoy their shopping in a comfortable manner. This facility is available from Basement to Terrace floor. Also, this mall includes 4 modern and advanced type of Elevators which, is able to carry about 16 persons at a time. The elevator seems to be very spacious with infra red curtains with VVVF drives. In addition to these services, from basement to Third floor there are 6 escalators working continuously for visitors convenience.

Dining and Washroom facilities: The facility of Dining and washroom is available for staffs and visitors in all floors. Both these areas are equipped with clean and hygienic products to ensure customer safety. Washrooms are available in this mall for both men and women. Also the central exhaust system is available in every toilet.

Air system: This mall has lot of fresh air coming into it, this gives a healthy environment. The Air system used in this mall is 36TR, from heat recovery wheels. The air conditioners are spread all over the mall, those are effectively handled by VFDs from VTS service.

Power back up and Water supply: This mall is designed with efficient power back system of 250 KVA. Also, there are 7 DG sets encrypted, which results in 100% power back up. The NBC and BIS standards are used in this mall for ideal water supply and drainage system. The water tanks (OH) of this mall has been designed with a capacity of 50,000 liters.

Advanced Technology: Few of the advanced and latest technologies which are implemented in this mall are Fire Detection, intercom connectivity of about 260 ports, 96 high resolution cameras, Fire alarm, Public address system, mobile signal in addition with apex coverage area and many more.


Quality of Abad Nucleus Mall

The customer satisfaction is one of the best examples to ensure that the products purchased at the Abad Nucleus Mall, Kochi is of high quality. From food court to branded items like cloths and other things this standard is maintained at reliable price. Few of the shops in this mall are listed below:

List of shops in Abad Nucleus Mall is as follows with respective phone numbers:

• Max: 0484-2707449
• Adidas: 0484-2707243
• Music World: 0484-6461478
• Baby Care: 0484-3932594
• Lee: 0484-3932596
• Aerofit: 0484-2707098
• Fastrack: 0484-3022311
• Ayesha: 0484-4019374
• Baby Planet: 0484-3932560

In this shopping Zone, the visitors can get branded, healthy products such as fitness system, Jeweles, Eye wears, Watches, Accessories, Bags of all brands, Shoes for both men and women, Apparels etc, all at reliable cost.


Entertainment Zone in Abad Nucleus Mall

Everyone can experience a mind blowing digitized center inside this entertainment zone. This zone includes numerous games, which are also suited for elders. The multi-sensors have been fixed in this zone to make everyone more interested to play. The rides inside this zone will be nice and 4D smart chairs are also available inside the same. The audio and video system of about 3D 7.1 will amplify the joy of every individual. Few of the other notable things in this zone are:

• Leg tickles
• 3DOF seat movements
• Face and Neck air blasts
• 3D projectors
• Personalized speakers
• Hall effects like water and wind
• Car and bike racing


Food Courts in Abad Nucleus Mall

Plenty of food courts are available in this Abad Nucleus mall. These food courts are regularly monitored to ensure safety and hygiene. Hence we can be sure that only fresh products are sold here. This is a main factor which attracts visitors to this food court. Few of the famous food courts inside of this mall are listed below for readers view:

• Abad Food Court
• Pizza Xpress
• Kebabs & Curries
• China Town
• Juice-Lounge

The blend of taste can be experienced in these food courts at reliable cost. From sea foods to normal dishes, you can get complete delicious food items over here.


Location advantage of Abad Nucleus Mall

Since, this shopping mall is positioned in a hottest spot of Kochi, Kerala, the transport facility can be accessed in a simple and easy manner. Yes, it is near to the Kochi metro near to Maradu.


Customer Satisfaction towards Abad Nucleus Mall

The Customer Satisfaction of Abad Nucleus mall stands in an apex level. Yes, the visitors towards this mall is increasing day by day. This is one of the best examples for ideal customer satisfaction. The advanced cameras and comfy environment makes the visitors feel better. The continuous promotions, offers and discounts prevailing in the mall too attracts the visitors.


Contact Address of Abad Nucleus Mall

ABAD NUCLEUS MALL
Maradu,
Kochin, Kerala.
Pin-code - 682304
Off: +91 484 3095757/758 | Fax: 3095759
Ph: 91- 484-3930999, 309 5758, FAX: 91-484 309 5759
Support: Mob: +91 9995377033, E-mail: support@nucleusmall.in
Leasing: Mob: +91 9895433688, E-mail: leasing@nucleusmall.in