Lulu International Shopping Mall Cochin Inauguration on 10th March 2013

Lulu International Shopping Mall Cochin Inauguration or opening date is set for 10th March 2013. The Lulu International Shopping Mall located at Edapally in Kochi is being built on an area of 2.5 million sq ft set to deliver an ultimate shopping experience to the people of Kerala. The inauguration of the mall would be done by Kerala chief minister Oommen Chandy on 10th March 2013 at 4 PM.


As Kochi is gearing up to welcome the attention of the whole world for its enchanting beauty, there are too many reasons to leave the heart for its call. The much awaited shopping destination LuLu Mall spread across 2.5 million sq ft would be the next cause for the people to visit Kochi. With the formal inauguration to be held on 10th March 2013 at 4 PM by Kerala chief minister Oommen Chandy, Lulu would be opened to all, delivering an ultimate shopping experience for Keralites.

Lulu Mall can bring exotic shopping hours opening new paths for better shopping, entertainment and scrumptious food experience with more than 300 outlets which inlcude food courts, restaurants, family entertainment zones and a nine-screen multiplex theatres under a single hood. S if you wish to spend a weekend with your friends and family, Lulu Mall can be a bright choice. Kochi being one of the best tourist destinations, the Lulu Mall would keep the dreams alive providing all the comforts.

Being one of the largest malls in Asia, the Lulu Mall would also accommodate a premium five-star hotel managed by JW Marriott Hotels. With 1.6 million square feet left as Gross Leasable Area (GLA), the Lulu Mall would over power the Phoenix mall of Mumbai which has a GLA of 1.34 million square feet.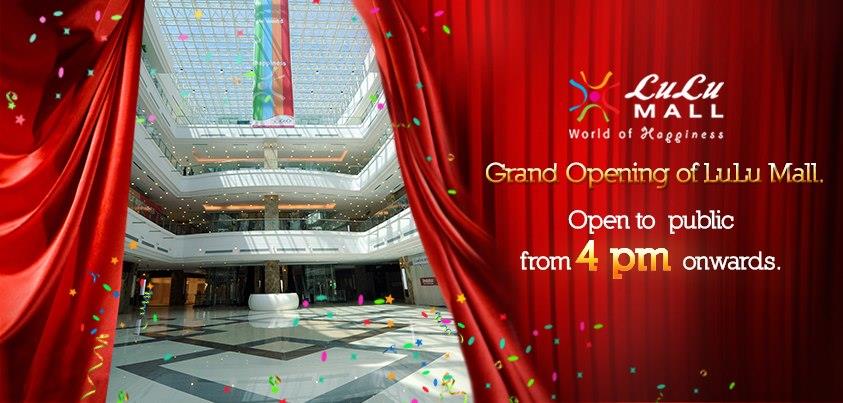 Located at the heart of Edapally, the construction of Lulu Mall was started a couple of years ago. The mall which would host as the hub of several world-class brands would open new horizon for customers. Spread across three floors, the LuLu Hypermarket will offer all the need including fresh food, groceries and electronics to fashion, gifts and stationery.

The 9-screen multiplex features magnificent computer gaming, an ice rink (a floor of ice for ice hockey or ice skating), bowling lane and thrilling rides which can take entertainment to the next extra level. Escalators, travelators and elevators would provide comfort for the customers while shopping. With money exchange centers and bank counters set in the mall, you may be not left there with a zero balance purse.

With a parking space to accommodate 3000 vehicles, the mall is situated at a site having an intersection of NH 47, NH 17 and the Kochi by-pass, the three important highways. The Cochin International Airport is 10 kilometres away, while the railway station is just four kilometres away from the Mall.

Kochi also acknowledged as the 'Gateway to Kerala' would keep its head high for providing space for an extra ordinary shopping Mall which can bring unforgettable taste at your tongue. A multi cuisine food court is being set with seating arrangements expanded for 3500 people at a time. Desirable dishes like Continental, Chinese, exotic and luxurious cultural Kerala dishes to be ready at any time would keep your mind more comfort.