CCL T20 2013 Semifinal - Kerala Strikers (KS) vs Karnataka Bulldozers (KB) Live Streaming on Reelax

Watch Celebrity Cricket League 2013(Season 3) 1st Semi-Final Match Kerala Strikers (KS) vs Karnataka Bulldozers (KB) Live Streaming online on Reelax website @ http://reelax.in/live.php, ball to ball commentary on Asianet, Suvarna and live score updates on http://www.ccl.in/. The match between Kerala Strikers and Karnataka Bulldozers will be played at Uppal, Hyderabad on 9nd March, Saturday from 3.00 PM onwards. CCL broadcasting partner Star Network will bring the match live on 8 channels including Asianet a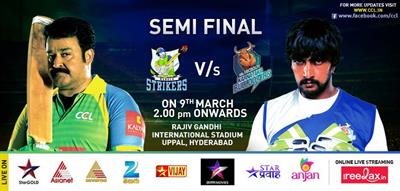 With the Celebrity Cricket League (CCL) 2013 reaching the climax, the excitement is on the peak as 4 teams are ready to fight for pride to register their place in the final. The stage is set for the first semifinal match between Kerala Strikers and Karnataka Bulldozers which is to be played at Uppal, Hyderabad on 9th March at 3 PM. After thrashing Veer Marathi, Telugu Warriors and registering comfortable wins, Karnataka Bulldozers lost to Kerala Strikers by six wickets in their last match played at Chennai.


CCL T20 2013 1st Semifinal – Clash of the Titans

After the round robin matches, now it's time to keep the eyes close for the Semifinal matches which carry all the essence of thrill and excitement. Amma Kerala Strikers captained by Mohanlal is gearing up for the first semi final to be played against Karnataka Bulldozers at Uppal, Hyderabad on 9th March. With a huge line of all-rounder, Kerala team had made their journey safe registering comfortable wins in the previous matches.

Starting from beefy built Rajeev Pillai, the Strikers do have players who can turn the match with ball and bat. Hard hitters like Ragendu, Madan Mohan, Sumesh B and Vivek Gopan had proved their mettle on ground while Manikuttan, Bineesh Kodiyeri, and Madan Mohan do have the skill to move the ball reachable for a wicket. Right from the beginning of the CCL 3, the Kerala Strikers were the hot favourite which could win the title.

On the other side Karnataka Bulldozers is also a strong contender for the title, which can challenge the Kerala Strikers in the semifinal. Even though lost their previous match to the Kerala team for 6 wickets, Karnataka is a blend of talented youngsters lead by Sudeep. Having a steady team of players who have the courage to strike down its opponents, the 1st Seminfinal would be real feast for the eyes of cricket fans.


Kerala Strikers - Karnataka Bulldozers Teams

Here is the lineup of players representing Kerala Strikers and Karnataka Bulldozers.

Kerala Strikers team: Mohan Lal, Indrajith, Rajeev Pillai, Nivin Pauly, Vivek Gopan, Manikuttan, Bineesh Kodiyeri, Saiju Kurup, Prajod Kalabhavan, Arun Benny, Madan Mohan, Arjun Santhosh, Sleeba, Ragendu, Suresh Nair, Riaz Khan, Shafique Rehman, Rahul Madhav, Vinoo Mohan, A Nandakumar, B Sumesh, U Rakendu Kumar

Karnataka Bulldozers team: Sudeep, Dhruv Sharma, Pradeep, Tharun Chandra, Rahul, Saurav, Vishwas, Rajeev, Abhimanyu, Darshan, Chiru, Diganth, Chethan, Dharma Kreethiraj, Tarun Sudhir, Jayram Karthik, Himmath, Mahesh, Manjunath, Avanish


CCL Semifinal - Kerala Strikers vs Karnataka Bulldozers

As CCL has become much popular and professional like an International cricket tournament, there had been an increase in the viewership of the sport event through television and online. With star network crowning the official broadcast partner link, the match would be live telecast on 8 channels including Asianet and Suvarna.

Along with live TV broadcast, there will be online streaming of the match through Reelax, an online live streaming website. As many people who get stuck in their office will less access to television can tune to the official websites of the channels to catch ball by ball coverage with commentary and live scores. As gadgets like Laptop, tablet and other mobile devices are much popular; it had facilitated people to watch the game while on the move.

You can visit the official online websites for live streaming of Kerala Strikers Vs Karnataka Bulldozers 1st Semi Final:
1. http://www.ccl.in/live.php
2.http://www.youtube.com/ccl
3. http://reelax.in/live.php

So get ready to watch the visual treat set by Kerala Strikers Vs Karnataka Bulldozers today.