Recipe of Nadan Mutta Roast (Egg Roast) - Hot and Spicy

The recipe of Nadan Egg Roast is given below. It is an easy to cook recipe which can be used as a side dish along with Appam, Idiyappam, Rotis and so on. The peculiarity of this dish is its hot and spicy nature. The odor, color and taste of this dish is really tempting. Read below to know the ingredients and method. Try it and enjoy your meal.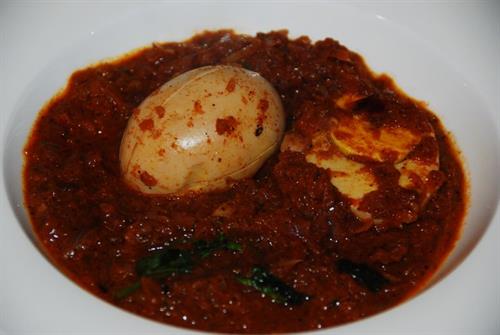 Introduction about Nadan Mutta Roast

Egg Roast is a very familiar dish to one and all. Let's give a Kerala touch to it to make it much more yummier. Keralites are know for their hot and spicy foods/dishes. Now, this tasty Egg Roast will turn to be yet another dish to add up to the hot list. The dish, Nadan Egg Roast is not only spicy but is a healthy dish too. It has lot of protein content in it. But those who consider onion to create negative energy will have to move away from this amazing dish as onion is equally important as egg in this particular case.

Here, you go with the ingredients and method of preparation. You will surely like it and will enjoy having it.


Ingredients for Nadan Mutta Roast
Eggs : 3 Nos


Onions (medium ones) : 2 Nos


Tomatoes : 2


Ginger : A small piece


Garlic : 2-3 Pods


Green chillies : 2 Nos


Salt : to taste


Red Chilli Powder : 1tsp


Turmeric Powder : 1/4tsp


Kashmiri Chili powder : 1tbsp (for color)


Garam Masala : 1/2tsp (for odor)


Mustard: 1/4tsp


Oil : 1tbsp


Curry leaves : 1 sprig


Water: 1/4 Cup
Method of Preparation
Wash the eggs and boil it until the eggs gets cooked well. Approximately it will take 10 - 15 minutes time. Add little salt to the water while boiling the eggs.


Meanwhile wash the onions and tomatoes. Chop them finely and keep it aside.


Also, remove the skin of garlic and ginger and mince them as well.


Once the eggs are boiled, remove its shell and wash them thoroughly. Cut the eggs vertically, the cut should not be too deep.


Heat some oil in a pan and shallow fry the eggs. Once it starts to turn its color into brown, take them off and keep it aside.


Add the mustard seeds into the same pan. Pour little oil if required. once the mustard seeds cracks, add chopped onions. Saute well until the onions become transparent and slightly reddish brown in color.


Add minced ginger and garlic to it and saute well.


Then add curry leaves and chopped green chillies. It is better to cut the green chillies vertically into two pieces.


After 2-3 minutes, add the chopped tomatoes and saute well until it gets smashed well.


Now it is time to add the masalas. Add turmeric powder, chilli powder, Kashmiri chilli powder and garam masala to the mix. Saute well for 5 minutes.


The mixture will be too dry now. Pour water to the mixture and stir well. Add salt to taste.


Add the cooked eggs to the mixture and stir smoothly. Once the eggs are added, hard stir may cause the yolk of the egg to come out and gets mixed with the gravy.


Cook the dish on medium flame for 5 minutes and then switch off the flame and serve hot.
Garnishing Tips

The Nadan Egg Roast itself is very pleasing to the eyes and tasty to the tongue, hence this mouth watering dish do not require any garnishing as such but if you are making this dish during an important occasion, garnishing will be required. Flowers made of tomato can be placed in the center of the dish and coriander leaves or curry leaves can be used to give a fresh and colorful look to the dish.


Tips and Tricks
While boiling the eggs adding little salt or vinegar to it prevents the eggs from cracking.


The dish should have thick gravy, hence too much water should not be added to it.


Ginger-garlic paste can be used instead of adding minced ginger and garlic. It has a different odor and flavor altogether.


The eggs can be either cut into two pieces vertically or can have slits on all four sides in-order to gel with the masala.


After adding the egg to the mix, hard stir will cause the egg to crumble and the yolk gets mixed up with the masala.


Only use green chillies if required as the dish already has ginger, red chili powder and Kashmiri chili powder in it.