Red Wine malayalam movie review: FDFS reports from theatres in Kerala

Red Wine malayalam movie review and FDFS reports from theatres in Kerala are given here. Red Wine malayalam movie first day first show report is updated. Directed by debutant Salam Bappu, Red Wine has been released in prominent theatres on 21st March 2013. Produced by Gireesh Lal under Gowri Meenakshi Movies banner, the movie features Mohanlal, Fahad Fazil, Asif Ali, Meghana Raj, Mia Groge, Meera Nandan and Saiju Kurup in lead role.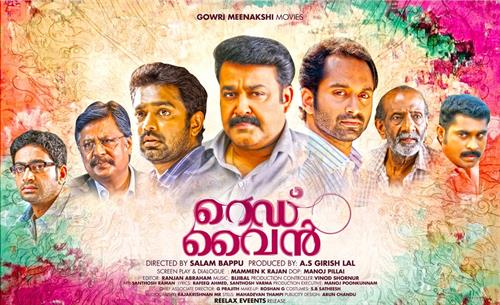 Are you ready to taste the delightful taste of Red Wine? Releasing in 82 theatres across Kerala, Red Wine had created a huge buzz right from the beginning of announcement of the project. Salam Baapu who was associated with Lal Jose and few other eminent directors had been a part of film industry for the past 11 years. Even being a die hard fan of Mohanlal, Salam did not get a chance to meet Mohanlal in his film career. Not hiding his thrill directing his dream hero Mohanlal, Salam's Red Wine is a tale of friendship fully packed with excitement and suspense.

The plot 'Red Wine' penned by Noufal Blathur really kicked up Mohanlal, Fahadh and Asif, who didn't have a second choice rather than nodding their head to get themselves involved in the project. With time to time plan, Salam did choose the actors who could give 100% dedication to their roles. Young actors Fahadh Fazil and Asif Ali remember the great days acting with Mohanlal, the man who had mesmerized the audience for the last 3 decades.


Red Wine malayalam movie story

The movie revolves around the life of two strangers, Anoop (Fahadh Fazil), a theatre artist and Rameshan (Asif Ali), an automobile sales executive. Anoop who is a native of Wayanad is a commited individual who gives much importance to drama and social issues. On the other side Ramesh who hails from Kozhikode is a sales executive in a company. He is much involved in his own acts while not bothering about others.

Even though, the life of both these guys are different, there is an an unknown connection between them. A particular incident brings Ratheesh Vasudevan (Mohanlal), an investigating officer to the scene which takes off to a flight afterwards. The suspense and thrills to be followed, keeps the movie interesting as it moves to the next phase. Navas (Saiju Kurup) and his wife, Sree Lekshmi, (Anusree) plays the role of are Anoop's classmates. The other main actors in the movie are Meghna Raj and Meera Nandan.


Red Wine Movie Review

Red Wine, one of the most anticipated malayalam movie had many things to boost upon till it reached the theatres. The movie started with a full packed audience who were ready to get enthralled giving up their time and soul to watch 'Red Wine'. Salam Bappu who stepped in an independent director needs some much more time to prove his skill behind the camera.

A story which revolves around a murder mystery is not new for the malayali audience who had been experiencing it for the past 3 decades. The movie took off in a grand style trembled down like a pack of playing cards. The expectations given in the first half couldn't be carried off to the next phase as the thrill ended with less surprise.

Fahad Fazil, the much expected element of the movie steeled the show with his acting brilliance. His character as 'Anoop' was much enough to prove his skill on screen. His words and actions really had the power to keep the audience bite their nails. Asif, as Remeshan had given commitment to his character but the audience expected much more from him.

Mohalal as an investing officer played his part well while his presence was limited. The movie would have been rated better if the long line of artists could be reduced. Many among them were put in various scenes which were not consolidated properly. TG Ravi, Shaiju Kurup, Suraj Vengarumoodu, Meera Nandan, Mia, Maria John, Meghna Raj and Anu Sree kept the face alive, but couldn't keep the reputation which the movie made in the beginning.

Regarding the technical side, Salam is quite impressing as a debut, but need to improve a lot. Manoj Pillai as DOP and Santhosh Raman's art work was truly alluring. Bijibal's music was good, but didn't carry a surprise element. 'Red Wine' which set stage for a thriller ended with less suspense leaving the audience back to home with smile which would not last a long.

But if you wish to spend time with your friends, do watch the movie without any high fly expectations.

SPK Rating : 6.5/10
SPK Verdict : Watchable