Download KEAM 2013 Admit Card Now

Are you ready to appear for KEAM 2013 entrance exam? Download your admit card online now from the official website of KEAM 2013 at http://cee.kerala.gov.in/keamadmitcard2013/main/admitcard.php. Candidates can download their admit card for Kerala engineering/medical entrance exam from today onwards. Download and take print out of your admit card for Kerala entrance examination 2013.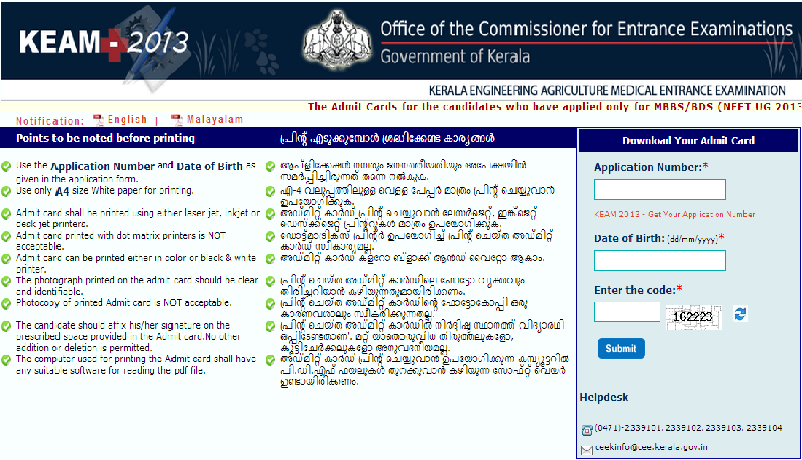 Candidates who have applied for Kerala entrance examination 2013 can download their admit card online from commissioner of entrance examinations website directly by following this link. At CEE website, admit cards of all the applicants of Engineering/ Medical entrance examination (Except MBBS/BDS) are available to download from today now onwards. Candidates who have applied for MBBS/BDS entrance examination can download their admit card later on from the same site.

Kerala engineering/medical entrance examination is scheduled to be held from 22nd to 25th of April 2013 at different centers across the state of Kerala. All the candidates should produce their admit card for the verification at the examination center to attend the Kerala entrance exam on April 2013. Candidates will not be permitted to attend entrance examination without admit card.

Admit card of few candidates have been temporarily withheld as they have failed to enclose some of the essential documents along with the application for the KEAM 2013. The details of such defects will be displayed while attempting to download their admit card from the CEE website. Candidates should rectify all the mistakes mentioned in the memo on or before 5th April 2013 to avail admit card for Kerala entrance exam 2013 by submitting the relevant documents to the office of the commissioner of entrance examination.


How to download KEAM 2013 admit card online?

Candidates appearing for medical or engineering entrance examination 2013 of Kerala state can download their admit card through online from today onwards. Those who are ready to appear for KEAM 2013 should visit the CEE website to download their KEAM 2013 admit card for the exam. To download admit card, candidates should fill in a form which will ask you to type in your application number as well as date of birth etc. Admit card should be printed out in an A4 size sheet. You will get more detailed instruction for download admit card from the website itself.

If a candidate has forgotten his/her application number, don't be tensed, you are provided with a facility to get your application number on this link. Fill the appropriate details and get your application number and then you can download your admit card for Kerala entrance examination 2013 from the CEE website.

For more informations contact the following Help line numbers on all working days from 10:00 a.m. to 5:00 p.m.
0471 - 2339101, 2339102, 2339103, 2339104