Arattupuzha Pooram 2013

Have you heard about the famous "Arattupuzha Pooram"? This article gives you the details of the famous "Arattupuzha pooram" conducted in Arattupuzha village of Thrissur district. This is the largest pooram conducted in Kerala with 61 elephants. Read the below article to know more about Arattupuzha pooram.


Arattupuzha is a village located in Thrissur district. This village is situated 14kms away from Thrissur town. Arattupuzha village is well known for the annual festival 'Arattupuzha pooram'. This festival is known by the name 'Bhoomiyile Devasamgamam' because 21 Gods and Goddess comes to participate in this festival. This festival takes place near the Sree Sastha temple and in its surrounding areas in Arattupuzha. Arattupuzha pooram is celebrated for 7 days, in which the main pooram takes place on the sixth day.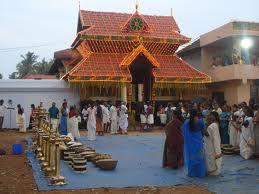 Arattupuzha Pooram

The festival, Arattupuzha Pooram starts with 'Kodiyettam'. This took place this year on 19th March. On this day ghee is offered by the devotees, which is used to light the lamps in the temple premises. More than five thousand lamps will be lighted on the evening of Kodiyettam day. It is believed that those who participate in this event will be blessed by Lord Sastha.

The next day is 'Thiruvathira Purapad'. Lord Sastha, accompanied by five elephants is taken out of the temple during this day. Rituals starts at 3:00am and ends by sunrise. After this Lord Sastha is moved to Thaikattussery Temple to see the pooram at Thaikattussery Temple.
On Friday March 22nd, it is 'Peruvanam Pooram'. Sastha goes to Peruvanam temple and enters the temple by 6:00pm through the southern gate accompanied by seven elephants and 'chendamelam' by more than 150 artists. Sastha moves out through eastern entrance for special rituals. Accompanied by other deities Lord Sastha comes to Peruvnam temple and takes rest at 'Thantri Illam'. After that, Lord Sastha goes to 'Pidikkaparambu Temple'. Sastha reaches Pidikkaparambu Temple by 7:00am and stands facing north. After that elephant race starts and Sastha gets into the temple and says farewell to 'Chathakkudam Sastha' and returns back to Arattupuzha temple.

The next day, which is 24th March, a Sunday is the 'Tharakkal Pooram'. This pooram is accompanied by nine elephants with elaborate percussion with more than 200 artists taking place outside the temple. Urakam Ammathiruvadi comes from the west and Thottippal Bhagavathy comes from the south. After fireworks Thottippal Bhagavathy says farewell to Sastha. After ritualistic holy dip or ' Arattu', Urakam Ammathiruvadi says farewell to Sastha. After that Sastha moves to 'Pisharikkal Temple'. From Pisharikkal temple Sastha goes to 'Thottippal Temple' to take part in the Thottippal Pooram and after Thottippal Pooram Sastha is comes back to Arattupuzha temple.

It's on the 6th day that Arattupuzha Pooram is celebrated. This year pooram is celebrated on March 25th, which is very early compared to last year. After customary rituals Sastha is brought out of the temple by 7:00pm accompanied by fifteen elephants and around 250 artists taking part in the percussion followed by fireworks. After fireworks Sastha moves to the paddy field in front of the temple to receive all the guests for Devamela.





The next is Devasamgamam. Poorams of Gods and Goddesses continue when the Sastha takes his stand at Nilapaaduthara, the ground that lays between the temple and this field forms the venue for the festivals of Gods and Goddesses from opposite side, one set coming down and another climbing up.
Ascending poorams begin with Thottippal Bhagawathi and then Chathakkudam Sastha with five decorated elephants with Panchaarimelam. After that poorams of Poonilakkavu, Kaduppasseri and Chalakkudi Pisharikkal Bhagawathies comes one after another.

Then the descending poorams begin with Edakunny Bhagawathi coming with five decorated elephants, then Anthikkad Bhagawathi and Choorakkode Bhagawathi poorams follows with Six elephants. After both ascending and descending poorams, Nettissery Sastha's pooram begins from western side of the field accompanied by five decorated elephants and Pandimeelam.

The next procedure is 'Kootti Ezhunnellippu' on 26th March early morning. When star Chothi is seen in the sky, Triprayar Thevar reaches west part of the paddy field with seven elephants and Panchavadyam. After that 21 elephants joins the procession with Paandimeelam. Thevar is accompanied by Urakathammathiruvadi along with Chathakkudam Sastha on the left and Cherpu Bhagavathy on the right.

A total of 23 gods and goddesses take part in the pooram at Arattupuzha. They are :
Arattupuzha Sastha, Thriprayar Thevar, Urakam Ammathiruvadi, Chathakkudam Sastha, Cherpu Bhagavathy, Thottippal Bhagavathy, Aykunnu Bhagavathy, Poonilarkkavu Bhagavathy , Kaduppassery Bhagavathy, Pisharikkal Bhagavathy, Edakkunni Bhagavathy, Chalakkudi Pisharikkal Bhagavathy, Thaikkattussery Bhagavathy, Anthikkad Bhagavathy, Choorakkode Bhagavathy, Chakkamkulam Sastha, Chittichathakkudam Sastha, Mattil Sastha, Kodannur Sastha, Nettissery Sastha, Kalleli Sastha, Medamkulam Sastha, and Namkulam Sastha.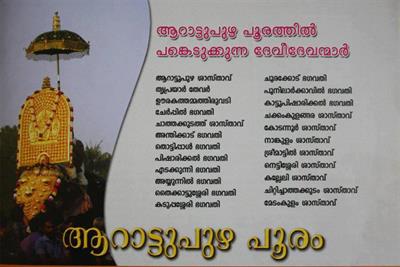 It is believed that Lord Mahavishnu is giving blessings to his devotees together with Goddess of Earth (Cherpu Bhagavathy) and Goddess Lakshmi (Urakam Ammathiruvadi). By sunrise, the elephants carrying idols from neighboring temples that had gathered at the temple, proceeds to the nearby river for the 'Aarattu ceremony'. It is a ceremonial cleansing process by immersing the idol in the river accompanied by chanting of mantras. It is believed that Ganga Devi is present at Mandharam Kadavu of Arattupuzha river. After Kootti Ezhunallippu, Lord Thevar with Cherpu Bhagavathy and Urakam Ammathiruvadi proceeds for the holy dip or Arattu . Special tents are built for the customary rituals and poojas. When the idols are dipped in the water thousands of people also take part in the holy dip. After Arattu, Lord Sastha comes out of the temple and says farewell to the other deities who will be leaving the temple premises.

Sastha follows Cherpu Bhagavathy and Urakam Ammathiruvadi till the end of the paddy field. Then Sastha goes to the Thevar to say farewell and at this time the administrator of the Devaswom announces the next year's pooram date and starts his way back to Thriprayar temple. Sastha then returns to the temple accompanied by devotees.

The seventh and final day is "Gramabali". It is done for the safety of the village. During this day Sastha navigates the village to bless his people. Starting from Arattupuzha, Sastha travels along the paddy fields and visits the temples at Kottamkulangara, Mympilly, Urakam, Kidakulangara, Aynikkad, Muthullial, Cherpu, Thayamkulangara, Mekkavu, Peruvanam, Thiruvullakkavu, Vallachira, Chathakkudam, Pidikkaparambu, Pisharikkal, Thottippal and Mulangu before reaching the Arattupuzha temple at 5:00am next day. Pooram ends with lowering of flag at the Arattupuzha temple.