Soorya Festival at USA- Sangamam 2013

Are you looking for the information about Soorya Festival at USA? Sangamam 2013 is the Soorya festival first time in America. Soorya Festival Sangamam is going to be held across 15 cities of America during May 3 to June 2013. Book your tickets for Sangamam 2013 mega stage show of Soorya arts society at USA organized by Freedia Entertainments.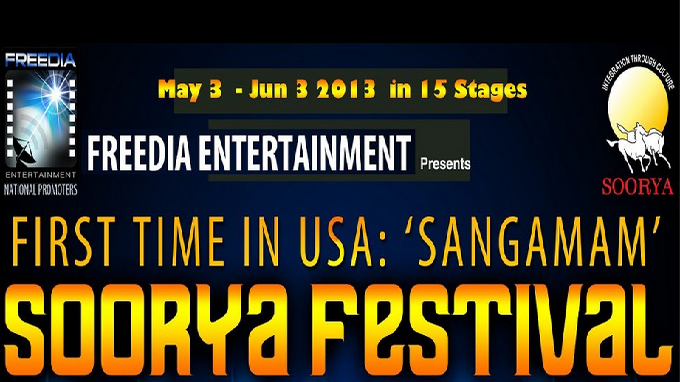 The longest arts festival in world organised by Soorya is going to be held across 15 cities of USA from 3rd May to June 2013. It is for the first time that USA is hosting Soorya festival. Freedia Entertainments proudly presents the visual classical treat Soorya Festival (Sangamam 2013) in 15 major cities of USA.

Nataraja Krishnamoorthy, popularly known as Soorya Krishnamoorthy is the founder of the world largest art society Soorya stage and film society. He is known as the pioneer in presenting an artistic extravaganza with lights and sounds and fusion of music and dance in Malayalam. The Trivandrum based art society is renowned for organizing Soorya festival which promotes Indian arts and culture among world.


Artists in Soorya festival Sangamam 2013

15 prominent artistes in respective fields from all over India will perform at this year's soorya festival in USA (Sangamam). List of artists performing at Soorya festival Sangamam 2013 at USA is given below:
Sonia Gupta,Three dancers of Sonia Gupta team - Kathak
Dakshina Vaidyanathan (Bharatha Natyam)
Lazer Sasi and Pathrose Jayakumar – Percussionists ,
Madhu & Sanjeev (Samudranadanam), 2 dancers of Samudra team.
Ziaya ul Haq (Vocal – Idea Star Singer)
Prahlad Acharya – magician
4 Dhol – Dholak Chalo drummers from manipur
2 Sound and Light Design Engineers
Padmasree Dr Soorya Krishnamoorthy



Schedule of Sangamam 2013- Soorya festival at USA

Sangamam 2013 is the Soorya festival at USA organized by Freedia Entertainment, a Houston based Entertainment Company. The dazzling stage show Sangamam will be a light and sound spectacular and fusion of classical dance and music. It will be enjoyable across the boundaries of language and cultures all over the world. This mega show is will be held in San Antonio, Houston, Oklahoma, Dallas, Charlotte, Boston, Washington, New jersey, New York, Chicago, Chicago AAPI, Detroit and McAllen.

3 May 2013 - San Antonio

5 May 2013 - Houston

10 May 2013- Oklahoma

11 May 2013- Dallas

12 May 2013- , Charlotte

17 May 2013- Boston

18 May 2013- Washington

19 May 2013- New jersey

24 May 2013- New York

25 May 2013- Chicago

26 May 2013- Chicago AAPI

27 May 2013- Detroit

2 June 2013- McAllen
Buy tickets for Soorya festival Sangamam 2013 at New Jersey

If you want to buy tickets for Soorya festival Sangamam 2013 held at Woodbridge High School,
750 St Georges Ave,Woodbridge, NJ 07095 follow the link https://mycity.sulekha.com/soorya-festival-sangamam_buy_613402. Tickets price is as shown below:

Single- 25$
VIP Single- 50$
VIP family-200$
VVIP (2 Persons Allowed)- 250$

Contact numbers for more information of Soorya festival show at New Jersey. Sheela Sreekumar:732 925 8801 | Annie Libu:347 640 1295 | Shrijil Nair:201 783 4847 | Soffy Vilson:848 250 5992 | John Thomas:908 295 7606 | Sheena Kunnumal:732 762 6725 | Chitra Menon:732 792 9715 | Sowparnika Dance Academy:732 501 8647 | Sobin Chacko:908 344 2523 | John Martin:908 447 7991.


Buy tickets for Soorya festival Sangamam 2013 at Chicago

If you want to buy tickets for watch Soorya festival Sangamam 2013 held at The Copernicus Theater (Gateway),
5216 W Lawrence Ave,Chicago, IL 60630 follow the link https://mycity.sulekha.com/soorya-festival_buy_613401. Tickets price is as shown below:

General- 30$
VIP Single- 50$
VVIP single-100$

Contact numbers for more information of Soorya festival show at Chicago Chinu Thottam : 630 863 4984 Johny Makkora : 281-386-7472.

For more information about Sangamam 2013 Soorya festival at USA Call at 1 (800) 213 7080 Email: freediausa@gamil.com, For more details about schedules and ticket availability of Sangamam 2013 at USA check here