Check Kerala SSLC Result 2013 on 24th April

Kerala SSLC Result 2013 will be published on April 24 2013 at 11.30 AM by educational minister PK Abdu Rabb. The SSLC Result 2013 will be available at various official websites thereafter. Check your SSLC Result (10th class result) and download mark list from official website of Pareeksha Bhavan and the official NIC provided Kerala exam result pages. Read here to get details about how to get and where to get the Kerala SSLC result 2013.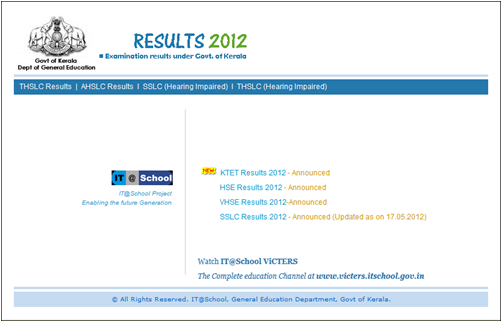 Kerala SSLC Result is scheduled to announce on Wednesday 24th April 2013 at 11.30 AM. About 4,79,000 students had appeared for the SSLC Exam this year. Kerala SSLC Result will be published on April 24th 2013 at 11.30 AM by Educational minister PK Abdu Rabb. The SSLC Result 2013 along with Mark List (Grade List) will be available thereafter at official website of Pareeksha Bhavan and other official wesbites.

The SSLC valuation was conducted in three zones with 54 camps and about 12,500 teachers taking part in the process. The valuation camp started on 1st April and finished on 15th April.

Last year 93% of students had passed the SSLC examination. SSLC exam being the stepping stone for student's future career, a better result in SSLC exam will help them to secure seats for higher secondary education. It becomes mandatory requirement to get higher mark in SSLC to obtain secure seat in major courses.


List of Websites for Kerala SSLC Result 2013

Students and parents can check Kerala SSLC Result 2013 from the following website directly from the time of publication. SSLC Result will be available from 11.30 AM onwards on these official websites. Students will get the exam result by providing their registration number in the box and clicking on the submit button.
www.kerala.gov.in
www.results.nic.in
www.keralaresults.nic.in
www.results.itschool.gov.in
www.examresults.kerala.gov.in
www.keralapareekshabhavan.in
www.prd.kerala.gov.in


SSLC Result will also available via text message sending SMS. Students who want the results via SMS should send an SMS to Kerala Short Code 537252 with the format 'SSLC Register Number'.