Shelly Malayalam Actress - Profile and Biography

Shelly Nabukumar's profile and biography is given below. Shelly, the new actress will be better known to Malayali viewers as 'Shalini'. Yes, she is none other than the "Kunkumapoovu" fame Shalini, an innocent girl. Don't you want to know more about her and about her career? Read on and you will find the information you were searching for.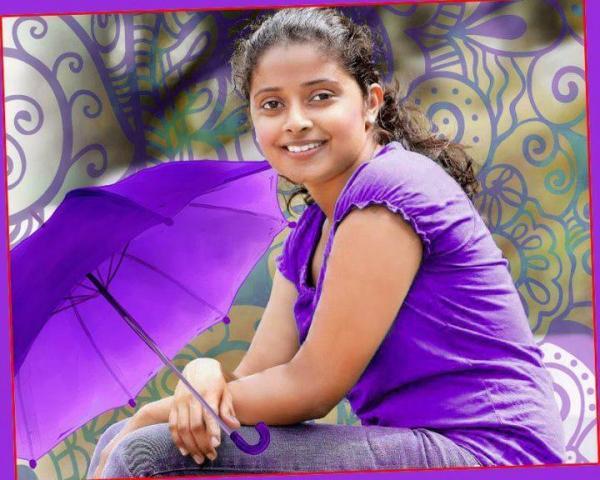 Personal Life

Shelly Nabukumar or Shelly Kishore is an upcoming young talented Malayalam actress. She was born on 18th August 1983 and hails from Chirayankeeshu of Trivandrum district, Kerala, India. Her father J. Nabu Kumar is a civil engineer in Dubai, U.A.E and her mother Sheela is a housewife. Shelly has an elder brother and a sister. Her brother is married and is settled in America. Her sister, Shibily works as a teacher. Shelly has done her schooling in Muscat and in New Indian Model School, Dubai. She has done diploma in mass media and communication from Singapore and another diploma in sociology. Now she has completed her Post Graduation in E-Governance. Shelly is a trained dancer too. She has learned Bharatanatyam, Mohiniyattam and Kuchipudi.

Shelly Nabukumar is married to Kishore C Menon. Kishore too works for the film industry as a production controller. They are blessed with a son, Yuvan Kishore. Shelly in a TV show has said that her grandfather (mother's father), Sri. Vishwanathan was a drama artist and has acted with the renowned Malayalam actor Prem Nazeer. Hence acting must be there in her blood. In a short span of time, Shelly was able to take the Malayali viewers through the serial "Kunkumapoovu".


Career Life

Shelly's introduction into public shows dates back to the year 2000. Then she was selected as the second runner up for the Miss Flower Show contest held at Kanakakunnu, Trivandrum. Her entry into the Malayalam serial "Kunkumapoovu" was upon her husband, Kishore C Menon's request. He is the Production Controller of Kunkumapovu. However it was a turning point in her life. She was very much successful in giving life to the character 'Shalini', who is very far away from the actual Shelly. The character Shalini is a poor, timid girl who has no courage at all. She is been smashed by everyone but still she loves all of them. Shelly's outstanding performance made Shalini viewer's favorite character. People wholeheartedly accepted Shalini and Shelly is Shalini to them now.

In an interview Shelly has commented that she likes to walk around in the busy streets of Trivandrum without being noticed by anyone. She enjoys when some people tells her that she resembles the serial character Shalini. Shelly is actually very bold and smart in real life where as Shalini, the character is just the opposite. It might be a hard job for Shelly to have a turnover as Shalini in the serial.

Earlier Shelly has acted in the serial "Thaniye" telecasted in Amrita TV. She was awarded for her excellent performance in this serial. Meanwhile she also got an opportunity to act in the portmanteau film film "Kerala Cafe" ("Island Express" directed by Shankar Ramakrishnan). In this movie she appeared as a school girl opposite to Maniyanpillai Raju. Chitrasalabham (Amritha TV), Thingalum Tharangalum (Amrita TV), Koottu Kudumbam (Kairali TV) etc are the other serials in which Shelly Kishore has put forward notable performances. In the serial "Chitrasalabham", Shelly appeared in double role.

Shelly says that serial actress get paid well when compared to films. At the same time she added that serial actress does not get much opportunities in Malayalam films. She always wanted to be a film actress rather than a serial actress. Even though Shelly has acted in the Malayalam movie "Kanalkannadi", directed by Jayan Poduval, it was never released. Now through the serial Kunkumapoovu she is expecting to get a chance in the Malayalam film field as well.

Shelly did appear as the hero's sister in the Malayalam film "Chattakari" (remake). She also did a small role in the movie "Akam". But she did refuse certain offers from Malayalam and Tamil as she thought her role had very little or no scope at all. She has said that even if she gets a five minute role in a movie she is ready to take it up provide the character is a prominent one. Shelly's first Tamil film was "Thanga Meenkal", directed by Ram. Shelly has got an opportunity to be a part of the Hindi movie "Waiting Room", directed by Maneej Premnath.


Awards and Achievements

Unlike many senior artists, who have never received an award so far, Shelly was lucky to enough to receive quite a few awards.

Shelly was chosen as the second runner up for the Miss Flower Show contest held at Kanakakunnu, Trivandrum.


Shelly received the State Government award for the best actress in 2006 for her role in the serial "Thaniye", telecasted in Amritha TV.


Shelly has also received the Asianet Film Awards 2013 for the best female actress. This award was shared by Shelly & Divya for their brilliant performances in the serials "Kunkumapoovu" and "Sthreedhanam" respectively.