Asha Sarath Malayalam Actress - Profile and Biography

The profile and biography of the upcoming actress Asha Sarath is given below. Asha Sarath, a trained classical dancer has become popular through the serial "Kunkuapoovu" in Asianet. Her talents are not just be shown through the small screen, yes! she is growing and has taken up couple of films as well. Read below to know more about her.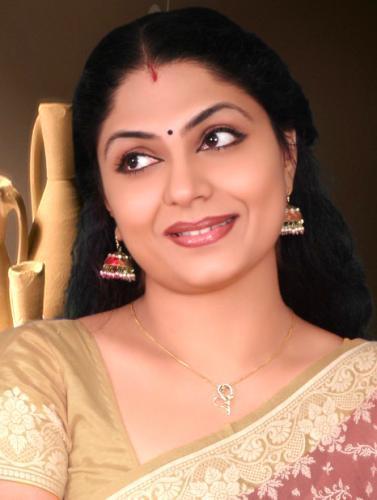 Personal Life

Asha Sarath hails from Perumbavoor of Ernakulam district, Kerala, India. She is the daughter of the great classical Indian dancer Srimathi Kalamandalam Sumathy. In 1964, Kalamadalam Sumathy founded the Institution 'Natyalaya School of Classical Dances' in Kerala. Asha is married to Sarath, who works in Dubai, UAE. She has two daughters, Uthara studying in 11th standard and Keerthana studying in 8th standard. They are settled in Dubai.

Asha Sarath is a well trained professional dancer. Her mother is her guru and has taught her dancing from a very early age. She has participated in various dance competitions and for stage shows in and out of India. Asha was awarded many times for her outstanding dance performances. She was working as program producer with the radio channel 'Radio Asia' in Dubai for several years. Now she runs a dance school "Kairali Kalakendram" on her own. Various art forms such as classical dance, cinematic dance, vocal music, instruments, drawing and painting are been taught here. Kairali Kalakendram has more than 80 teachers who are Post Graduates and around 3500 students. The school has branches in Karama, Sharjah, Qusais and in Discovery Gardens. Srimathi Kalamandalam Sumathy makes frequent visits to the school and she too engages in teaching the students and in watching their performances.

While working as a dance teacher, Asha got an opportunity to be a part of a small tele film, the shooting of which took place in Dubai. It was actually her husband and friends who supported her to act. After completing that project, Asha felt an inner passion for acting, thus she accepted the role of Professor Jayanthi in the Asianet serial "Kunkumapoovu". It was apparently the right decision as now she is better known as 'Jayanthi' among the family viewers. She also did receive awards for her performances as Professor Jayanthi.


Career Life

Asha Sarath, the dancer has performed for various stage shows and competitions. Before marriage she has received National Awards for dancing and had received offers to act in many films, but her parents did not want her to take up acting seriously. She had acted for certain serials in Dooradarshan and for a tele-film then. She was even called by the renowned director Lohithadas for the hit film "Kamaladalam". As Asha refused to do the role, later it was taken up by the actress Monisha.

It was the serial "Kunkumapoovu" which turned the life of Asha, who was leading the life of a dance teacher in Dubai. Asha appeared as Professor Jayanthi, a strict college lecturer, the main female character in the serial. Her dancing skills helped her to make the role given to her perfect. She was widely accepted by the Malayali viewers. Asha Sarath was also one of the judges for Asianet 'Munch Dance Dance' program.

While doing the serial "Kunkumapoovu", Asha got an opportunity to be a part of the 2012 Malayalam film "Friday", directed by Lijin Jose. It is a movie which talks about various incidents happened in Alappuzha town on 11th November 2011, a Friday. Asha too got a prominent role in this film as 'Parvathy'. Parvathy and Arun (Prakash Bare), her husband, the childless couple in the movie is settled in Bangalore. They too arrived in Alappuzha on 11-11-11 to adopt a child. In an interview Asha had commented, when she got and offer to do this role, she was excited as Parvathy was a prominent character and she did like the story and suspense in the movie. That is how she decided to go ahead with the project.

Normally in Malayalam industry, it is hard for a serial actress to get good roles in films, but however Asha was able to crack the nut. Asha says, she does not mind acting in films or serials, all she have is a passion for acting. As long as her character is good enough and can impress the viewers, she is ready to take up the role no matter in serials or in films. Asha was actually growing. She was called by director Major Ravi for his new family oriented - action film "Karmayodha". Asha was all excited as she was called to act as superstar Mohanlal's pair. Not all, gets an opportunity to act with a great actor in their second movie itself and that too after working as a serial actress. Asha gave life to the character 'Arathy', a Mumbai based lady. Even though the movie was just an average one, Asha did get positive responses from all over the world. This in-turn encouraged her a lot and she was thrilled.

Asha Sarath has then signed contract with director Raaj Prabhavathy Menon for the Malayalam movie "Buddy". In this movie, Asha got a role opposite to Anoop Menon. This movie is yet to be released. Her character's name is 'Meenakshi', a modern girl. Asha's appearance in this film will be totally different from what we have seen so far. So, lets wait and see what she has new for us. Asha is getting many offers, but she has to play various roles in life, as a mother, a wife, a teacher, a dancer and so on and these are restricting her from taking up various offers at a time. Therefore in films and serials, she is concentrating only on good roles.


Awards and Achievements

Asha Sarath has received many awards as a dancer and now she has received couple of awards as an actress too. I have listed below some among them.

In 1992 at the All India Level Competition, Asha has received the Best Dancer Award.


Asha is a recipient of Gold Medal from the "Maharaja of Banaras" in India.


She was honored as the Kalathilakam couple of times.


In 2006 Asha received the "Kalaratna Swathi Thirunal Award".


In the 2012 Asiavision Television Awards, Asha Sarath was declared as the Best Female Actor.