Calicut University CAP first allotment rank list 2014 to be published soon

Calicut University ug degree admission CAP (Centralized Admissions Process) first allotment result/rank list 2014 will be published most probably on 23rd June. Students, whose name appears in the first allotment list 2014 should report to the concerned college on or before the prescribed date. The Calicut University CRP trial allotment list/result is likely to be announced on June 16, 2014.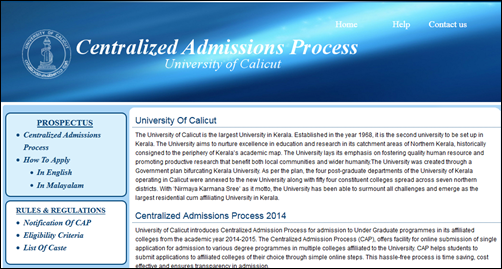 Calicut University has conducted admission to various UG/PG degree programmes in the academic year 2014-2015 through Centralized Admission Process (CAP). CAP is an internet based single window allotment system which provides allotments to the various academic degree programs which are being offered by the Calicut University Departments and affiliated colleges.

Candidates who have applied for UG degree courses in Calicut University through CRP process are now waiting for the allotment result. To make an end to their waiting, Calicut University officially declared the date of trial allotment and first allotment. Trial allotment of Calicut University CRP is likely to be announced on June 16, 2014. Students can get an idea about where they will get admission for degree courses by the trial allotment. Students can also make necessary corrections in their applications after the publication of CAP trial allotment before 18th June 2014.

The final allotment to admission in Calicut University for the current academic year will be published on June 23rd 2014. Candidates have to report in the concerned college after getting allotted to book their seat before the prescribed date. The Calicut University first allotment will be available on the official CAP website http://www.uoc.ac.in/ugsw/.


Important dates
Trial Allotment: 16 June, 2014
Dates for necessary correction: 17th and 18th June, 2014
Final Allotment: 23th June, 2014
Interview date announcement: 24 June, 2014
Commencement of Interview: 26th June, 2014
Commencement of Classes: 5th July, 2014
Closing of Admission: 5th September, 2014

Those students who have applied for admission to Calicut University not through CRP process can check the important dates below.

First allotment: 17th June, 2014
Second allotment: 1st July, 2014