Rachana Narayanankutty Malayalam Actress: Profile, Biography and Upcoming Movies

Rachana Narayanankutty malayalam actress profile, biography and upcoming movies are given here. Rachana Narayanankutty is a movie actress and television anchor. Rose to popularity with the television serial 'Marimayam' as Valsala madam, Rachana made her big screen debut with 'Lucky Star'. She has also made her presence in Amen and Vallatha Pahayan. Read more to known about the actress and her upcoming movies.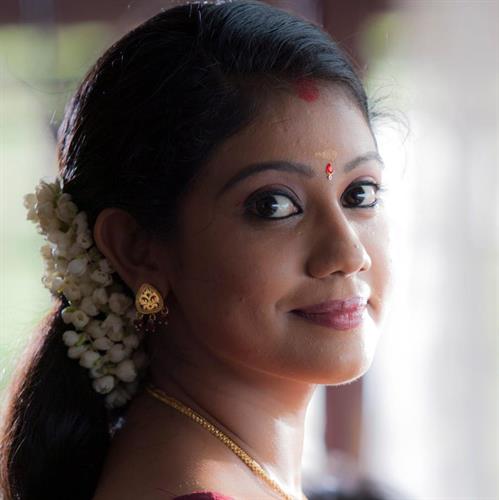 Rachana Narayankutty was born on 4th April 1985 at Thrissur to Narayankutty and Narayani. She completing her schooling from GGHS Wadakanchery, Rachana studied at Sri Vyasa NSS College, Wadakanchery and finished her graduation.

She had taken MA in English from CTE Durgapur, West Bengal. Rachana had done diploma in Mohiniattam for having a passion over it.

Rachana made her acting debut in 2001 with 'Theerthadanam' scripted by M T Vasudevan Nair which was later followed by Kalachakram and Nizhalkkuthu. After her studies, she worked with as a radio jokey for Radio Mango 91.0.

Jayaranjan, the scriptwriter of the Radio programme spotted her extra talents which later landed her in 'Marimayam', a popular sitcom which is being telecasted in Mazhavil Manorama. Even though she was intended to act in a single episode, her character was whole heartily received by the television viewers in Kerala.

Rachana who gave life to 'Valsala madam', the stubborn bureaucrat gave her huge fan followers and opened new doors for a bright career. Worked as an English teacher at Devamatha CMI public school, Thrissur, Rachana decided to stick onto acting.

During the while Rachana also became the host of Comedy Festival, a comedy show which is being telecast in Mazhavil Manorama. Her eye-catching appearance and dazzling look made Deepu Anthikad to cast her as the lead lady in his directorial debut 'Lucky Star' pairing with Jayaram.

The movie which was well received at the box office was a turning point the life of the actress. She also appeared in 'Amen' and 'Vallatha Pahayan'. In Amen, Rachana played the character role of Clara, the sister of Fahadh Faasil who had to bear the responsibility of the family responsibility due to the reckless attitude of him towards life.

Rachana will also be seen in '101 Chodyangal' directed by Siddartha Siva who was her co-artist in 'Marimayam'. The movie which received national recognition is waiting for the release. Rachan who runs a classical dance school at her home in Thrissur is an actress who is even compared to Manju Warrier while considering her acting ability.