Divya Vishwanath Malayalam Actress - Profile and Biography

Divya Vishwanath malayalam serial and movie actress profile and biography are given below. She is also known by the name Divya Padmini. As most of her films where a flop, she is better known as 'Sreedhanam fame Divya'. Are you tired searching for her profile, here it is!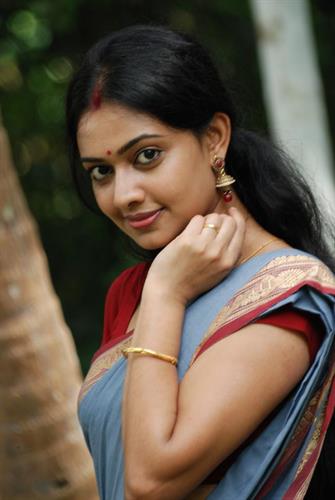 Personal Life

Divya Vishwanath or Divya Padmini, a Malayalai by birth was born and bought up outside the state, hence she is not very fluent in Malayalam. She was born to Vishwanath and Padmini Vishwanath and was married to Ratheesh, an art designer in Mumbai. Her marriage took place in early 2012. As her husband is working in Mumbai, currently she is settled there.

Apart from being a serial actress, she has also appeared in Malayalam and Tamil movies and has also done couple of ad films. Divya has appeared in the Parthas Textile's ad. Her hobbies are reading and traveling. She is much different from the typical roles that she has got. Divya is a modern girl, very bold and smart in life.


Career Life of Divya Vishwanath

Divya Vishwanath, who became popular through a serial, actually entered the film industry in the year 2006 as a film actress. Her debut movie was a Malayalam film "Chandranilekku Oru Vashi", directed by Biju Varkey. It was a kind of award film rather than a commercial movie. The film had many great artists such as Nedumudi Venu, Charuhaassan, Cochin Haneefa, Jagathy Sreekumar, Rekha, T.G Ravi etc behind it. Divya Vishwanath appeared as 'Indira', the daughter of Kumaran (Nedumudi Venu). It was a major role and she did handle it very well. Moreover the support from her co artists helped her a lot.

After the movie, "Chandranilekku Oru Vashi", Divya was called for yet another Malayalam project "Indrajith", directed by Haridas. It was a 2007 film which had Kalabhavan Mani and Divya Vishwanath in the male and female lead roles respectively. Through this movie Divya appeared as the Panchayat president's daughter who falls in love with Bhasi (Kalabhavan Mani). Her performance in this movie was just average. The film was declared as a flop.

Divya Vishwanath made her debut in small screen through the serial "Manaporutham", directed by A.M Nazeer. Then she appeared in an Aroma serial "Ammathottil" telecasted in Asianet. Further she has acted in a couple of other serials as well. From the serial she has acted, Sreedhanam is the one which has bought her fame and popularity. In this serial, Divya Vishwanath, gave life to the character 'Divya', a girl who belongs to a lower middle class family. Divya is married to Prashanth, a guy who like his mom and does not want to disobey her. Prashant's mom is very cruel to Divya, as her father did not pay them the balance dowry. But she will not react and will suffer all the hardships to live with her loving husband. Divya Vishwanath is performing well in this serial and did receive an award too. Even though all her films where a flop, she is getting noticed through this serial and has now become the favorite actress of family audiences.

In 20011, Divya Vishwanath tried her luck in Kollywood as well. Her debut Tamil film was "Ayyan", directed by Kendiran Muniyaswamy. In the same year, she appeared in another Tamil film "Puli Vesham", directed by P. Vasu. The film had Karthik, R. K., Sadha and Divya Vishwanath in the lead roles. Divya did quite well as the character 'Thamarai' but on the whole the film too was a flop. "Kasethan Kadavulada", was yet another release of her's in the year 2011. She appeared as 'Mamtha', a supporting character. In 2012, Divya got an opportunity to be a part of the film "Vilayada Vaa", directed by Vijayanandha.

In 2012, she has entered the Tamil small screen through the serial "Pillai Nilla", directed by Nimesh. The serial is been telecasted in Sun TV. Divya got the role of 'Hema', one among the two friends who is fighting for Baby Nila. So far Divya has done great performances as Hema. May be she might get more offers after this serial.

As almost all her films were flops, she did not get any further opportunities in the large screen, hence she got sticked on to small screen, both in Malayalam and in Tamil. Now after the success of the serial Sreedhanam, let's hope that more offers will come her way.


Awards and Achievements

Divya Vishwanath, who has done a couple of films and serials is an outstanding actress. Unfortunately, none of her works other than Sreedhanam became popular. Divya did get an award for her performances as the character 'Divya' in the Malayalam serial "Sreedhanam", telecasted in Asianet. The 2013 Asianet TV Film Award for the Best actress was won by Divya Vishwanath. This award was shared by "Kumkumapoovu" fame Shelly Kishore as well. Divya received the award from the veteran actor Padma Shri Jayaram.