Mambazha Puliseri dish – Ingredients and Preparation method

Would you like to prepare Mambazha Puliseri dish in your home? Mambazha Puliseri recipe is special kind of dish in Kerala. All people likes this Mambazha Puliseri dish. Read here about Ingredients and Preparation method of Mambazha Puliseri dish which can help to prepare very easily.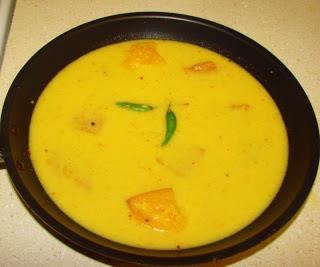 The mambazha pulisery is also one of the dish which is very likely by keralians and provided it gets with an ingredient of mango. It is a Traditional sweet soar mango curry which comes with the nutritional factors like carbohydrates, proteins, vitamins, calcium, sodium, potassium, dietary fiber etc. Before doing this Mambazha Puliseri read the tips carefully and carries on with it. This Puliseri is delicious in eating and contains more nutritious factors and it will be available in most of the Kerala cuisine and this type of dishes is very heritage and good for health factor. Please try this dish by reading carefully.


Ingredients of Mambazha Puliseri

• Ripe Mango – 3 No's ( small)
• Grated Coconut – 1 Cup
• Curd / Yogurt – 1 Cup
• Turmeric Powder – 1 Pinch
• Shallot – 6 No's
• Green Chili – 3 No's
• Garlic -2 Cloves
• Cumin Seeds – 1 ½ Tea Spoon
• Mustard seeds -1 ½ Tea Spoon
• Fenu Greek Seeds- ½ Tea spoon
• Dry Red Chilies – 2 No's
• Curry Leaves – 1 Spring
• Coconut Oil – 2 Table spoon
• Salt – For Taste


Preparation method of Mambazh Puliseri dish

STEP 1: Peel the Mangoes .if it is not the puliseri then dice it out as per procedure.

STEP 2: Slice all the shallots and slit green chilies according to their length and make ready for cooking.

STEP 3: Make a paste of garlic, cumin seeds and grated coconut well it gives a good consistency.

STEP 4: Beat the curd to make it smooth and keep it aside for future use.

STEP 5: Cook the mangoes in a covered vessel with all the ingredients like turmeric powder, green chilies, salt. And enough water cooks it for 10 minutes in a medium flame and make it cook well to avoid raw smell.

STEP 6: When the cooking is over remove the lid and mash a bit of pieces add the paste to it and combine it well till it gets good paste of mixing.

STEP 7: Don't allow it to boil stir it smoothly for a while without boiling. Add the beaten curd and Combine it. Remove it from flame and keep it aside.

STEP 8: Now after all this heat coconut oil which is one of the ingredient chosen by keralians have to be cooked in a pan and puts mustard, fenu greek seeds to it.when it gets splutters add dry red chilies and stir it turns to brown color.

In addition to that add shallots and curry leaves cook it till it turns to brown color. Add these items to the cooked Puliseri. If the mango is not sweet add a little sugar to it and serve .Now turn off the flame and serve it in a serving pan.

Try out this dish and enjoy it.