Pazham Pradhaman Recipe – Ingredients and preparation methods

Do you want to prepare tasty payasam? Then you can prepare Pazham Pradhaman Recipe in your home. Pazham Pradhaman Recipe is one of the Kerala special recipes. You can find here Ingredients and preparation methods of Pazham Pradhaman Recipe.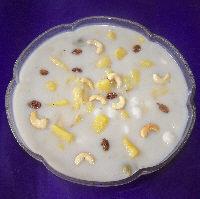 The Pazham Pradhaman is one of the popular payasam in Kerala Dessert which is served with Kerala's traditional feast and it will get its place in almost every Sadyas. There are many types of pradhaman among those this is good and delicious to eat and it is mostly liked by Kerala people. The main nutrients in this pradhaman are dietary fiber, Carbohydrates, Sugar, Vitamins, Minerals, Proteins which are good for health and it give energy and it cures some dietary problem. The Ingredients are simple and easy to get it available in all markets. Let's see the preparation in detail below.


Ingredients used in Pazham Pradhaman

• Ripe Plantain – 2 No's
• Crushed Jaggery – 1 ½ cups
• Coconut Milk – 1 ½ Cups
• Cardamom powder – ½ Teaspoon
• Cashew Nut –10 No's
• Thinly Sliced Coconut – 1 Table spoon
• Ghee – 2 Table spoon
• Water – 1 ½ cups


Method to Prepare for Pazham Pradhaman Recipe

STEP 1:
Peel the plantains and cut into small pieces.

STEP 2:
After cleaning cooks the plantain in a covered vessel by adding 1 ½ cup of water in a low heat which means medium flame. The Important thing is not to drain the leftover water which is to be noted very carefully

STEP 3:
Mash the Plantain well which is cooked before and add crushed jiggery to it which is already taken as ingredient. Stir it fully with medium heat until the mixture thickens don't make it too thick it should be maintained at good consistency and so that other ingredients can be added with ease.

STEP 4:
To this combination Add 1 table spoon of Ghee and stir it fully for 3 minutes till it comes with paste.

STEP 5:
Add coconut milk which is prepared before and stir it continuously for about 2 minutes, please take a note that doesn't make it to boil.

STEP 6:
Put ½ of cardamom powder to it and remove it from flame and allow it to some consistency level.

STEP 7:
Heat 1 Table spoon of ghee in a pan. Fry cashew nuts and thin sliced coconut till it turns brown it is the heritage in Kerala foods and it familiar to all.

STEP 8:
Add this to the Pazham Pradhaman (Paayasam). Then put it in the serving dish and serve it after a minute time. To get good results in it there are some tips which have to be followed and it will give you a greater results.


Tips To Get Better Results

• Use Plantains of which are bit over to avoid sourness of pazham pradhaman.
• Remove all impurities in the jiggery and boil it in ½ of water
• Don't try this recipe with cow's milk
• Use of heavy bottom pan gives good taste.