Tharavad Heritage Resort in Kerala– Infrastructure Facilities, Services and contact details

The Tharavad Heritage Resort is a 100 year old mansion along the back water canal which is near to Alappuzha beach. Allapuzha is one of the famous place in Kerala which is likely by many people. Read here about infrastructure facilities, services and contact details of Tharavad Heritage Resort.


The Tharavad Heritage Resort has a best hotel in Kerala which has multi bedroom which provides a traditional experience of Alappuzha. It looks like a museum which is placed and ordered well in their places. The Interior of Tharavad is Terracotta tiled roof with polished planks. The Tharavad is a traditional Alappuzha place which is rich in heritage it comes with many features and it is laid with traditional flooring mixed with the proportion of burnt coconut kernel and egg white is a natural room cooling remedy. It has a modern bathrooms, multi television and communication Facilities. Let us discuss more about Tharavad. The tharavad is the traditional home of Ayurveda , Shoolapani vadiyar is a cozy destination to experience the natural beauty among the nature.

The Tharavad Heritage Hotel is located along the backwaters it gives a fresh sweet coconut which is 100% natural in Kerala. Ayurvedic regimens are also available in the backwater resort, food facilities also available in backwater delicacies. Kerala have some of the oldest church in the world many of these churches are seen along the backwaters. There are also many forts which are built by Portuguese, Dutch and British from part of tours. Another Great thing of Kerala is Kathakali which is in cultural evenings are arranged at several spots of Kerala.


Features of Tharavad Heritage Resort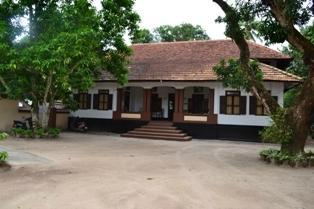 The Tharavad Resort good with a spacious rooms which is simply clean and good in heritage also with some modern facilities with air conditioned and also available in Non – Air conditioned rooms. The room has an antique Object a huge metal safe in one room, an ornate set of trinket boxes are tells about our heritage. The stroll round the hall tends us to be in museum and it will be mostly like those who prefer for heritage. Traditionally hand crafted cots, tables, chairs are preserved with passion. Another thing is the stone floored dining room that opens onto a garden which is built by 100 years old mango trees. Tharavad is tied with temples, canals, and simple and friendly people offers warm welcome to the guests.


Foods facilities in Tharavad Heritage Resort

In Tharavad you can experience a well heritage food. Here for breakfast they offer us fast native delicacies, puttu Kadala, idiappam, vellaiappam, dosa, idly are served for breakfast. For lunch and dinner an traditional allepy fish curry, prawn curry, and other local dishes. The typical Kerala cuisine is enriched with tropical fruits, vegetables, cereals, seafood, herbs and garnished with pepper, cardamom, cloves and chilies.


Facilities Available in Tharavad Heritage Resort

• 24 Hour Room Service
• Arrangements to visit and stay in most tourist places
• Daily Boat cruise
• Hotel Reservations
• Ayurveda Treatments and massage
• All type of travel assistance
• Laundry services
• Internet Browsing
• Parking Facilities
• Package Tours


Package Details

The Tharavad Heritage hotel comes with many packages at different rates. Packages available are Kanyakumari Package, Discover Kerala Package, Exclusive Kerala Package, Honeymoon package are the packages available in Tharavad.

• Kanyakumari Package
• Discover Kerala Package
• Exclusive Kerala Package
• Honey- moon Package

These are the packages available and cost varies for every packages.


Cost of Rooms

• A/C Deluxe Room- Rs.2000
• Non A/C Deluxe Room – Rs.1500
• A/C Double Room – RS.1500
• Non A/C Double Room – Rs.1500
• A/C Triple Bedded Room – Rs.2250
• Non A/C Triple Bedded Room – Rs.1750
• Extra Person – Rs.400

Check in /Check Out -12:00 Noon. Taxes are applicable as per Norms.


Contact Details

Tharavad Heritage Resort
West of North Police Station
Sea view Ward, Alapuzzha-688012
Kerala, India
Phone: 0091-477-2244599
Mobile: 0091-9846144599