Kavitha Nair Malayalam Actress - Profile and Biography

Kavitha Nair malayalam actress profile and biography is given below. She is familiar to most of the Malayali family viewers as an anchor or as a serial actress. She has made her entry into film field as well, but that doesn't mean she has plans to quit serials. Read on, to know more about this upcoming actress.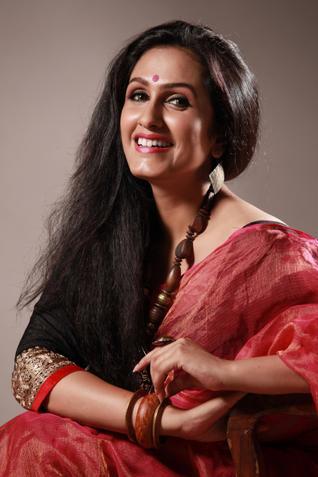 Introduction

Kavitha Nair, is yet another upcoming actress who is quite familiar to the family audience as a TV serial actress. Now one more feather is added to her cap. Yes, she is into films and is a film actress too. Even before doing serials, she used to compare and anchor for TV Programs. She is much interested in reading too. Kavitha hails from Kottayam district and stays with her parents and younger brother. Her brother has completed his education and is working now. During any interview, whenever someone asks her about her ambition, she suddenly says "I want to own a book stall". Right now she has a mini library at home with a collection of her favourite books.

In an interview, Kavitha speaks about herself as a very reserved kid up to 10 - 12 yrs of age. Her school, Baker Memmorial Girls High School played a great role in changing her. During school youth festivals, she participated in drams and had won many awards. She added that her experience then had helped her a lot to be a good actress. It was an youth festival stage that changed her life, she was called to host the Surya TV morning show "Ponpulari". The grade 12 student took up that challenge and started her career as TV show presenter. It was indeed a good idea as she never had to look back since then.


Kavitha Nair as a serial actress

Kavitha Nair was student when she was called for her first serial "Kaliveedu", telecasted in Surya TV. At that time she was anchoring the morning show "Ponpulari". She was actually a replacement to the artist who was supposed to act as the sister of the renowned actress Menaka. However, Kavitha enjoyed her role and she considers it to be of great luck to act with a senior artist like Menaka. Her parents was not against her in taking up serials but they wanted her to continue her studies together. Kavitha had to take little efforts to convince her parents, thankfully the final result was much welcome.

After the serial Kaliveedu, Kavitha signed for two more serials - "Rahasyam" telecasted in Asianet TV and "Aparichitha" telecasted in Doordarshan. The serial Rahasyam revolves around the investigation of the murder of Jessy, a teenaged rape victim. In this serial, Kavitha Nair appeared as 'Priyamvadha', an IPS officer. Kavitha was able to put forward excellent performances as the police officer and this made her familiar among family audience. She is still known as a police officer among the viewers even though she had done many other roles. In an interview, Kavitha has said that it is one of the roles which actually touched her mind. In the initial stages, she did not like the character but towards the end, it was difficult for her to part the character.

Kavitha Nair then acted in a telefilm of Padmarajan 'Vadakakku Oru Hridayam' telecasted on Amrita TV. Initially it was a movie which was remade as a telefilm consisting of 45 episodes. In this telefilm Kavitha got to play the role which Jayabharathy played in the old movie. The character was named 'Aswathy', whose life passes through three love stories. This character too is very dear to the young actress and she recollects that there where many good moments during the shoot of this telefilm.

Kavitha points out that Smitha Patel has inspired her a lot even though she has watched only 2 to 3 films of Smitha. Kavitha added that certain actors teach us that the outside beauty is not what is required for acting and to perform well and certain other teaches us that we need to do the acting job with 100 percent passion without bothering about the results. If it is for you, you will get the rewards today or later. Kavitha has been inspired by many, but she does not know any of them in person, but still she admires them a lot.

Apart from owning a book stall, Kavitha Nair has an ambition to do a film based show by herself. In short, this actress is more passionate towards her profession. She is very choosy in selecting roles for her. After doing the role of police officer in Rahasyam, she got many similar offers, but she declined it as she did not want to be type casted. Kavitha then concentrated on anchoring and hosted award shows, Gandharvasangeetham Grand finale and 'Ningalkkariyamo', a film based show telecasted in Surya TV. She also hosted programs like interviewing celebrities in various TV Channels. She added that she took up the character of a superstar's wife in a serial even though the wife is a very silly, stupid character as she wanted to shed the image of she being a police officer. The lucky actress has done 10-15 characters so far and many more characters are awaiting her.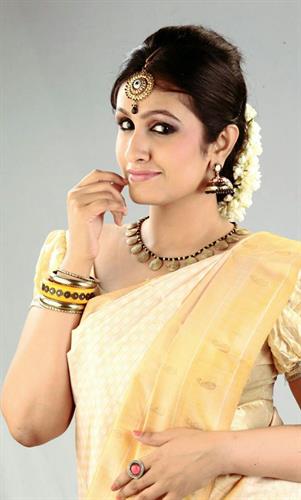 Kavitha Nair as a film actress

The girl who has performed for drams in school and college days, later came up as a presenter for shows and from then to a serial actress, did not find it difficult to perform in films. Kavitha Nair has done minor roles in films like the Mohanlal movie Mambazhakkalam, directed by Joshy; Kurukshethra, directed by Major Ravi and the Jayaram movie Swapnasanchari, directed by Kamal. She then made a small appearance in the song scene of the movie "Hotel California", directed by Aji John and written by Anoop Menon. It was a good movie in the combination of Jayasurya - Anoop Menon team and the song was 'Manjuthirum ravinullil…'.

Unfortunately the actress did not get any lead roles in movies so far. She says that she loves cinema and is open to it but will neither ask for roles nor she has a god father in film industry. She added that the renowned filmmaker V.K.Prakash always tells her to concentrate either in television serials or in cinema, but as she concentrated in both, now she is in the middle. Moreover Kavitha does not want to be known as a serial actress or a film actress, she is interested in doing challenging and creative roles both in cinema and serials.

However, Kavitha has proved herself as an actress and she is quite familiar to all the viewers. That itself is the biggest achievement of an actress. Apart from being a good actress, she is a small writer too. Kavitha used to write for a web magazine "Kanikonna". People did like her writings and started appreciating her, it is when she thought of publishing a book of hers, a collection of short stories. Most likely the book will be published by the end of this year. As a concluding line for an interview, Kavitha said that she hopes that cinema, television or writing, anyone of it will click and that will pave her way to greater success.

After a long break of say one year, Kavitha Nair has done a telefilm "For Hire", directed by Vishnu Raghav and written by Anu Mohan. The telefilm revolves around three characters and an autorikshaw. The female lead character is Kavitha and she is appearing as a women who is trying to cheat men my asking for a lift or by seducing them, thereby stealing their bag, money etc. She took up this challenging role and performed perfectly. Even though the telefilm was released recently, she did get lot of positive reviews and feedback from her fans within a short span of time.