Book Online India West Indies Kochi ODI Tickets 2013 at Nehru Stadium through BCCI Official Sources

Are you eager to book tickets for India Vs West Indies Kochi ODI Match to be held at Nehru Stadium in Kochi, Kerala? Then look for the resource that contains information on buying tickets for India West Indies Kochi ODI Match at Nehru Stadium on 21st November, 2013. You can start booking the tickets online through BCCI's ticketing partner - Kyazoonga.com and BookMyShow.com to avoid last minute rush. The ticket prices and seat details will be available after the ticket booking online.


India - West Indies matches have always been an intense thriller with some upsets and records always been disturbed from time to time. This time in a three match ODI series, West Indies are going all guns blazing after their recent performance in the farewell Test series against India earlier on. On the other side, team India will look to win another ODI series at home before they move on for an hectic International fixtures. India ae currently set on Number 1 position in the ODI rankings while West Indies are at 8 in the ranking spot. Even if India lose this One day series, they will comfortably retain the Number 1 spot ending by the year provided they win atleast one game out of three.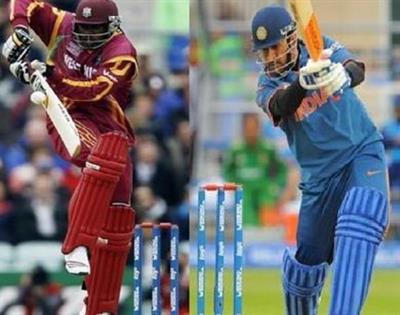 Nehru Stadium - Pitch conditions

The pitch will be quite patchy and will play on the slower side. India will have to tackle well with the West Indies spinners while heading for any run chase or sorts of that. The likes of Sunil Narine and Shillingford will be expected with the fury pace of Tino Best to run through the Indian batting order. Indian top bowlers like Ravichandran Ashwin and Bhuvneshwar Kumar will try to weave West Indies batsmen around the wicket to gain good bounch.

Batting has always been the parameter India will lie ahead among any team in the world. However it will be a test at Kochi for the batsmen to adjust with the turning tracks and later if possible take full advantage of the moist and dew available provided they bat second. India will be hoping that they chase down targets easily while their bowlers will look to defend any target with achievable measures. It will certainly be a good test of temperament and ability to handle the new West Indian line up.

It will be day-night match starting from 2 pm onwards, so team batting secong will definitely get full advantage of dew factor to have better batting conditions.


How to get tickets for the match?

If you are looking to buy tickets for India West Indies match to be held on 21st November, 2013 at Kochi, then you can start booking your's online. The offline facility will be available just before the ODI series and it is expected that crowds will be jam packed for buying tickets on particular dates. So you need to visit BCCI's most preferred website - Kyazoonga.com to avail them or else visit BookMyShow.com to claim only limited amount of tickets. The number for online booking is limited to just 4000 in number, so expecting a quick finish!

If you are eager, then place your bookings at the website for the tickets and you will receive those at your home in Kochi, Kerala.

The prices for each ticket may vary from Rs.700 to Rs.5000. Separate seats will be booked for Corporates, so there will be limited seats for the match. The seating and viewing may depend upon the stand you choose for viewing the match. The offline booking will be notified prior to two days before the scheduled program to avoid any rush.