Dr. K. Omanakutty Amma – Profile and Biography

Dr. K. Omanakutty Amma profile and biography is added here. Dr. K. Omanakutty is a respectable musician of the state. She has contributed tremendously in the field of music. Because of this, she has got a huge list of disciples and received awards and citations. Omanakutty is instrumental in re-discovering the works of composer-musician King Swati Tirunal. She has also done commendable work in the emerging field of Music Therapy.



Job oriented Digital Marketing Courses in Kerala.
Call +91 8138875600 for details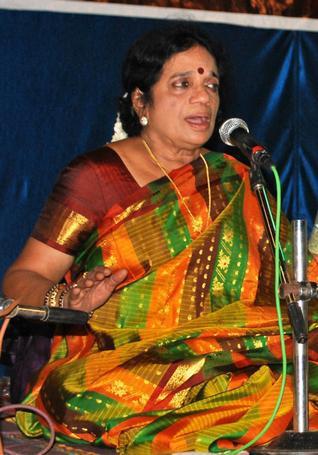 Introduction

Dr. K. Omanakutty Amma is a renowned musician who devoted her life to the cause of music. She was responsible for bringing the works of Swati Tirunal to the public domain. Dr. Omanakutty systematically did the research on his work and arranged them in proper order. Her disciples gave further publicity to the works of Swati Tirunal. Omanakutty discovered the effect of music on the mind of a man. Currently, she is focusing her research on this aspect of disease management. Because of her interest and research experience in Music Therapy, Dr. Omanakutty Amma has been made the senior-most faculty of the Music Therapy Department of the Pankaja Kasthuri Ayurvedic Medical College in a place called Kattakada in the capital city of Kerala. She is also the founder Chairman and Secretary of Thiruvananthapuram-based Sangeeta Bharati since 2003. Being an accomplished singer and teacher, she has a long list of devoted disciples, including the renowned singer of the state K.S. Chitra.


Early Life

Dr. Omanakutty Amma was born in the year 1943 at a place near Changanacherry in the Central Kerala. She was born into a family of musicians. Because of this, the interest of music was inculcated in her mind very early in her life. The septuagenarian has two brothers. Both the brothers have made their mark in the field of music in the state. They are M.G. Radhakrishnan and M.G. Sreekumar. M.G. Radhakrishnan is a noted Carnatic musician and a music director in Malayalam movie field. On the other hand, M.G. Sreekumar is a noted playback singer in the same field. Dr. Omanakutty has a long and illustrious career in the field of music.


Education and Academics

She had her formal education from a reputed school in her village. Later in 1963, she completed her graduation in Zoology from a degree college affiliated to Kerala University. Due to her interest in music, she joined in the Thiruvananthapuram-based Music Academy to pursue a Gana Praveena course in Music. On successfully completing the course in Music from that organization, Omanakutty Amma started working as a Lecturer in the Music Department of Government Maharaja's College for Women in Thiruvananthapuram. While working in the Music department of the college, she completed her part-time degree course in Music with distinction. After successfully completing the degree course in Music, Omanakutty became a Second Grade Professor in the same department of the college. In this designation, she continued to teach students of the department with dedication for a period of 6 years.

In recognition of the quality services provided by her in academics and music field, Omanakutty was promoted to the designation of the First Grade Professor of Music in the same department. During this period, many reputed musicians of today joined the course and successfully completed their formal training in Music from the department. They include K. S. Chitra, B. Arundhathi, Reshmi, etc. Subsequently, she did her post graduation and doctoral programs in the field of Music from the same department successfully. For her doctoral degree program, the subject of her research was the origin and the evolution of Kathakali music in Kerala.


Accomplishments as a Musician

While working as a senior faculty of Music at Government College for Women, the septuagenarian regularly took part in music concerts in different parts of the country. While preparing for the concerts, Dr. Omanakutty came across the works of the composer-musician king Swati Tirunal. That point in time, many of his works were lying in oblivion. With the help of her disciples, she painstakingly analyzed his works and put them in order to make them presentable to the present-day audience. Later, she and her disciples started using Swati Tirunal's compositions in their concerts to popularize them. One such discovery that was made during this period was the composer-musician King's authentic work on Thillana, a composition seldom created by the musical composers.

During her later years as a musician, she came to know about the effect of music on the psyche of human beings and other animals. After having read the resources available on the topic, she decided to devote her remaining time on this unexplored field of music. For serving this purpose, she established an organization called Sangeeta Bharati. Apart from doing research on Music Therapy, it also provides authentic music training to the budding musicians of the state. In recognition of her service in the upcoming field of Music Therapy, the authorities of Panakaja Kasthuri Ayurvedic Medical College in Thiruvananthapurm have made her the senior-most faculty in the organization to assist them in administering the medical cure through music.


Awards and Recognitions

The septuagenarian has over 40 years of experience in the field of music. She has over the years proven her skills in various fields of music. She is a good teacher, astute musician, knowledgeable music director, and above all a lovable individual. This is the reason why she has a long list of disciples from various walks of life. During her lifetime, Omanakutty has got many awards and citations acknowledging her contributions in the field of music. Some of them are listed below for the readers' perusal.


Best Singer Award: She has got best singer awards from the Bangalore Gyan Samaj, Travancore Devaswom Board, and Rajalekshmi Fine Arts (Coimbatore).


Music Academy Awards: Dr. Omanakutty has received awards for the Best Senior Performing Artist from Madras Music Academy and Kerala Sangeeta Nataka Academy. Another award that she received in this category was Golden Jubilee Award for Contributions to Music from S.S.T. Sangeeta Sabha.


Classical Singer Award: She received best classical singer awards from Augustine Joseph Foundation, Aakashvani –Doordarshan Casual Artists Association, and Marar Kshema Sabha.


Other Awards: The other awards won by her include Sangeeta Sampoorna, Sruthi Award, Prominent Woman Award, Aagamananda Award, Thulasee Vanam Puraskaram, and Sangeetha Shreshta Award.
Publications

Being an accomplished musician, she has published articles on various topics in music. All these articles have come in reputed journals. For helping the budding artists, Dr. Omanakutty has come out with books titled Swathi Madhuri (2 volumes), Sangeetha Sasthram, Navagraha Compositions, and Raga Mudras in Dikshidar Compositions. All these books have been published by Sangeeta Bharati, an organization established by her.


Conclusion

Dr. Omanakutty is an eminent Academician, a Carnatic Singer, and a Music Teacher. She has got years of experience in various fields of music. She was responsible for the re-discovery and popularization of the works of composer-king Swati Tirunal. Being an eminent Academician, the septuagenarian has a long list of disciples who have carved out their own niche in the field of music. The most prominent among them are M.G. Sreekumar, M.G. Radhakrishnan, K. S. Chitra, B. Arundhati, Reshmi, etc. She also has forayed in another unexplored area of music, i.e., Music Therapy. Currently, Omanakutty is the senior-most faculty in the Department of Music Therapy in Thiruvanathapuram-based Pankaja Kasthuri Ayurvedic Medical College. There, she is doing the research on Music Therapy to help the hapless patients to recover smoothly from their ailments. She has also done commendable work on the origin and evolution of Kathakali music in the state.