Namitha Pramod Malayalam Actress – Profile, Biography and Interests

Namitha Pramod malayalam actress profile, biography and interests are given here. Namitha Pramod is an upcoming actress who had made her mark in the Malayalam film industry with her performance in the film Puthiya Theerangal. Since her success in this film, she was given more assignments to prove her mettle. She came to the film world by acting in TV serials. This article walks the reader through the life and works of this budding actress.


Namitha Pramod is a budding actress who appears in Malayalam movies. In the Malayalam movie industry, she made her acting debut with the Malayalam movie Traffic. She was not new to the art of acting, as he had in the past acted in reasonably good roles in TV serials such as Velankanni Mathavu. In this television serial she acted as Mathavu. She had acted in a Sathyan Anthikad movie Puthiya Theerangal. For this movie, she bagged the new face of the year award in the year 2012. She was also nominated as the Best Female Debutant for the Second South Indian International Movie Awards in the year 2013.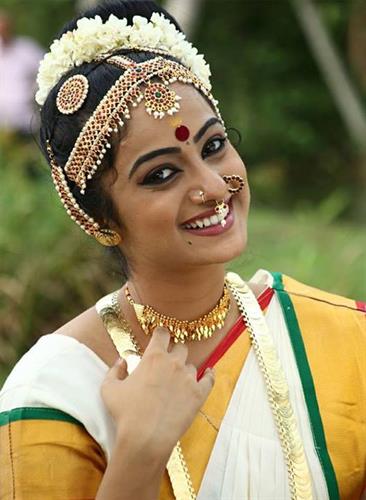 Early Life

Namitha Pramod was born to Pramod and Indu in a place called Kumarakom in Kottayam district of Kerala. Her father is a Kottayam-based business man and her mother is a house wife. Later on, the family of Namitha migrated to the capital city of Kerala for better opportunities. The popular actor Kumarakom Raghunath is her father's brother. She has a sister. Her sister is her biggest fan and well wisher.


Career in Television Industry

Namitha Pramod's acting career began when she was studying in the seventh standard. Since then she was getting regular offers from local TV serial makers. Till date, she has acted in several TV serials before her entry into the film world. The prominent TV serials she had acted include Velankanni Mathavu, Amme Devi, and Ente Manasa Puthri. In the TV serial Velankanni Mathavu, she landed up doing the role of Mathavu for her beautiful and charming face. For the same reason, she got the coveted role of Devi in the serial Amme Devi. On the other hand, she did a character role in Ente Manasa Puthri. In this serial, she did the role of a character by the name Anjali. Namitha's active presence and powerful roles in television serials was noticed by the noted filmmaker Rajesh Pillai. He acknowledged her acting talent by giving her a role in his movie Traffic.


Career in Malayalam Film Industry

With the help of filmmaker Rajesh Pillai who offered a role in his film Traffic, Namitha made a debut in Malayalam film industry as an actress. In this movie, she did the role of a dying daughter Riya. The noted actors Rehman and Lena were her parents in that movie. The movie did well in the box office and her acting talent was noticed by the ordinary film goers of the state. Thus, she began to be reckoned as an actress in the Mollywood. After the success in her first film, the bubbly teenager Namitha was waiting for a dream project to unleash her inherent talent in acting.

Namitha Pramod's long wait for a suitable role and story in films ended when the noted movie director Sathyan Anthikad offered her a leading role in his film Puthiya Theerangal. This movie acted as a strong launching pad for her to showcase her true talent. In this film, the ace director Sathyan Anthikad truly exploited the acting talent in her. For her performance in this movie, she got the New Face of the Year award in the year 2012. This award was given by the popular television channel Amritha TV. The impact of the film was such that she continued to get the best actress nominations in the coming years. A case in this context is the nomination she got for the Best Female Debutant award in the Second South Indian International Awards. In this film, she acted opposite to Navin Pauli, an actor of Thattathu Marayathu fame. Subsequently, she acted in the films such as Sound Thoma, Pullipulikalum Aattinkuttiyum, and Law Point. In the movie Sound Thoma, she paired opposite to noted film actor Dileep. On the other hand, she acted with the accomplished actor Kunchacko Boban in films such as Pullipulikalum Aattinkuttiyum and Law Point.


Interests and Passion

Actress Namitha has admiration for many actors, especially for Meera Jasmine and Fahad Fazil. Like her contemporaries, she is interested in those movies which have excellent scripts and challenging roles. While talking to TV reporters, she once opened her mind saying that she is interested in new generation movies as well. In accordance with her desire, she got an opportunity to act with Fahad Fazil in a movie by the name Annayum Resoolum.

Namitha is a family loving girl. Hence, she wants to visit her relatives in Kumarakom to catch up with them and spend some quality time with them. She likes to wear jeans and top, and eat non-vegetarian Kerala food. She is tech-savvy and active on social media sites, interacting with her fans, friends and relatives. Her favorite movie is Kilukkam.

Namitha Pramod belongs to the new generation of actors who have stormed the world of Malayalam cinema with their caliber and look. She entered into the world of acting when she was studying in the seventh standard. Namitha began her acting career by acting in television serials and earned her place in the minds of television audiences. The popular television serials in which she acted include Amme Devi, Velankanni Mathavu and Ente Manasa Puthri. While acting in serials, she got her first breakthrough in the film industry when she was given a role in a movie by the name Traffic. However, her real assignment came when director Sathyan Anthikad gave a title role in his movie Puthiya Theerangal. This movie was a box office hit and her work in the film was appreciated by the people in the region. For the performance in this movie, she got the New Face of the Year award. She is a homely girl who would like to wear jeans and top, and eat non-vegetarian food.