Bhavana Malayalam Actress – Profile and Biography

Bhavana malayalam actress profile and biography is given here. Bhavana is a youngster who has created a mark for herself in the world of South Indian Cinema. She began her acting career with her acting in a Malayalam film Nammal. This film generated positive responses and critical acclaims in the box office. After the success in this movie, her acting prowess was acknowledged by noted film directors from different languages.


Introduction

Bhavana is a Malayalam film actress who hails from Thrissur district of Central Kerala. She has established her powerful presence in the South Indian Film Industry. Bhavana entered into the film industry by acting in a film titled Nammal in the year 2002. This film was directed by noted movie director Kamal. She received positive responses and critical acclaims for her scintillating performance in this film. She has acted over 60 films in different languages and received two Kerala State Film Awards. According to her own words, she was interested in acting and stardom right from her childhood days. Due to her balanced acting, she has earned more recognitions and citations from various cultural groups, television channels, and film fraternity associations. Actresses Bhavana and Mamata Mohandas are the brand ambassadors of the Kerala Strikers in the Celebrity Cricket League. After her success as an actor in the South Indian cinema, she is eyeing for a break in the Bollywood also. One of the successful directors in Bollywood has come forward with an acting offer for her. In this upcoming Bollywood film, she is going to share the silver screen with Emraan Hashmi and Amithabh Bachchan.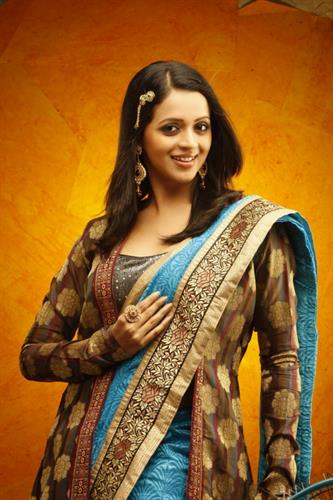 Early Life and Education

Bhavana was born on February 6, 1987 in a place called Nellangara in Thrissur district of Central Kerala. Her parents were G. Balachandra Menon and Pushpa. Her father is a noted Cinematographer in Malayalam film industry. Her mother is a housewife. Bhavana has a brother who is settled in Vancouver, Canada. His name is Jayadev Menon. According to her school records, her original name is Karthika Menon. Bhavana had her formal and high school education from Holy Family Girls' High School in Chembukavu. This place is known for housing the Thrissur branch of the Kerala State Zoological Park. During her childhood days, she was very active at home and school. Hence, she got the nicknames like Kaathi and Thakkidu.


Love for Arts and Cricket

When Bhavana got an opportunity to work in films for the first time, she was studying in her eleventh standard. She was interested in acting and stardom right from her childhood. As a 5-year-old child who was infatuated with glitz and glamour in movies, she tried to mimic the acting style of Amala in the Malayalam movie Ente Sooryaputhriku. Like the character in the movie, young Karthika Menon was even prepared to jump from a top of the building and get her arms fractured. If her words are to be believed, she was a restless and confused child who wanted to emulate the celebrities of her time. Right from her childhood, Bhavana liked cricket and used to watch her brother play cricket with his friends. Hence, when she became a celebrity, she was active in making the Celebrity Cricket League and used to advocate for its existence. So, she was chosen as the Brand Ambassador of Celebrity Cricket League along with the actress Mamata Mohandas.


Acting Career in Malayalam Films

Bhavana was only 16 years old when she entered into the glamorous world of cinema with her first film Nammal. In this film, she co-starred with newcomers such as Siddharth, Jishnu and Renuka Menon. This film became a super duper hit in the market. This film also helped her bag many awards, including Kerala State Special Jury Award. At that point in time, she was just doing her eleventh standard in Holy Family Girls' High School in Thrissur. Because of the good ranking of the film at the box office, the acting talent of Karthika Menon was noticed by other movie directors in the field. Since then, she never looked back and always had a number of projects up her sleeves. Within a span of ten years, she has acted with almost all actors in the Malayalam film industry. The other Malayalam films in which Bhavana acted include Chronic Bachelor, Thilakkam, C.I.D. Moosa, Swapnakoodu, Valathottu Thirinjal Nalaamathe Veedu, Ivar, Chathikaatha Chanthu, Amrutham, Youth Festival, Udhayananu Thaaram, Chaanthupottu, Daivanamathil, Police, Naren, Bus Conductor, Chinthamani Kolacase, Chess, Chotta Mumbai, etc.


Acting Career in Tollywood

In 2006, Bhavana made her debut in Tamil film industry with her acting performance in the movie Chithiram Pesuthadi. This movie evoked a mixed response from the general public in Tamil Nadu. After her debut in Tamil cinema, she acted opposite to the actors like Ajith Kumar, Jayam Ravi, Srikanth, Bharath, Madhavan, and Jiiva. The other Tamil movies in which she featured include Kizhakku Kadalkarai Salai, Deepavali, Veyil, Arya, Koodal Nagar, Vaazhthugal, Rameswaram, Jayamkondaan, Asal, etc.


Acting Career in Sandalwood

After the success, Bhavana forayed into Kannada language films and established her presence there as well. Her first Kannada film was Jackie. In this film, she acted opposite to Puneeth Rajkumar, the actor son of noted yesteryears actor Dr. Rajkumar. This film turned out to be a blockbuster in Sandalwood. Following the film's success in box office, it was dubbed into Telugu and Malayalam languages. Her second movie in the Kannada movie industry was Only Vishnuvardhana. In this film, she featured with noted Kannada actor Sudheep. This film was also opened to a big response at the box office. These two movies gave her the much deserving space in the Kannada movie industry as an accomplished actress. Following the success of these two movies, she began to get more offers in Kannada cinema. The other movies in which Bhavana co-starred with other noted Kannada movie stars include Romeo, Topiwala, and Bachchan.


Acting Career in Telugu Film Industry

The Mollywood actress Bhavana also forayed into the world of Telugu cinema in the year 2008 with the acting in the movie Ontari. In this movie, she acted the role of Bujji. Her second Telugu movie was Hero. Bhavana had enacted the role of a village girl Krishnaveni in this movie. Another Telugu film in which she acted was Mahatma. In this film, she did the role of Krishnaveni who wanted to capture the world with her pleasing mannerisms and good looks.


Conclusion

Bhavana is a reputed Mollywood actress who has completed ten glorious years of acting in the South Indian film industry. Her acting career began with the Malayalam film Nammal. This film did a good job at the box office and her work in the film was well appreciated by both critics and the general public. She bagged a number of awards for her performance in this film. After her success in this film, she began to get offers from different directors from across the spectrum in the South Indian film industry. The first film she acted outside the ambit of Malayalam film industry was a Tamil film. This film generated the mixed response in the box office. Later, she forayed into Kannada and Telugu film worlds as well. In Kannada film industry, the first two films acted by her did a good job in the box office, and generated positive responses and critical acclaims from the film world. This helped her to put her mark in the Kannada cinema industry as an accomplished actress. In a career spanning ten years, she has acted more than 60 films and starred opposite to various heavyweights in the industry.