Abhirami Suresh Malayalam Actress – Profile and Biography

Abhirami Suresh malayalam actress profile and biography is given here. Abhirami Suresh is a talent young actor who had proven her acting talents through an array of good movies such as Keralolsavam. Kerala Nattilum Pengaludane, Gulmal and Beware of Dogs. She came into the film world from the Media and Television Industry mimicking artist Sarath and anchor Ranjini Haridas. This article catches the glimpse of her life and works.


Introduction

Abhirami Suresh is an upcoming actor from Kerala. She moved to the big screen of Indian cinema after having successfully put her mark in media and fashion industries. She is the sister of famous singer Amritha Suresh. She is married to the famous actor and director Bala. Her debut film in the Malayalam Film Industry was Beware of Dogs. This 2014 film had the gorgeous actress in lead role. She had also acted in other Malayalam films but in the smaller and insignificant roles in the past.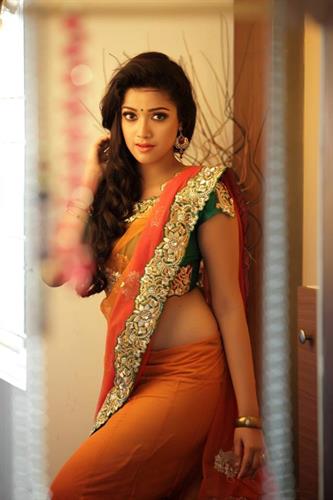 Early Life and Education

Abhirami Suresh was born on October 9, 1995 into a family settled in the commercial capital city of Kerala. Her parents are P.R. Suresh and Laila Suresh. She did her formal and high school education from a reputed English medium school in Ernakulam. After successfully completing the formal education, she went to do her graduation from a reputed college College in Cochin. She went on to make her career initially in modeling industry.


Stint in Media and Entertainment Industry

After getting a degree, Abhirami Suresh directly entered into the world of media and entertainment by anchoring shows and acting in children's serials. The noted one was the serial Hello Kuttichathan. She also participated in the singing reality show while busy with her assignments in the modeling industry. As a child artist, she acted in a 100-episode long Malayalam serial by the name Hello Kuttichathan. Her acting performance in the television serial was noted by an accomplished director and gave her a chance to work in movies. In the media and entertainment industry, she had even composed some devotional albums in the past. These devotional albums have been able to create some interest in the market. Armed with the popularity of her past albums, she started singing and composing songs for various albums.


Career in Film Industry

As a result of the appreciation of her acting talents, Abhirami Suresh was given the work by two reputed directors to work in their films. The director Hashim Marikar gave a chance for her to work in his Malayalam film Kelvi. The reputed director from Tamil film industry S.S. Kumaran gave her an offer of working in his film titled Kerala Nattilum Pengalunde. S.S. Kumaran also did the job of music direction in this film. The former film was a suspense thriller in which the upcoming actress did the role of a college student. This bilingual film had Swetha Menon in the lead role. The later movie dealt with the similarities of Kerala and Tamil Nadu cultures and traditions. In this film, Abhirami Suresh donned the role of a Malayali girl who wanted to become a beauty queen in the world of fashion. She co-acted with Abi Sharavan of Kutti Puli fame in this film. In this bilingual film, she shared the silver screen with other upcoming actresses such as Gayathri and Dikshitha. In this film, she had taken up the secondary role or supporting role.

After the success in her first Tamil film, Abhirami Suresh had an opportunity to don the lead role in Beware of Dogs . In the past, she had acted films like Gulmaal and Keralolsavam. She in fact made her acting debut with her featuring in the film Keralolsavam. She had made her foray into the television industry by mimicking the voices of actor Sarath and noted anchor Ranjini Haridas. Her talent was noted by some of the leading lights in the industry and they introduced into the world of celluloid.


Interests and Hobbies

In the busy schedule of acting, actress Abhirami Suresh found out enough time to further her interest in poetry, composing, and reading. During her leisure time, she even sang her favorite songs for her family and friends. During her childhood, she used to read lots of books that generated interest in her. She liked the acting prowess of Shahrukh Khan, Sridevi and Kajol. She generally preferred to wear casuals in her daily life. She is the ardent follower of Matha Amrithananthamayi and visits the ashram of seer whenever possible. She also visits seer in her ashram whenever the latter comes to her ashram in Ernakulam.


Conclusion

Abhirami Suresh is an aspiring actor who hails from the commercial capital of Kerala. Before her entry into the world of cinema, she had a brief stint in media and entertainment industry as a model, actor and singer. She has the passion for singing, writing poetry, composing songs, and reading books. Due to her interest in singing, she has come out with a number of albums in devotional, musical and romantic musical genres. She also had acted in a 100-episode long Malayalam Serial titled Hello Kuttichathan. During the leisure time, she spends her time with family members and friends. She also devotes her valuable time for writing poetry, singing and composing songs, and reading books. She has sung a number of songs and come out with a number of albums.