Chandralekha Malayalam Playback Singer – Profile and Biography

Chandralekha malayalam playback singer profile and biography is given here. Chandralekha is the new singing sensation to come into the world of playback singing. Her singing talent was noticed by the people through the medium of internet. After having spotted by the industry people, she started singing songs for the movies. Her debut in the playback singing field happened when she sang a song for a film titled Love Story.


Introduction

The Chandralekha is a poor housewife from Kerala who rose to the fame by the listing of her singing video in YouTube. As a result of this video listing, she became a huge hit in the online community. Slowly, more people came to know about this new singing sensation. As more people came to know about her talent, the music directors in the Malayalam film industry also came to know about this news. As a result, five music directors of the industry came forward to give her a chance to sing in their movies. This news turned out to be more exciting as her songs in YouTube videos became a huge hit with the internet users from the state. The music composers who came forward to employ her in their films include top notch music composers of the industry, including Bijipal and Rathish Vega. According to the music directors, they were both impressed and saddened by seeing her singing in her dilapidated kitchen of her house in Adoor. In YouTube videos, she was featured as singing with her two-year-old boy in her hand. In short, the internet has changed her life forever in a matter of few hours.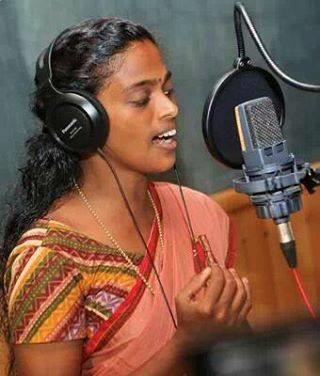 Early Life

Chandralekha hails from a place called Adoor in Pathanamthitta district of Central Kerala. She is an ordinary housewife from a poor family. She was neither tech-savvy nor a member of any social media platform. Till she was noticed for her singing ability in the social media, her ability was only known to her close relatives and neighbors. It looked like a well-tested script in a Bollywood movie. A relative from the family happened to film her singing a well-known song in a Malayalam movie with his mobile. A friend of his uploaded the video on YouTube to make the outside world understand this hidden jewel. For a period of one year nothing happened and Chandralekha continued her routine job of managing the household.

On one fine day, the video featuring Chandralekha suddenly went viral in the social media platforms such as YouTube and Facebook. By mid October of this year (2013), she became a popular figure in the cyber world. After her popularity rose in the online media, the information about her singing ability was flashed in all television channels of the state. They even broadcasted her singing video for the benefit of their audiences. Thus, Chandralekha became the new singing sensation of the state.


Role of Social Media in Popularizing the Video

As soon as the video featuring Chandralekha went viral in the social media, there were more or less unequivocal offers for her. In that video, she was featured as singing a song that fetched famous playback singer K.S. Chithra a state award. When the video was noticed by the users of social media, they started commenting on the video and the woman in it. This happened a year after which it was uploaded by a boy related to her. Some Facebook users liked the song rendition and the voice quality so much that they resurrected the mobile phone video in other platforms in the social media. Soon, .it went viral in the state and abroad where Kerala Diaspora lives. As per one estimate, the video was shared about three lakh times on Facebook within three days of its discovery. With this, Chandralekha became the second YouTube sensation in Kerala to be noticed this way. Before this, Santhosh Pandit made a career for himself by producing and uploading videos featuring him on the social media sites in the recent past. Despite the fact that he is looked down by the mainstream film industry, he has become a regular feature on TV shows.


Role of Media Industry

On the subsequent Sunday, the popular TV channel Kairali featured her story again in its primetime slot. According this story, Chandralekha had to forgo her dream of becoming a playback singer due to poverty and household burden. In the same story, she said it was remarkable to see the transformation in her life. In that program, she further stated that the thought of getting noticed and appreciated by the people of the state never occurred to her in the past, as she was living with her family in a far away village hamlet. Ever since the Kerala Diaspora heard about her, she started getting appreciative calls from them. When the Kairali TV channel connected her by phone to noted playback singer K.S. Chithra, Chandralekha was overwhelmed with emotion and excitement. The noted playback singer of South India told her that she sang the song well in that video.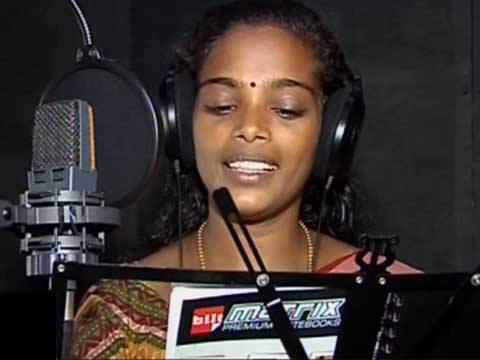 Professional Career

After getting offers from reputed music composers of the state film industry, she started singing songs for movies. The first offer that came in her way was an opportunity to sing a song for a movie titled Love Story. When she was singing a song for this movie in the studio, the noted film director of the industry Sibi Malayil came to watch her. This film was produced by veteran filmmaker in the industry Milan Jaleel. The composer of the song was newcomer David Shon. It was David Shon who gave the first chance for her to sing a song for a movie. In her debut, she has more reasons to celebrate, as she is going to sing the final song along with the noted playback singer Hariharan. Her first recording was at Cochin. This place is only few kilometers away from her hometown of Adoor.


Upcoming Offers

Only one of the five music directors has come forward with a concrete offer. He was David Shon. It is hoped that others also would follow him their offers for her. After a few days of time, she will get another offer to sing songs for an upcoming devotional album. The song recording for this album is slated to take place in Thiruvananthapuram. This album is going to be released by a leading music company in the capital city of the state.


Conclusion

Chandralekha is the new music sensation to hit the field of Malayalam film music by storm. She was discovered by the ordinary people of Kerala and its Diaspora through the medium of internet. One fine day, a boy from her family chose to film the song she was singing with the help of his mobile. That mobile video clipping was uploaded by his friend onto the YouTube site. The song remained in the oblivion for a year and later it was noticed by the online audience. Once it was noticed, the song went viral in the cyber world and many people started liking her rendition and voice quality. After coming to know about this music sensation, many people started to make calls to her to congratulate her. After a period of two days since it went viral in the social media sites, five notable music composers came up with the offers to make her sing songs in their movies. Of the five who came forward with offers, one finally gave her a chance to sing a song for a movie directed by him. In her maiden song recording, the noted film director Sibi Malayil came to see her singing the song.