Vineeth Srinivasan Malayalam Film Director – Profile and Biography

Vineeth Srinivasan malayalam film director, singer profile and biography is given here. Vineeth Srinivasan is an accomplished actor, movie director, and singer. He has also got the ability to pen nice songs for movies and albums. One of the movies directed by him by the name Thattathin Marayathu has become a huge hit with the audience in the state. This article sheds some light into the life and work of this upcoming multi-talented artist.


Introduction

Vineeth Srinivasan is an Indian actor, lyricist, movie director and playback singer who is active in Malayalam film industry. He has also written scripts for some movies, like his illustrious father and noted actor Srinivasan. He started his career by writing lyrics for some of his video albums like Coffee at M.G. Road. Vineeth Srinivasan did his debut in film acting by doing a role in the film Cycle. He shot to the fame and stardom when his acting in the movie Makante Achan was noticed by the people. In this film, he shared the silver screen with his illustrious father Srinivasan and noted Tamil actor Suhasini.


Early Life

Vineeth Srinivasan was born on October 1, 1985 in Chennai, the capital city of Tamil Nadu. His father is noted film actor, scriptwriter and movie director Srinivasan and her mother is Vimala. Her mother is a housewife. He had his schooling and formal education in the Chennai city. Later, he joined a professional degree course in engineering in the city. The college where he completed his Bachelor of Technology degree in Mechanical engineering was K.G.C College of Technology in Chennai. When he was studying at the K.C.G. College of Technology, he was part of a band troupe called Malayalee. In that band troupe, he worked alongside Jakes Bejoy, Shaan Rahman, and Arun Sasi. While working with this band, he started penning songs for it. This was the platform where he even honed his skills in direction as well. In the year 2012, he got married to his long-time friend and lover Divya Narayanan. From his college days, Vineeth Srinivasan was in love with this girl. She happened to be his junior in the same college where he did his mechanical engineering course.


Music Albums and Playback Singing

Vineeth Srinivasan wrote the lyrics of most of his album songs. He personally supervised the acting of artists in his music albums. This attribute helped him to personally pick up the correct artists for his own music videos. One of his music albums Coffee at M.G. Road became a super duper hit in the market with more people ready to buy it. He has successfully penned even the Mapilapattu and had sung in the Kerala State Youth Festival of the year 1998. He got the first price for the same in the event. In this venue, he showed his ability to quickly make a joke on any topic. Because of this, he could take the spectators in his hands. A classical example of him making the quick wit was when somebody from the audience asked him whether his father liked him singing Mapilappattu. To this question, he gave an apt reply by saying that his father did not have any hatred towards the Mapilappattu to his knowledge.

Right from the childhood, Vineeth Srinivasan was interested in singing. However, he did not have a formal training in music in his childhood. However, there was a strong desire in him to sing songs. This led him initially to the music albums and the band troupe. With this background, he entered into the world of playback singing in Malayalam film industry. His first attempt at playback singing was for the movie Kilichundan Mambazham. The song became a huge hit in the market. Many people in the state were humming its tunes in their household. From that point onwards, he never looked back and many offers started to come in his way. Other movies in which he sang songs include Udayananu Thaaram, Rasathanthram, Chanthupottu, Out of Syllabus, Classmates, Ore Kadal, Rasikan, Panthaya Kozhi, Vinodayathra, Arabikatha, Notebook, Paradesi, etc.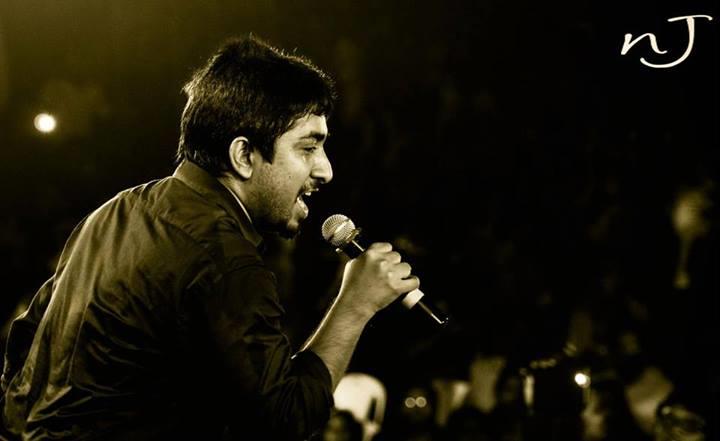 Acting Career in Movies

Vineeth Srinivasan entered into the Malayalam film industry by acting in a film titled Cycle. In this film, he did the title role. This film did a good job in the box office of the state. Because of the success of this movie, his performance in the movie was noticed by the people. So, he got an offer for acting in a second movie. This movie was Makante Achan. In this film, he co-starred with his father and veteran actor Srinivasan and noted Tamil actor Suhasini. The chemistry of the trio in the movie was such that it had a profound impact in the mind of the people. This movie had a message to convey to its audience. Because of this message, the character portrayed by young Vineeth Srinivasan generated a suffering boy image in the eyes of the public. This movie tried to convey the message that the undue pressure should not be exerted on their wards by the parents when they were studying. Another message conveyed by the movie was that the children should not be compared with their peers. Other films acted by him include Traffic, Chappa Kurisu, and 'Padmasree Bharath Dr. Saroj Kumar'. The upcoming film in which he is going to act is Koothara. Currently, this film is being filmed at a picturesque place in Kerala.


Career as a Movie Director

As we have seen previously, Vineeth Srinivasan had the interest in directing his own music videos in the past. So, after getting acquainted with the art of direction in the Malayalam movie industry, he decided to make his maiden directorial venture in the industry. For this venture, he had the help of his illustrious father Srinivasan who was a veteran in this field. Thus, Vineeth Srinivasan made his debut as a film director by making the film Malarvadi Arts Club. This movie did not make any impact in the box office. After getting emboldened by the successful making of his maiden movie, he pooled all his resources to direct the movie Thatathin Marayathu. This movie turned out to be a huge hit in the box office of the state. In this film, both noted actors and newcomers have enacted their roles to the perfection. This film had a long list of actors. They include Navin Pauly, Isha Talwar, Srinivasan, Aju Varghese, Bhagath Manuel and Aparna Nair. His new film is Thira, which has noted actress Shobhana and a new comer Dyan Srinivasan in lead roles. As Thatathin Marayathu became a huge hit, he was nominated for the Best Director and Best Male Playback Singer awards. However, he could not make it to the top.


Awards and Citations

During his short stint in the movie industry, he could showcase his talents in various departments of cinema making. He could very well direct, act and sing in movies. Apart from these, he even penned the songs for some movies. Following is the list of awards this talent young man got in his career in the movie industry.


He got the Best Debutant Director award from Asiavision in the year 2010.


He received AMMA Best Male Singer Award for his songs Mampullikkavil and Jillu Jillu.


Vineeth Srinivasan received the Best New Face of the Year Award in 2008 for his acting performance in his maiden film Cycle.
Conclusion

Vineeth Srinivasan is an Indian actor, lyricist, movie director, singer and scriptwriter. He is active in Malayalam film industry. Before foraying into the film world, he was active in the cultural arena. He was actively participating in the activities of a band troupe by the name Malayalee. For this troupe, he used to pen songs. He also used to direct music albums in his formative days. One of his music albums Coffee at M.G. Road became a huge hit with the people of the state. After a while, he entered into the movie world by acting in the film Cycle. This film was a huge success and he got the Best New Face of the Year award from Asiavision. Subsequently, he acted in some other films as well. After tasting success in acting, he decided to try his luck in film direction. Hence, he made his directorial venture with the movie Malarwadi Arts Club. For directing this movie, he got the Best Debutante Director Award in 2010. His next movie was a huge hit. The film was by the name Thatathin Marayathu. Many of the songs in this movie became a huge hit with the audience. Being a singer with innate ability, he even tried playback singing in the Malayalam movie industry. Some of the songs rendered by him have become instant hits with the film lovers in the state.