Keerthi Suresh Malayalam Actress – Profile and Biography

Keerthi Suresh malayalam actress profile and biography is given here. Keerthi Suresh is the new entrant in the field of acting. Before her entry into the film world, she was busy with her course on fashion designing. When she came to her home during her vacation, the ace director Priyadarshan happened to see her and invited her to act in his next movie. Her performance in the movie Geethanjali was appreciated by the people in the state.


Introduction

Keerthi Suresh is an upcoming actress from the capital city of the state. She is the second daughter of noted actor of yesteryears Menaka. The young actress made her acting debut in the film Geethanjali. This film was released in the year 2013 and it had megastar Mohanlal in key role. This film was directed by Priyadarshan. In this movie, she paired opposite to Nishan. Before her entry into the film world, she was undergoing a course in fashion designing. When she got the offer from Priyadarshan, she was doing a course in Fashion Designing abroad. Initially, Keerthi Suresh and her sister Revathy Suresh were interested in following their father's footsteps in the field of cinema. Hence, they wanted to learn technical aspects of film making.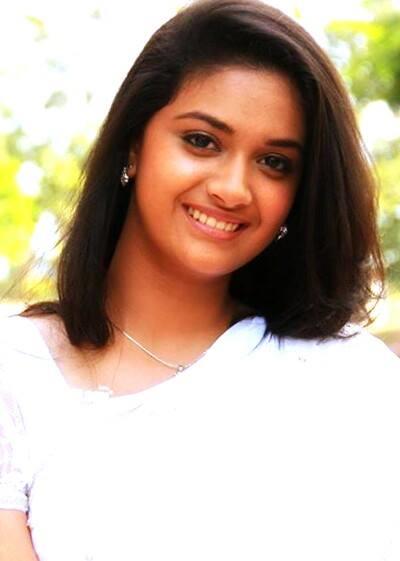 Early Life and Education

Keerthi Suresh was born in the year 1992 to a couple in the capital city of the state. Her parents are Menaka and Suresh Kumar. Her mother Menaka is a noted actor of yesteryears and her father Suresh Kumar is a noted film producer in the Malayalam film industry. She has an elder sister whose name is Revathy. Keerthi had her formal education in Trivandrum. Later, she did her high school at Thiruvananthapuram-based Kendriya Vidhyalayam. She was a swimming champion in her childhood days. While she was undergoing training sessions at a nearby swimming pool, she used to get good advices from her mother. During those times, her mother used to tell her that she should be punctual in her work and treat everybody equally. After successfully completing the schooling, she joined Pearl Academy of Fashion in New Delhi. After completing her degree course in fashion designing, she went abroad to pursue her interest in the chosen field. She took the fashion designing course to keep her dreams high in pursuit of her career. When she was doing her fashion designing course in London, her sister Revathy Suresh was doing her course Masters course in Animation at a college in Florida, United States of America.


Early Acting Career

While studying at Kendriya Vidhyalayam, Pattom, Trivandrum, Keerthi participated in various programs conducted in the school and earned many prizes and accolades. She had even represented the school at different levels and earned more awards and recognitions for the school she studied. Mainly, she had shown her mettle in acting through her performances in skits, dance drama, mono acts and drama. After getting accolades for her acting performances, she harbored her intention to make big in the film industry. Hence, Keerthi was preparing for that right from childhood. With her mother's connections in the film industry, she gained entry into the film world by acting in some movies. In these movies, she acted in minor roles. The films in which she featured were Kuberan, Pilots and Achaneyanenikkishttam. All of these films were made under the Revathy Kalamandir banner. Besides cinema, she had acted in few television serials as well. The serials in which she acted include Krishnakripaa Saagaram, Santhaana Gopaalam, and Griha Naathan. Of these, the first serial was directed by G.S. Vijayan. The latter two serials were directed by Suresh Krishna. These serials had a good viewership when they were broadcast over the television channels in the state.


Later Acting Career

Keerthi Suresh had put a break to her acting career when she was pursuing her course on fashion designing. In between, she used to come home from her college and enjoy with her family. When she came home on one such visit, she saw the ace director Priyadarshan at her home talking with her father and mother. He happened to see her. After seeing her, Priyadarshan told her parents that he was looking for a girl like her to offer a role in the film titled Geethanjali. During the course of the discussion, he asked her parents whether they would allow their daughter to act in his film. Her parents readily agreed to his proposal. With the parents' blessing, she decided to resume her career in the movie industry for a while. According to this plan, she acted in the movie titled Geethanjali, which was directed by him. In this film, she shared the silver screen with Nishan and megastar Mohanlal. The megastar Mohanlal had a key role to play in this movie as a psychiatrist who was trying to solve a mystery. The psychological horror thriller movie was a spin-off of the blockbuster movie Manichithrathaazhu. The other artists who featured in this movie were Swapna Menon, Madhu, Siddique, Innocent and K.B. Ganesh Kumar. In this context, it is interesting to note that the megastar Mohanlal who had acted with Menaka in the past has shared the silver screen with her daughter Keerthi Suresh in this movie. In this movie, she was given the twin roles of two characters Geetha and Anjali. Both these characters flirted with the hero Nishan in this movie.


Upcoming Projects

Keerthi Suresh has another movie in her pipeline. The movie is yet to be named. In this film, she would be acting opposite to the young acting sensation Fahad Fazil who is the actor son of ace Malayalam director Fazil. The scripting of this movie is currently on and its shooting will be commenced in the coming months. The film would be directed by S.L. Puram Jayasurya of Speed Track fame. The film would be screened in the latter half of the next year. Having opened her account as an upcoming actress in the world of movies, she wanted to go back to her college to complete her assignment there and set up a brand for herself in the world of fashion. Later, she wanted to set up her own enterprise to further her career in fashion designing, apart from her interest in acting.


Conclusion

Keerthi Suresh is an upcoming actress in the Malayalam movie industry. She is the daughter of a noted yesteryear heroine Menaka. Her tryst with the acting could be traced back to her formative years when she acted in small time movies and serials in the state. Later, she took a break from her acting career and concentrated on her other interest. Hence, she took up a fashion designing course at a Delhi-based institute by the name Pearl Academy of Fashion. To further her interest in the chosen field, she flew to London to join a college to study an advanced course on fashion and designing. In between, she used to visit her parents in her home. In one of such visits, she happened to meet Priyadarshan at her house. After seeing her, the director Priyadarshan decided to give a chance to her in his next movie. Accordingly, the deal was fixed in the presence of her parents. This clinching of the deal marked her re-entry into the world of Malayalam cinema. In the movie titled Geethanjali, she got a twin role. Her performance in the movie was noted and appreciated by the people of the state.