Santosh Trophy 2014 Kerala team lead by Jean Christian PA is all set to the game

Santosh Trophy 2014 Kerala team will lead by Jean Christian PA is set for the game. The Kerala team players have been announced for 68th National Santhosh Trophy Tournament held on Chennai, Tamilnau and Siliguri, West Bengal by Kerala Football Association President K M I Mather. The team will be lead by the goal keeper Jean Christian PA. Kerala team is now hopping to take Santosh Trophy to their home that they missed last year. Read here to get the detailed dates, venue and fixtures of 68th Santhosh Trophy


Kerala team for 68th National Santosh Trophy Football Tournament has announced by the Kerala Football Association President K M I Mather here on January 21st 2014. The team will be lead by the Goal keeper Jean Christian PA while striker R Kannan will be the deputy captain of the Kerala team for this year Santosh trophy tournament. Former Indian national football team coach AM Sreedharan has been named head coach for the Kerala team in 68th national Santosh Trophy football tournament while Satheevan Balan will assist him in his duty. Sreedharan has immense experience in coaching Indian national team, FC Kochi, Viva Kerala FC. He had coached Kerala team previously in four occasions during 1994 to 1997.


Kerala team members (Squad) for Santosh trophy football championship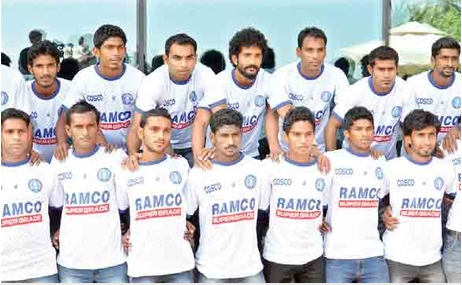 Kerala team has announced 20 men squad for 68th Santosh Trophy national football tournament. State Bank of Travancore (SBT) player Jean Christian PA will lead the 20 member squad for Kerala in Santosh Trophy 2014 tournament. Kerala team is the current runners up in the Santosh Trophy football tournament. Kerala had lost against Services in the final match of Santosh Trophy football tournament 2013 in a penalty shootout. Kerala team has made 11 changes to the squad that reached the final last year, including eight newcomers. Kerala team will depart for Chennai on 22 January for the south zone matches. They will take on Tamil Nadu on January 24. They will play Andaman and Nicobar Islands and Karnataka on February 1 and 3 respectively.


Goalkeepers: Jean Christian PA (captain), Noufal N, Nishad PP.
Defenders: Sherin Sam, Surjith VV, Johnson N, Anagh BK, Shaji A, Lijo S, Sajith T.
Midfielders: Shibin Lal VK, Jipson Justus, Anish KP, Jijo Joseph, Prasson R, Prameesh KV.
Forwards: Usman P, Suhair VP, Nasarudheen C, R Kannan.
Head coach: AM Sreedharan.
Assistant coach: Satheevan Balan.
68th Santosh Trophy football tournament 2014 match schedule and fixtures

Santosh trophy 2014 is the 68th edition of this main state football competition in India. In 2014 Santosh trophy tournament will see a new format with the competition divided into five zones, namely the south, north, north east, east and west zones. Kerala team belongs to South zone and their match will begin from January 26 at Chennai. South zone matches of Santosh trophy football tournament held at Chennai, Tamilnadu while the final phase of 68th Santosh trophy football championship is hosted at Siliguri West Bengal.
South Zone: (at Chennai)
26 January 2014 - Andhra Pradesh vs Andaman & Nicobar Islands
26 January 2014 - Tamil Nadu vs Kerala
28 January 2014 - Karnataka vs Andaman & Nicobar Islands
28 January 2014 – Kerala vs Andhra Pradesh
30 January 2014 - Andaman & Nicobar Islands vs Tamil Nadu
30 January 2014 - Karnataka vs Andhra Pradesh
01 February 2014 - Tamil Nadu vs Karnataka
01 February 2014 - Andaman & Nicobar Islands vs Kerala
03 February 2014 - Kerala vs Karnataka
03 February 2014 – Andhra Pradesh vs Tamil Nadu
North Zone:
30 January 2014 - Haryana vs Chandigarh
30 January 2014 - Delhi vs Uttarakhand
31 January 2014 - Punjab vs Himachal Pradesh
31 January 2014 - Uttar Pradesh vs Jammu & Kashmir
01 February 2014 - Chandigarh vs Delhi
01 February 2014 - Uttarakhand vs Haryana
02 February 2014 - Himachal Pradesh vs Uttar Pradesh
02 February 2014 - Jammu & Kashmir vs Punjab
03 February 2014 - Haryana vs Delhi
03 February 2014 - Uttarakhand vs Chandigarh
04 February 2014 - Punjab vs Uttar Pradesh
04 February 2014 - Jammu & Kashmir vs Himachal Pradesh
North East Zone:
27 December 2013 – Mizoram vs Nagaland
28 January 2014 – Railways vs Tripura
28 January 2014 – Meghalaya vs Assam
29 January 2014 – Arunachal Pradesh vs Mizoram
29 January 2014 – Nagaland vs Manipur
30 January 2014 – Tripura vs Meghalaya
30 January 2014 – Assam vs Railways
31 January 2014 – Mizoram vs Manipur
27 January 2014 – Manipur vs Arunachal Pradesh
31 December 2013 – Nagaland vs Arunachal Pradesh
01 February 2014 – Railways vs Meghalaya
01 February 2014 – Assam vs Tripura
West Zone:
30 January 2014 – Maharashtra vs Gujarat
30 January 2014 – Goa vs Daman & Diu
01 February 2014 – Gujarat vs Madhya Pradesh
01 February 2014 – Daman & Diu vs Rajasthan
03 February 2014 – Madhya Pradesh vs Maharashtra
03 February 2014 – Rajasthan vs Goa
East Zone:
26 January 2014 – Jharkhand vs Sikkim
27 January 2014 – West Bengal vs Chhattisgarh
27 January 2014 – Orissa vs Bihar
28 January 2014 – Services vs Jharkhand
29 January 2014 – Chhattisgarh vs Orissa
29 January 2014 – Bihar vs West Bengal
30 January 2014 – Sikkim vs Services
31 January 2014 – West Bengal vs Orissa
31 January 2014 – Bihar vs Chhattisgarh