Zero: 2 lakh budget movie by Arunesh Sankar

Zero malayalam movie directed by debutante Arunesh Sankar is an extremely low budget movie which has Aadhish in lead. Produced by Panavoor panchayat with 2 Lakhs, the movie conveys a socially relevant message related with modern day education system and the sufferers. It is all about the grief and trauma of a kid who was forced to join a residential school. The right of a student to choose the kind of education he or she should receive is being well drawn here. The director has already won acclaims and nume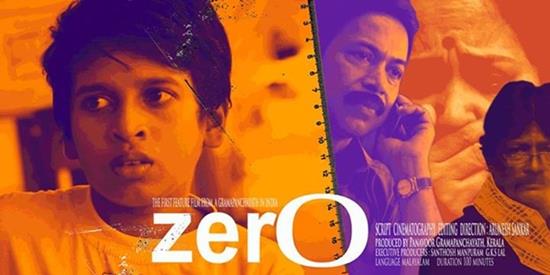 During the reign of big budget movies, the influx of young film makers with economically limited projects makes sign of revival in film industry. As most of the film makers spend crores to shoot the movie in exotic locations and casting valued actors, the budget would be skyrocketing giving sleepless nights for the producers.

After 'Pookal Paranjathu', produced by a panchayat in Palakkad, Panavoor panchayat in Trivandrum too had instigated to invest money for a movie. Titled 'Zero', the movie directed by Arunesh Sankar made with a total budget of Rs 2 lakhs is ready to reach theatres. 'Zero was born for the combined efforts made by people of the Panavoor Panchayat and the crew members.

The movie themes around the lead character Aadhish who is a smart kid by nature. It conveys a socially relevant message connected with modern day education system and the sufferers. The grief and trauma faced by a kid who was forced to join a residential school forms the crux of the movie.

The basic right of a student to choose the kind of education he or she should receive is being well drawn here. Students of 9th standard representing aided and government schools were given special training for acting much prior before the shoot. Master Aadish who gave life to the lead character became a little star in a fortnight. The movie which belongs to the category of children would attract the family audience too.

The attempts made by the panchayats or civic bodies to bring changes in the dynamics of film production should be encouraged. Arunesh who was much aware about the budget took much care to use the limited resources. The director has already won acclaims and numerous awards including the Best Children's Film Award for Lady Gandhi in the Kerala Education Fest 2012.

Areas around Trivandrum city like Nedumangad, Kallar, Palode and Vithura are being zoomed well. The unknown scenic beauty of the panchayat is given prominence. The cast and the crew were newcomers which gave more freedom for its making. If the movie gets a big screen release, it would be recorded as the lowest budget movie made in malayalam.