Kerala University degree allotment memo 2014 from 23rd June

Kerala University degree allotment memo 2014 will be available from 23rd June. The allotment memo of candidates allotted for various degree courses can be downloaded from the official website of the University. Those who got allotment in the first and second phase can take the print of the allotment memo which carries details such as the allotted college, course, category and admission date.



Job oriented Digital Marketing Courses in Kerala.
Call +91 8138875600 for details
Kerala University has declared the third round allotment results of the first various first degree programs in the affiliated colleges for the academic year 2014-15. The third allotment list contains the names of students who couldn't make their names in the first and second allotment list. Candidates can check their allotment status from the web portal www.admissions.keralauniversity.ac.in, using their application number and password.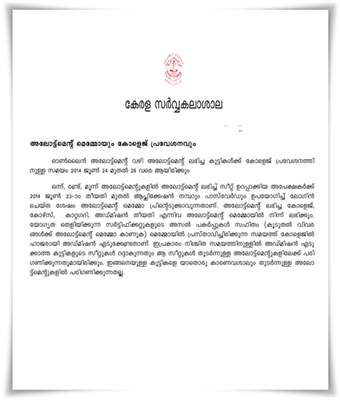 Meanwhile, the allotment memo of candidates allotted for various degree courses can be downloaded from the official website of the University. Those who got allotment in the first and second phase can take the print of the allotment memo which carries details such as the allotted college, course, category and admission date.

This admit card should be produced at the time of admission process in the college. As the allotment memo will be send by post or any other manual means, students need to use the online facility to get the admit card. Applicants are advised to keep a close touch with the University website to get updates about the allotment process.

Students who made entry into the third list should have to download the admission fee remittance chalan and pay the admission fee in any SBT branch. According to the revised pay schedule, the admission fee for general category is fixed at Rs 1360 and for SC/ST category Rs 600. After remitting the fee, applicants should login to the web portal and enter the details of admission fee remittance before the specific time. Students must promptly do the online and offline process to confirm their seat and to avoid confusion in the later stage. The allotment of those candidates will be cancelled if so they fail to enter admission fee details on time.

Students if not satisfied with the current allotment should cancel it by logging in to the website. If the higher options are no cancelled before 28th June 2014, it will be considered for new allotments and the candidates should have to take newly allotted seat. To get updated information about the allotment process, students need to keep in touch with the prominent dailies and official portal of the University.

For more details about the 2014 allotment procedure and allotment memo, do visit the official admission web portal of Kerala University.
www.admissions.keralauniversity.ac.in